Miscellaneous
Design Your Engagement Ring
- StumbleUpon
Online converter
Common Length Conversions
The Travel List Challenge on Facebook
flowers2mail.com - mail a bunch of flowers!
Pour garder la rhubarbe plus longtemps au jardin, coupez les fleurs ! Ces dernières, très jolies du reste, pompent toutes les ressources de la plante et finissent par l'épuiser. Alors, n'hésitez plus, prolongez un peu le temps des tartes à la rhubarbe. D'ailleurs, saviez-vous qu'elle peut se congeler, pour peu que vous la coupiez en petits dés et qu'elle est succulente en confiture mélangée avec des fraises !
Copinages de jardin - Roland Motte... Jardinier !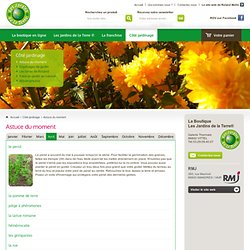 Aditi | Name Meaning & Origin | Girl Name Aditi | Baby Names World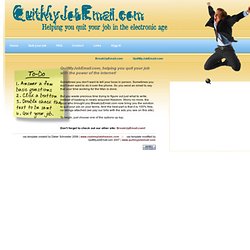 QuitMyJobEmail.com, helping you quit your job with the power of the internet! Sometimes you don't want to tell your boss in person. Sometimes you don't even want to do it over the phone. So you send an email to say that your time working for the Man is done.
QuitMyJobEmail.com | The easiest route to freedom
Sometimes it's just easier this way
Random Things to Do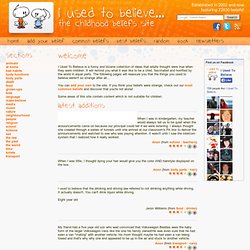 the childhood beliefs site - I Used To Believe
I Used To Believe is a funny and bizarre collection of ideas that adults thought were true when they were children. It will remind you what it was like to be a child, fascinated and horrified by the world in equal parts. The following pages will reassure you that the things you used to believe weren't so strange after all... You can add your own to the site.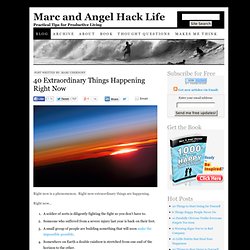 post written by: Marc Chernoff Email Right now is a phenomenon. Right now extraordinary things are happening. Right now…
40 Extraordinary Things Happening Right Now
Last updated on April 26, 2011 at 12:00 am EDT by in5d Alternative News * Visit in5D Connection where you can find your soul mate or join one of our amazing groups. EVERYONE is welcome! Birth Element Feng shui birth element based on birthday can help you understand some of the influences that shape your life.
Your Feng Shui Birth Element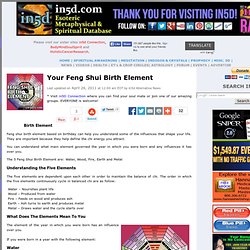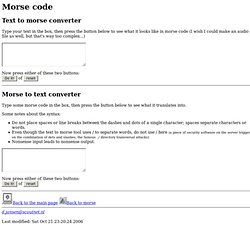 Morse code
Text to morse converter Type your text in the box, then press the button below to see what it looks like in morse code (I wish I could make an audio file as well, but that's way too complex...) Morse to text converter