Games & Quizzes
PersonalityLab - Online Personality Tests
Online test for your personal skin tone - Socratests.com
IQ Tests, Brain Teasers & Puzzles
You Rather | Working With Mike Rowe
these oop ream kurt
Are you shunned by the rest of the human race? Or perhaps so popular that you never even get time to go to the toilet? From pessimist to optimist, from hermit to 'party animal' (and more), find out who you are, and why you're what you are, by answering the questions below, then getting a Personality reading at the end. If you don't want to play and just want to see what any results mean, here's the answers And in case you ever wondered, here's what the average YSRnRY visitor is like .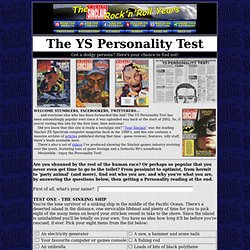 How long can you hold your breath?
Your Color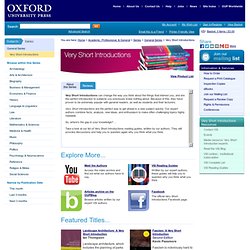 "The Oxford University Press VSI series has now surpassed 300 volumes, making it to non-fiction what Penguin Books have always been for literature." - Jim Cullen, History News Network "Expert, concise but far from bland, Oxford's 'Very Short Introductions' series must rank by now as a thinking reader's Wikipedia" - Boyd Tonkin, The Independent "Great price, beautifully designed and produced, authoritative content and inviting subjects covered - if only all publishing hit these heights." - The Bookseller "a fascinating series of 'all you need to know' introductions by experts to complex topics" - The Times
Rum | Master Of All Skills
The Animal in You Personality Test
Are you a wolf, rugged and misunderstood, or more like the introspective mole? Take the Animal In You personality test ! To identify the animal that best matches you simply answer the questions below as honestly as you can. For even more accurate results, you might want to get ratings from people that know you well or have them take the test for you!