Games & Quizzes
100 Things Personality Test - VisualDNA
PersonalityLab - Online Personality Tests
Online test for your personal skin tone - Socratests.com
www.bbc.co.uk/science/humanbody/sleep/sheep/reaction_version5.swf
IQ Tests, Brain Teasers & Puzzles
You Rather | Working With Mike Rowe
these oop ream kurt
Are you shunned by the rest of the human race? Or perhaps so popular that you never even get time to go to the toilet? From pessimist to optimist, from hermit to 'party animal' (and more), find out who you are, and why you're what you are, by answering the questions below, then getting a Personality reading at the end. If you don't want to play and just want to see what any results mean, here's the answers And in case you ever wondered, here's what the average YSRnRY visitor is like.
The YS Personality Test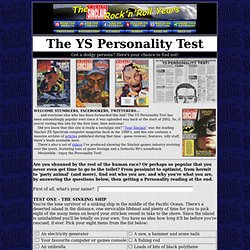 How long can you hold your breath?
Your Color
Queendom: personality tests, IQ tests, mind games, love tests, career tests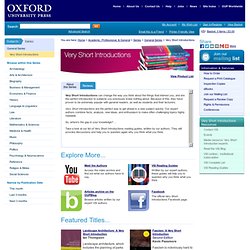 "I love the Very Short Introduction Series as should everyone who is interested in the history of ideas. They manage to straddle that difficult line between making the complex accessible without ever compromising on quality. The sheer range of subjects covered make the series an invaluable asset for anyone trying to understand the development of human thought. They are a must-go-to gateway for those of us keen to know more but needing a steer as to where to start." - Claire Fox, Director, Institute of Ideas
Very Short Introductions
Personality Tests
Rum | Master Of All Skills
The Animal in You Personality Test
Countries of the World Quiz
Knoword | Expand your vocabulary!
Word Search: Random Words (Medium)