Behavior
Hooked on Addiction: From Food to Drugs to Internet Porn. America is having an addiction moment.
Media headlines scream daily about new neuroscience findings on porn addiction, Internet addiction, food addiction and plain, old-fashioned drug addiction. As TIME's Michael Scherer wrote last week, 42 U.S. Mind Reading: Using Peer Pressure to Change the World. Virtually every day, a new study comes out suggesting that feeling close to others and having strong relationships boost health, happiness and longevity.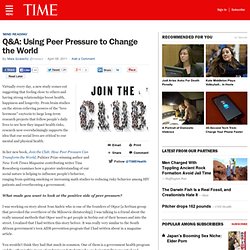 From brain studies on the stress-relieving powers of the "love hormone" oxytocin to large long-term research projects that follow people's daily lives to see how they impact health risks, research now overwhelmingly supports the idea that our social lives are critical to our mental and physical health. In her new book, Join the Club: How Peer Pressure Can Transform the World, Pulitzer Prize-winning author and New York Times Magazine contributing writer Tina Rosenberg examines how a greater understanding of our social nature is helping to influence people's behavior, ranging from quitting smoking or increasing math studies to reducing risky behavior among HIV patients and overthrowing a government. Mind Reading: The Researchers Who Analyzed All the Porn on the Internet. Searching all the porn on the Internet might not seem like the most scientifically productive activity, but computational neuroscientists Ogi Ogas and Sai Gaddam did it anyway.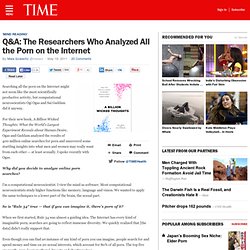 For their new book, A Billion Wicked Thoughts: What the World's Largest Experiment Reveals about Human Desire, Ogas and Gaddam analyzed the results of 400 million online searches for porn and uncovered some startling insights into what men and women may really want from each other — at least sexually. I spoke recently with Ogas. Print Your Own Version of SCVNGR's Game Mechanics Flash Cards. A Marketer's Guide To Behavioural Economics.
Long before behavioral economics had a name, marketers were using it.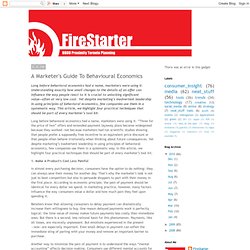 Understanding exactly how small changes to the details of an offer can influence the way people react to it is crucial to unlocking significant value—often at very low cost. Yet despite marketing's inadvertent leadership in using principles of behavioral economics, few companies use them in a systematic way. The Behavior Wizard. The Behavior Wizard | Behavior Grid. The Fogg Behavior Grid describes 15 ways behavior can change.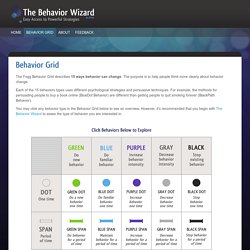 The purpose is to help people think more clearly about behavior change. Each of the 15 behaviors types uses different psychological strategies and persuasive techniques. For example, the methods for persuading people to buy a book online (BlueDot Behavior) are different than getting people to quit smoking forever (BlackPath Behavior).
---