Social Media
Social Media Freedom on Campus in an Age of Marketing | Jeremy Harris Lipschultz. Social media campus policies frequently turn concerns of academic administrators into free speech restrictions.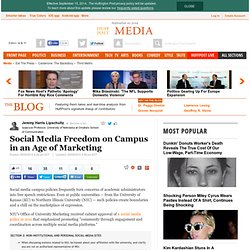 Even at public universities -- from the University of Kansas (KU) to Northern Illinois University (NIU) -- such policies create boundaries and a chill on the marketplace of expression. NIU's Office of University Marketing received cabinet approval of a social media policy in 2011 that emphasized promoting "community through engagement and coordination across multiple social media platforms.
" From a marketing perspective, NIU branding through Facebook and other pages makes sense. Words That Drive Social Media Shares [INFOGRAPHIC] Powerful, persuasive words drive decision-making, so understanding how and when to use them on social media is important for your customers and your business.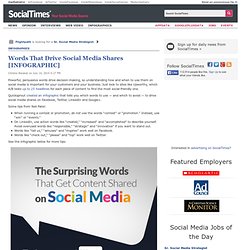 Just look to sites like Upworthy, which A/B tests up to 25 headlines for each piece of content to find the most social-friendly one. Quicksprout created an infographic that tells you which words to use — and which to avoid — to drive social media shares on Facebook, Twitter, LinkedIn and Google+. Some tips from Neil Patel: When running a contest or promotion, do not use the words "contest" or "promotion." Instead, use "win" or "events."On LinkedIn, use action words like "created," "increased" and "accomplished" to describe yourself. What do you think of the new Twitter layout? SocialBro, BirdSong, AKQA, Manning Gottlieb OMG and RBH give their views. Is Facebook dead to millennials? One of the top headlines you see on social media news sites on a regular basis is about how Facebook is dying, Facebook is dead, millennials don't use Facebook, teens don't use Facebook, etc.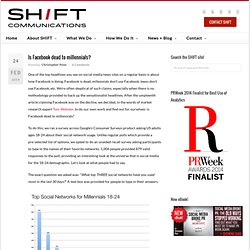 We're often skeptical of such claims, especially when there is no methodology provided to back up the sensationalist headlines. After the umpteenth article claiming Facebook was on the decline, we decided, in the words of market research expert Tom Webster, to do our own work and find out for ourselves: is Facebook dead to millennials? To do this, we ran a survey across Google's Consumer Surveys product asking US adults ages 18-24 about their social network usage. Unlike regular polls which provide a pre-selected list of options, we opted to do an unaided recall survey asking participants to type in the names of their favorite networks. 1,004 people provided 879 valid responses to the poll, providing an interesting look at the universe that is social media for the 18-24 demographic. Dunkin' Donuts Is Launching the First TV Ad Made Entirely From Vine. During this evening's Monday Night Football pregame show on ESPN, Dunkin' Donuts will run what's most certainly the first TV ad made entirely from a single Vine—Twitter's popular six-second social video format.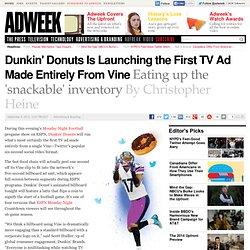 The fast-food chain will actually peel one second off its Vine clip to fit into the network's five-second billboard ad unit, which appears full-screen between segments during ESPN programs. Dunkin' Donut's animated billboard tonight will feature a latte that flips a coin to signify the start of a football game. It's one of four versions that ESPN Monday Night Countdown viewers will see throughout the 16-game season. "We think a billboard using Vine is dramatically more engaging than a standard billboard with a corporate logo on it," said Scott Hudler, vp of global consumer engagement, Dunkin' Brands.
With Rise of Social Media, Upbeat Stories Draw Most Attention Online. The most read article of all time on BuzzFeed contains no photographs of celebrity nip slips and no inflammatory ranting.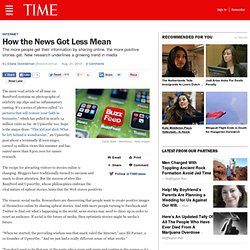 It's a series of photos called "21 pictures that will restore your faith in humanity," which has pulled in nearly 14 million visits so far. At Upworthy too, hope is the major draw. "This kid just died. Foursquare Rolls Out Check-In Ads With Captain Morgan | Digital. Twitter Tests Analytics Features For Users. 10 people who learned social media can get you fired. June 6, 2013 -- Updated 1730 GMT (0130 HKT) From Bitter Barista to "CarlyCrunkBear," many have lost jobs over online posts Remember Gilbert Gottfried's unfortunate remarks about Japan tsunami?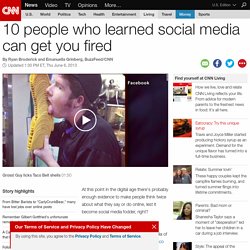 A California Pizza Kitchen server complained that his uniform was the "lamest s--t ever" Follow CNN Living on Facebook and Twitter Editor's note: This post was created for your reading pleasure as a collaborative effort between the editorial staffs of BuzzFeed and CNN. (CNN) -- At this point in the digital age there's probably enough evidence to make people think twice about what they say or do online, lest it become social media fodder, right?
Wrong. David Karp. Social media helps McDonald's change public perception. When you think of McDonald's, do you associate it with "nutrition"?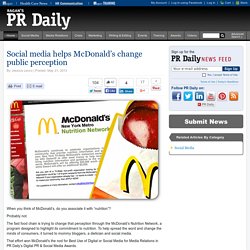 Probably not. The fast food chain is trying to change that perception through the McDonald's Nutrition Network, a program designed to highlight its commitment to nutrition. To help spread the word and change the minds of consumers, it turned to mommy bloggers, a dietician and social media. That effort won McDonald's the nod for Best Use of Digital or Social Media for Media Relations in PR Daily's Digital PR & Social Media Awards. PR Daily's 2012 Digital PR and Social Media Awards were presented by Synaptic Digital. Why Students Aren't 'Pinterested' in Your 'Klout' The internet is awesome.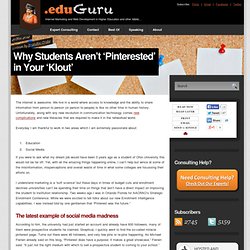 We live in a world where access to knowledge and the ability to share information from person to person (or person to people) is like no other time in human history. Unfortunately, along with any new revolution in communication technology comes new complications and new literacies that are required to make it in the networked world. Everyday I am thankful to work in two areas which I am extremely passionate about: Apple Is Said to Discuss an Investment in Twitter.
While Apple has been hugely successful in selling phones and tablets, it has little traction in social networking, which has become a major engine of activity on the Web and on mobile devices.
Social media are increasingly influencing how people spend their time and money — an important consideration for Apple, which also sells applications, games, music and movies. Apple has considered an investment in the hundreds of millions of dollars, one that could value Twitter at more than $10 billion, up from an $8.4 billion valuation last year, these people said. They declined to be named because the discussions were private. There is no guarantee that the two companies, which are not in negotiations at the moment, will come to an agreement. But the earlier talks are a sign that they may form a stronger partnership amid intensifying competition from the likes of Google and .
Universities are out to prove the ROI of social media. The University of Massachusetts Dartmouth Center for Marketing Research continues to do an excellent job documenting the social media progress of organizations such as Fortune 500 companies, INC 500 companies and non-profits.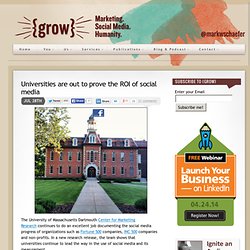 In a new research release, the team shows that universities continue to lead the way in the use of social media and its measurement. If you think about, using social media at the university level is the perfect test case for what all our organizations may be seeing just a few years from now: Everything You Need to Run a Successful Social Media Contest. So you want to run a contest on social media, eh? Not sure where to start? Which social network is the most appropriate choice? Oprah revives her wildly popular book club - with a strong social media twist, including Storify · storify. Students Get Emerson's Commencement Trending on Twitter While David Gregory Bashes Social Media. Klout and Why the Design of Social Networking Matters. Social media has a fraught relationship with neurosis.
Obsessive people are essential to sites like Facebook and Twitter. They add energy and buzz. Has Timeline Increased Engagement on Facebook? While the average Facebook user may still not have made the switch to the social network's new Timeline format, as of March 30, 2012, all brand pages were required to do so, and some brands have been seeing increased engagement as a result. Social media measurement company Simply Measured looked at 15 brand pages that were early adopters of the Timeline format and found that average engagement on brand posts (i.e., comments and "likes") rose 46% in the three weeks after the switch compared to the three weeks before. Prior to the Timeline introduction, the 15 brand pages saw an average of 1,672 points of engagement per post, rising to 2,441 after switching to Timeline. However, when Simply Measured looked at individual brands, several companies, including Old Spice, Target, AT&T and Ford, saw less engagement with brand posts, which is in line with March data from Wildfire Interactive.
Colleges ponder the pros and cons of Pinterest as a marketing tool. In the world of college marketing, can a picture be worth a thousand tweets? It is difficult to appraise social media tools so precisely. But colleges are excited enough about the potential of Pinterest — an image-based social media site that has grown with astonishing speed — to keep their institutional brand on the minds of prospective students and alumni that many have scrambled to establish a "presence" there, even as the value of the site as a marketing tool remains hazy.
Others have hung back, leery of investing too heavily in trendy platforms before their utility can be properly pinned down. 9 social media crisis questions Dole failed to answer. Facebook Advertisers Shun Sponsored Stories: Report. General Motors' Mary Henige To Share GM's Social Media Success Story | VMR. Story Arcs for Social Media | Solo PR Pro | Successful Freelance PR Consulting. The New Facebook Brand Timeline Mistake You'll Likely Make. My experiences as a social media intern | The Social Web at UWGB. Revealed: US spy operation that manipulates social media | Technology. Building a student social media team? look in social media. | InsideTimsHead. SPOS #290 - Examining Social Media With Michael Stelzner. Google Search Adds Google+: This Week in Social Media. Favorite Social Media Tools For 2011. How to Recover From Social Media Blunders.
Photos du mur. For Financial Advisers, the More Friends the Better. Proposed social media policy draws criticism from campus community - News - Houstonian. The Charlie Sheen Roast: Comedy Central's Ambitious Social Media Experiment. Social Media Case Studies & Examples. Social Media Guidelines or Policy? Guest Blog: Getting Your Nonprofit Online. With Oomph. « Cradles to Crayons Blog. 4 Steps to Integrate Social Media in Your Company. This year's best social media campaigns to date (page 2 of 2) The Future of Social Media. Lawmakers seek to ban convict use of social media. Why Social Media Tools Have a Place in the Classroom : Tech News and Analysis « Why Some Brands May Need To Rethink Their Social Media Strategy. What Marketers Need to Know About Social Listening. News: Looking Past Friend-Counting. Social Media Home Page. The Role of Video for Social Media Marketers « all the news that's fit to blog, tweet & post. Top 10 analytics tools for social media.
Social media marketing boosts traffic and inbound links for Eloqua.com « News [Brafton] Communication and Social Networking - Conveying Emotions Clearly. Measuring the ROI of your social media efforts. What does social media mean for the future of journalism? Social Media Meets Academia: How Emerson College Keeps its Community Connected | Bostinnovation: Boston Innovation and Tech News Blog.
---