Social Media
One of the top headlines you see on social media news sites on a regular basis is about how Facebook is dying, Facebook is dead, millennials don't use Facebook, teens don't use Facebook, etc. We're often skeptical of such claims, especially when there is no methodology provided to back up the sensationalist headlines.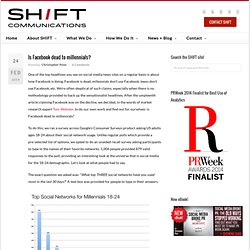 Is Facebook dead to millennials?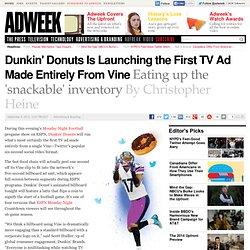 Dunkin' Donuts Is Launching the First TV Ad Made Entirely From Vine
During this evening's Monday Night Football pregame show on ESPN, Dunkin' Donuts will run what's most certainly the first TV ad made entirely from a single Vine—Twitter's popular six-second social video format.
The most read article of all time on BuzzFeed contains no photographs of celebrity nip slips and no inflammatory ranting.
With Rise of Social Media, Upbeat Stories Draw Most Attention Online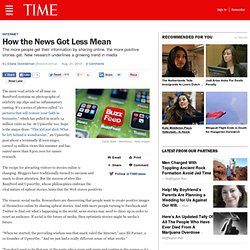 Foursquare Rolls Out Check-In Ads With Captain Morgan | Digital
Twitter Tests Analytics Features For Users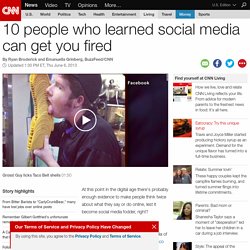 10 people who learned social media can get you fired
June 6, 2013 -- Updated 1730 GMT (0130 HKT) From Bitter Barista to "CarlyCrunkBear," many have lost jobs over online posts Remember Gilbert Gottfried's unfortunate remarks about Japan tsunami?
David Karp
When you think of McDonald's, do you associate it with "nutrition"? Probably not.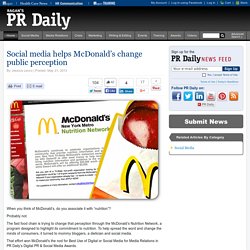 Social media helps McDonald's change public perception
Why Students Aren't 'Pinterested' in Your 'Klout'
The internet is awesome.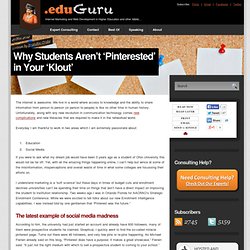 Apple Is Said to Discuss an Investment in Twitter
The University of Massachusetts Dartmouth Center for Marketing Research continues to do an excellent job documenting the social media progress of organizations such as Fortune 500 companies, INC 500 companies and non-profits. In a new research release, the team shows that universities continue to lead the way in the use of social media and its measurement. If you think about, using social media at the university level is the perfect test case for what all our organizations may be seeing just a few years from now: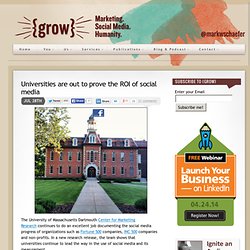 Universities are out to prove the ROI of social media
Boston.com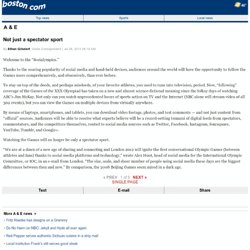 Not just a spectator sport
So you want to run a contest on social media, eh? Not sure where to start? Which social network is the most appropriate choice?
Everything You Need to Run a Successful Social Media Contest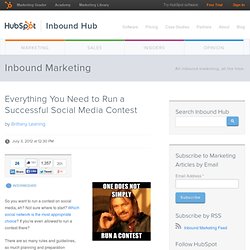 Oprah revives her wildly popular book club - with a strong social media twist, including Storify · storify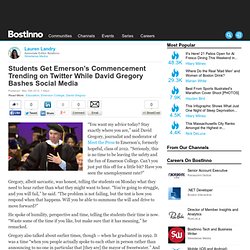 Published: May 16th 2012, 1:48pm Read More: Education , Emerson College, David Gregory
Students Get Emerson's Commencement Trending on Twitter While David Gregory Bashes Social Media
Klout and Why the Design of Social Networking Matters
Social media has a fraught relationship with neurosis. Obsessive people are essential to sites like Facebook and Twitter. They add energy and buzz.
While the average Facebook user may still not have made the switch to the social network's new Timeline format, as of March 30, 2012, all brand pages were required to do so, and some brands have been seeing increased engagement as a result.
Has Timeline Increased Engagement on Facebook?
Colleges ponder the pros and cons of Pinterest as a marketing tool
In the world of college marketing, can a picture be worth a thousand tweets? It is difficult to appraise social media tools so precisely. But colleges are excited enough about the potential of Pinterest — an image-based social media site that has grown with astonishing speed — to keep their institutional brand on the minds of prospective students and alumni that many have scrambled to establish a "presence" there, even as the value of the site as a marketing tool remains hazy. Others have hung back, leery of investing too heavily in trendy platforms before their utility can be properly pinned down. Pinterest, a "virtual pinboard" where users can create profiles by accruing illustration-based "pins" that represent their interests and affiliations, is nowhere near as large as other social media sites that college communications staffers have been wrangling for the better part of a decade. But its rate of growth has been difficult to ignore.
Driving to work on Monday, April 16, I was flipping through the radio dial and caught a story on NPR about a recall by Dole Food Co. Apparently, it was a fairly small matter involving about 750 cases of a particular Dole bagged salad product that could pose a salmonella threat. At the office I went online to see what Dole was doing. Surely, I thought, it would handle this with confidence. After all, it is the world's largest producer and marketer of fruit and fresh vegetables, does business in more than 90 countries, and employs some 36,000 full-time, regular employees worldwide—not to mention 23,000 full-time seasonal or temporary employees (according to its LinkedIn page).
9 social media crisis questions Dole failed to answer
Facebook Advertisers Shun Sponsored Stories: Report
General Motors' Mary Henige To Share GM's Social Media Success Story | VMR
Story Arcs for Social Media | Solo PR Pro | Successful Freelance PR Consulting
The New Facebook Brand Timeline Mistake You'll Likely Make
My experiences as a social media intern | The Social Web at UWGB
building a student social media team? look in social media. | InsideTimsHead
SPOS #290 - Examining Social Media With Michael Stelzner | Six Pixels of Separation - Marketing and Communications Podcast - By Mitch Joel at Twist Image
Google Search Adds Google+: This Week in Social Media
Favorite Social Media Tools For 2011
How to Recover From Social Media Blunders
Photos du mur
For Financial Advisers, the More Friends the Better
Proposed social media policy draws criticism from campus community - News - Houstonian
The Charlie Sheen Roast: Comedy Central's Ambitious Social Media Experiment
Social Media Case Studies & Examples
Social Media Guidelines or Policy?
Guest Blog: Getting Your Nonprofit Online. With Oomph. « Cradles to Crayons Blog
4 Steps to Integrate Social Media in Your Company
This year's best social media campaigns to date (page 2 of 2)
The Future of Social Media
Lawmakers seek to ban convict use of social media
Why Social Media Tools Have a Place in the Classroom : Tech News and Analysis «
Why Some Brands May Need To Rethink Their Social Media Strategy
What Marketers Need to Know About Social Listening
News: Looking Past Friend-Counting - Inside Higher Ed
Social Media Home Page
The Role of Video for Social Media Marketers « all the news that's fit to blog, tweet & post
Top 10 analytics tools for social media
Social media marketing boosts traffic and inbound links for Eloqua.com « News [Brafton]
Communication and Social Networking - Conveying Emotions Clearly
Measuring the ROI of your social media efforts
What does social media mean for the future of journalism?
Social Media Meets Academia: How Emerson College Keeps its Community Connected | Bostinnovation: Boston Innovation and Tech News Blog