News
Get flash to fully experience Pearltrees
A CRITIC AT LARGE about Walter Cronkite, Dan Rather, and CBS News. Douglas Brinkley says he got the idea to write a biography of Walter Cronkite from David Halberstam. During a casual conversation on a long car ride, Halberstam told him that Cronkite was "the most significant journalist of the second half of the twentieth century," and that someone ought to write his biography.
We've heard that social media is a great source of traffic for news outlets so often that it's close to textbook. Yes, Facebook, Twitter and the rest are important, according the 2012 State of the News Media report by Pew Research Center's Project for Excellence in Journalism — but not yet as important as the buzz might lead you to think. That's not to dismiss the value, rather to put it in perspective in a way that may be hard to see when you spend a lot of time immersed in various forms of social media.
A big event is happening in our Boston backyard today: Lady Gaga is coming to town to launch her Born This Way Foundation (BTWF). Anything Lady Gaga does is big news these days. Here at Latitude News what we are really interested in is her foundation's explicit focus on anti-bullying, not just here in the U.S. but around the world. Gaga is, after all, a global phenomenon with almost 20 million Twitter followers.
Despite commanding 95% of social networking time in the US it is Twitter which shaped the news agenda in 2011. According to Highbeam Research ( via Inside Facebook ), Twitter received around 50% of mentions about social media in the (traditional) media, compared to 45% odd for Facebook Except for February and April, Twitter was ahead every month, including September when Facebook launched Timeline and other features. Why does this matter? Despite dwarfing every other social network and having a (now) celebrity founder in Mark Zuckerberg, the news media was more interested in the role Twitter had to play in society. Which brings to mind the old arguments that many like myself used to make about the need to look beyond Twitter's numbers to influence.
As an idea, "knowledge-based reporting" sounds pretty hard to disagree with. No-brainer, right? But Harvard Prof. Tom Patterson has argued that knowledge is woefully absent from most journalism today: Journalists are not trained to think first about how systematic knowledge might inform a news story. They look first to the scene of action and then to the statements of involved or interested parties.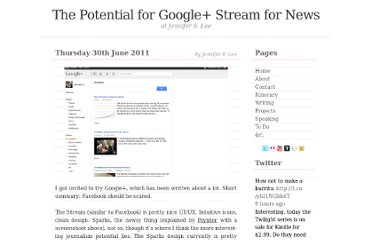 by Jennifer 8. Lee I got invited to try Google+, which has been writ­ten about a lot. Short sum­mary: Face­book should be scared.
A few hours ago, a friend of mine emailed me, lamenting a story that CNN was passing off as breaking news, even though it was far from being either news or newsworthy. His displeasure reminded me of a conversation I had with serial entrepreneur and startup guru Steve Blank when he came to my office to tape an interview . As we sat there waiting for the cameras to roll, we talked about what media is in this post-broadband, always-on world. I told Steve that the problem with most media companies is they define themselves by the product they hawk. Music television, CNN, Breaking News, The New York Times, The Wall Street Journal, ESPN or whatever — these are all products that define the media companies behind them. And therein lies the problem.
In a time when local newsrooms are cautious about costs, Seattle's KING TV was one of the first stations in the country to create a newsroom position dedicated to social media. A longtime journalist in the KING newsroom, Evonne Benedict was named social media manager in November, so we decided to ask her a few questions, from her job to whether other stations should hire people like her: @LostRemote: Tell us about your job?
More and more it seems that Twitter is becoming an integral part of/player in the news of the world. Whether it be breaking the news, for example, the 2009 US Airways flight ditching in the Hudson river , or actually being the news, as it has been most recently concerning the role it played in the Egyptian revolution, "Twitter" and "News" are becoming synonymous. A recent article on Paul Sutton's blog The Social Web , and the report by HP found below, got me thinking about the topic of media gatekeepers, Twitter, news and how digital marketers can engage with Twitter to make it (news) and get results. First, Paul's piece asks some great questions concerning PR and the fact that Twitter now is the news and breaks it many times even before the mainstream media sites do.
2008 and 2009 saw an explosion in the number of hyperlocal news media around the world. Since then, hyperlocal media has matured and many news sites now offer similar features that both distribute and aggregate news from their respective communities. Community voices Hyperlocal news sites often capture the thoughts and voices of their community of readers through blog posts and articles written by citizen journalists or local bloggers.
By PETER H. LEWIS Published: January 22, 1996 The New York Times begins publishing daily on the World Wide Web today, offering readers around the world immediate access to most of the daily newspaper's contents. The New York Times on the Web, as the electronic publication is known, contains most of the news and feature articles from the current day's printed newspaper, classified advertising, reporting that does not appear in the newspaper, and interactive features including the newspaper's crossword puzzle. The electronic newspaper (address: http:/www.nytimes.com) is part of a strategy to extend the readership of The Times and to create opportunities for the company in the electronic media industry, said Martin Nisenholtz, president of The New York Times Electronic Media Company.