Dinners
Bulgogi Ribs. Everyone loves super tender ribs that come right off the bone, and I bet you think that they are really hard to make.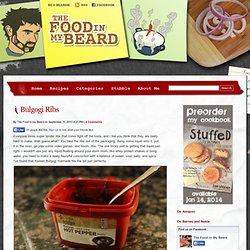 Well guess what? You take the ribs out of the packaging, dump some liquid onto it, put it in the oven, go play some video games, and boom, ribs. The one tricky part is getting that liquid just right. 50 Slow Cooker Recipes. Life is busy around my house.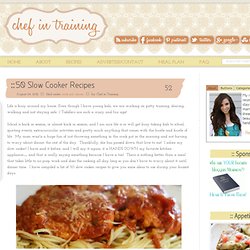 Even though I have young kids, we are working on potty training, sharing, walking and just staying safe :) Toddlers are such a crazy and fun age! School is back in session, or almost back in session, and I am sure life is or will get busy taking kids to school, sporting events, extracurricular activities and pretty much anything that comes with the hustle and bustle of life. My mom was/is a huge fan of just throwing something in the crock pot in the morning and not having to worry about dinner the rest of the day. Thankfully, she has passed down that love to me! Cheesy Chicken, Bacon and Avocado Quesadillas. What is it about bacon & avocado that I absolutely love??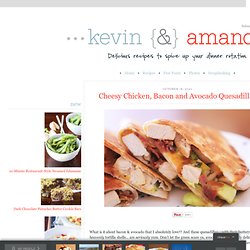 And these quesadillas… with their buttery, crispy, heavenly tortilla shells… are seriously yum. Don't let the green scare ya, avocados have a really delicious taste. I promise they're not just thrown in to "healthify" this recipe! Mexican Sweet Potato and Chicken Stir-Fry. FitSugar reader Ambitiouskitchen shared this filling yet light Mexican-inspired stir-fry recipe in our Healthy Recipe group.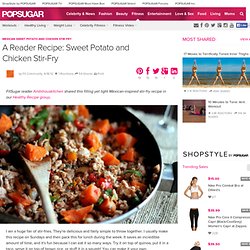 I am a huge fan of stir-fries. They're delicious and fairly simple to throw together. Free Online Recipes | Free Recipes. Lasagna Roll Ups Recipe. Unfortunately, I have yet to post a lasagna recipe but I have something just as good- Lasagna roll ups.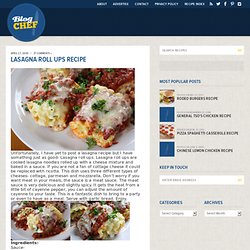 Lasagna roll ups are cooked lasagna noodles rolled up with a cheese mixture and baked in a sauce. If you are not a fan of cottage cheese it could be replaced with ricotta. Honey-Fried Trout recipe | Trout Recipes. While an unusual ingredient for fried fish, honey really makes the flavors of golden trout pop.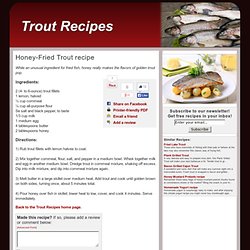 Ingredients: 2 (4- to 6-ounce) trout fillets 1 lemon, halved ½ cup cornmeal ¼ cup all-purpose flour Se salt and black pepper, to taste 1/3 cup milk 1 medium egg 4 tablespoons butter 2 tablespoons honey Directions: Savory Pot Roast Crockpot Recipe - Slow Cooker Beef Roast Entree Recipes. Don't be afraid of the amount of horseradish in this recipe.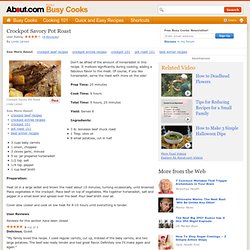 It mellows significantly during cooking, adding a fabulous flavor to the meat. Of course, if you like horseradish, serve the roast with more on the side! Prep Time: 25 minutes. Super Simple Stunning Quesadillas. Crazy day at the office and a late arrival to the house leads to a hungry household.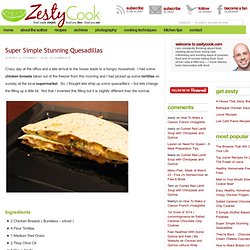 I had some chicken breasts taken out of the freezer from this morning and I had picked up some tortillas on sunday at the local supermarket. So, I thought lets whip up some quesadilla's – but lets change the filling up a little bit. Not that I invented this filling but it is slightly different than the normal. Spinach and Prosciutto Lasagna.
3xSgR.jpg (476×9300) LaSaGnA TiMpAnO. I went to see tUnE-yArDs on Monday night with some friends, and as always we wanted to cook a meal that somehow related to the show we were heading to.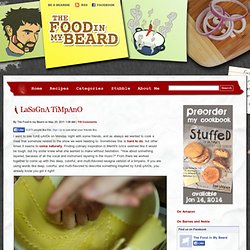 Sometimes this is hard to do, but other times it seems to come naturally. Finding culinary inspiration in Merrill's lyrics seemed like it would be tough, but my sister knew what she wanted to make without hesitation. "How about something layered, because of all the vocal and instrument layering in the music? " From there we worked together to come up with this deep, colorful, and multi-flavored lasagna version of a timpano. If you are using words like deep, colorful, and multi-flavored to describe something inspired by tUnE-yArDs, you already know you got it right! Get your cook on. Crispy Parmesan and Dijon Chicken Strips – The Scrumptious Pumpkin. This is my go-to recipe when I've had a crazy day, I'm running 30 minutes behind, and I'm starving .
These chicken strips are healthy, delicious and nearly as easy to throw together as the frozen chicken tenders you find at the grocery store. Served with a couple quick sides like a tossed salad and sliced carrots, it's complete meal that's ready in 20 minutes. Quinoa with Veggies Recipe. Lemony Quinoa Recipe. World's Best Lasagna Recipe. Herb-Stuffed Red Peppers Recipe. Frogmore Stew Recipe. Szechwan Shrimp Recipe.
---