Alcohol
Drinking Man's Guide to Summer: The Fish Bowl. Mixed at: The Foundry at McCoy's (foundrykc.com)Origins: This bowl of brain-dulling deliciousness, based on the Blue Hawaiian, should be sipped simultaneously by four ladies (not you) at your BBQ. ½ cup Nerds candy½ gallon goldfish bowl5 oz. vodka5 oz.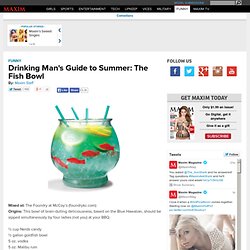 Malibu rum3 oz. blue Curacao6 oz. sweet-and-sour mix16 oz. pineapple juice16 oz. 1898646_460s.jpg (460×9230) Milk and Booze! How To Make Sweet Milk Liqueur. Previous image Next image Milk liqueur: a Portuguese recipe made from equal parts vodka (or grappa), milk, and sugar.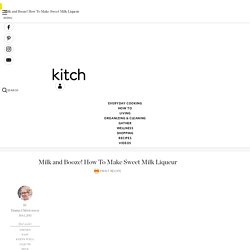 Say hello to the newest addition to our liquor cabinet! This rather improbable combination of vodka and milk makes a liqueur so smooth and perfectly sweet that you'll want to sip it straight. S'moretini Shooters. Me again.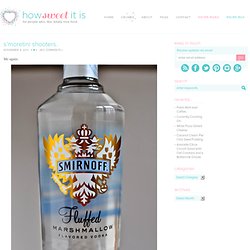 Here to convince you that you need yet another trendy, insanely-flavored bottle of booze. I do what I can. I know what you're thinking. SMN_NEW_DandelionWineMAY10.gif (1288×754) Great Scot! It's whisky in a can ... eight shots for $5 to be sold in the United States. By Ellen Connolly Updated: 04:03 GMT, 4 January 2012 It's enough to make Scotch whisky connoisseurs choke on their single malt - a Scottish distillery has produced whisky in a can.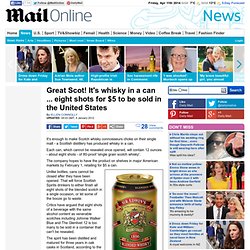 Each can, which cannot be resealed once opened, will contain 12 ounces - about eight shots - of 80-proof 'single grain scotch whisky'. The company hopes to have the product on shelves in major American markets by February 1, retailing for $5 a can. Potent: Each can will contain about eight shots of 80-proof scotch whisky. Custom Beer Labels Free Online. Toast The Holidays With Beer Nog. ​Yes, beer nog.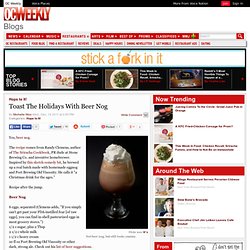 The recipe comes from Randy Clemens, author of The Sriracha Cookbook, PR dude at Stone Brewing Co. and inventive homebrewer. Inspired by this sketch comedy bit, he brewed up a real batch made with homemade eggnog and Port Brewing Old Viscosity. Drinking Game: Rez-a-Roller. Everyone sits at a table, and takes turns rolling two six-sided dice.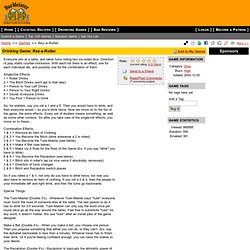 Direction of play starts counter-clockwise. With each roll there is an effect, one for each individual die, and possibly one for the combination of them. Single-Die Effects: 1 = Roller Drinks 2 = The Bitch Drinks (we'll get to that later) 3 = Person to Your Left Drinks 4 = Person to Your Right Drinks 5 = Social, Everyone Drinks 6 = You Pick 1 Person to Drink So, for starters, say you roll a 1 and a 5. Sweet and sour drinks. Beer To Try. Flaming Dr. Pepper. The Flaming Dr.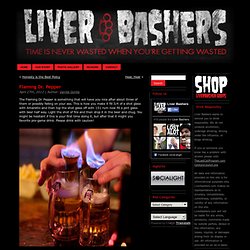 Pepper is something that will have you nice after about three of them or possibly falling on your ass. This is how you make it fill 3/4 of a shot glass with Amaretto and then top the shot glass off with 151 rum now fill a pint glass with beer half way. Light the shot of fire and then drop it in the beer and chug. Make Flavored Vodka with Jolly Rancher Candies. Wisest Wizard. Also known as "Wizard Staff" this is a fairly new drinking game that always results in the mass consumption of canned beverages.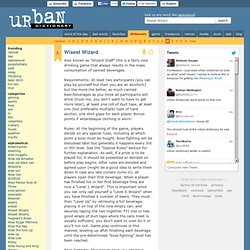 Requirements: At least two participants (you can play by yourself but then you are an alcoholic) but the more the better, as much canned beer/beverages as you think all participants will drink (trust me, you don't want to have to get more later), at least one roll of duct tape, at least one (but preferably multiple) type of hard alcohol, one shot glass for each player. Bonus points if wizardesque clothing is worn! Rules: At the beginning of the game, players decide on any special rules, including at which point a boss must be fought. Boss fighting will be discussed later but generally it happens every 3rd or 5th level.
See the "Special Rules" section for further explanation. Get-drunk-not-fat2.jpg (594×9896) 10 Jello Shots Worth the Hangover.
---