Energie, Agriculture, Environnement, Cartographie..etc
Food and Agriculture Organization of. La FAO met au point des méthodes et des normes pour les statistiques de l'alimentation et de l'agriculture, offre une assistance technique et diffuse les données pour un suivi à l'échelle mondiale.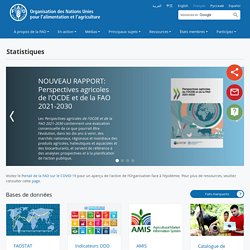 Les activités statistiques de la FAO comprennent la conception et la mise en œuvre de méthodologies et normes en vue de la collecte, de la validation, du traitement et de l'analyse des données. La FAO joue également un rôle déterminant dans la compilation, le traitement et la diffusion mondiale des statistiques concernant l'alimentation et l'agriculture, et aide les États membres à développer leurs capacités statistiques. La FAO dispose d'un système statistique décentralisé et les activités portent notamment sur les domaines suivants: agriculture, forêts et pêches, ressources en terres et en eau et leur utilisation, climat, environnement, population, données ventilées par sexe, nutrition, pauvreté, développement rural, éducation et santé. CountrySTAT: CountrySTAT. CountrySTAT is a web-based information technology system for food and agriculture statistics at the national and subnational levels.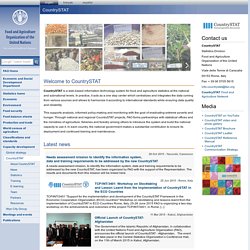 In practice, it acts as a one stop center which centralizes and integrates the data coming from various sources and allows to harmonize it according to international standards while ensuring data quality and reliability. This supports analysis, informed policy-making and monitoring with the goal of eradicating extreme poverty and hunger. Through national and regional CountrySTAT projects, FAO forms partnerships with statistical offices and the ministries of agriculture, fisheries and forestry among others to introduce the system and build the national capacity to use it. In each country, the national government makes a substantial contribution to ensure its deployment and continued training and maintenance. STAT. AQUASTAT - FAO's Information System on Water and Agriculture. AQUASTAT is FAO's global water information system, developed by the Land and Water Division.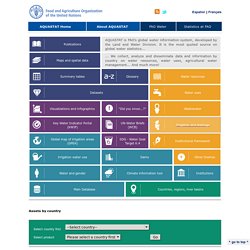 The main mandate of the programme is to collect, analyze and disseminate information on water resources, water uses, and agricultural water management, with an emphasis on countries in Africa, Asia, Latin America and the Caribbean. This allows interested users to find comprehensive and regularly updated information at global, regional, and national levels. All AQUASTAT products can be found using the left navigation menu.
Shortcuts to our most popular programme areas containing country-level information are presented below for ease of use: KIDS - Agro-maps. OIE World Animal Health Information Database - WAHID Interface. World Animal Health Information Database (WAHID) Interface The WAHID Interface provides access to all data held within OIE's new World Animal Health Information System (WAHIS).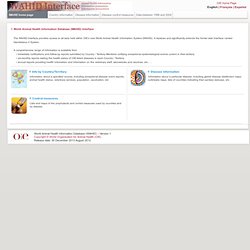 It replaces and significantly extends the former web interface named Handistatus II System. A comprehensive range of information is available from • immediate notifications and follow-up reports submitted by Country / Territory Members notifying exceptional epidemiological events current in their territory • six-monthly reports stating the health status of OIE-listed diseases in each Country / Territory. GODAE: Global Ocean Data Assimilation Experiment. The Fleet Numerical Meteorology and Oceanography Center (FNMOC) The Fleet Numerical Meteorology and Oceanography Center (FNMOC) provides the highest quality, most relevant and timely worldwide meteorology and oceanography support to U.S. and coalition forces from its Operations Center in Monterey, California.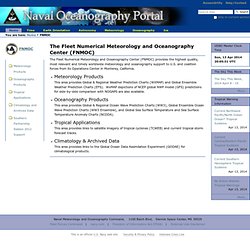 Meteorology Products This area provides Global & Regional Weather Prediction Charts (WXMAP) and Global Ensemble Weather Prediction Charts (EFS). Developer Resources - Existing Apps | US Environmental Protection Agency. U.S. EPA Enforcement & Compliance History Online (ECHO) Database. Data Finder. Enel Open Data beta | Emergency and Disaster Information Service.
[beta] seismi.org. Earthquake - Latest Earthquakes in the World - EMSC. Seismic Monitor - Recent Earthquakes. Longitude Latitude New: Earthquake browser with 3D viewer!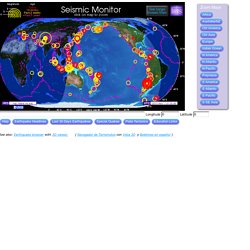 Nuevo: Navegador de Terremotos con Vista 3D! Y Boletines en español IEB is a new, interactive map that not only shows the latest earthquakes but allows you to display thousands of quakes from an archive of 3.4 million spanning from 1970 to minutes ago. Incorporated Research Institutions for Seismology. Global Disaster Alert and Coordination System. Weather Model - Global Jet Stream Wind and 250 mb Pressure (STORMSURF) USGS National Geomagnetism Program | Home. Welcome to the USGS - U.S. Geological Survey. National Hurricane Center. Le nucléaire près de chez vous | Greenpeace France.
OpenStreetMap. Player. Visualizing.org. Since 2005, Europe has been running the world's largest greenhouse gas market, capping emissions of its major factories and power stations, and allowing those companies to buy and sell pollution permits amongst themselves, as well as on the international "offsets" market, where funds go towards developing world projects that help curb emissions.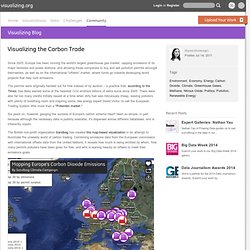 The permits were originally handed out for free instead of by auction – a practice that, according to the Times, has likely earned some of the heaviest CO2 emitters billions of extra euros since 2005. There were also far too many credits initially issued at a time when dirty fuel was ridiculously cheap, leaving polluters with plenty of breathing room and inspiring some, like energy expert David Victor, to call the European Trading System little more than a "Potemkin market. " Water Security. Transparency Index | FarmSubsidy.org. The farmsubsidy.org Transparency Index is a way of comparing how well EU member states are doing at providing information on who gets what from the Common Agricultural Policy.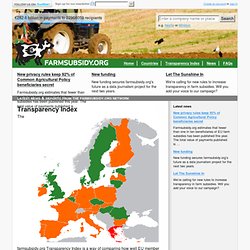 The scores are out of 100 and are weighted averages based on a number of criteria including: the number of years for which data has been released; the amount of detail in the data, e.g. geographical location, description of subsidy schemes, date, currency etc; the format of disclosure (we give extra points for disclosure of raw data in a machine-readable format and we penalise disclosure in PDF files). They are calculated and regularly updated by Nils Mulvad, co-founder of farmsubsidy.org. Countries that release comprehensive and detailed data in a machine-readable format will score highly. A country that simply follows the EU law on disclosure will score around 35%.
---