Energie, Agriculture, Environnement, Cartographie..etc
Agro-MAPS Base de données géographiques des statistiques sous-nationales d'utilisation des terres agricoles au niveau mondial. Le Système global d'information sur l'eau et l'agriculture (AQUASTAT) a été développé par la Division de la conservation des eaux et des sols de la FAO pour fournir aux utilisateurs une information synthétique sur la situation de la gestion de l'eau pour l'agriculture dans le monde entier, notamment dans les pays en développement et dans les pays en transition. Atlas mondial de la production et de la santé animale (GLiPHA) L'atlas mondial de la production et de la santé animale (GLiPHA) est un atlas interactif et facile d'utilisation s'appuyant sur le Système des Principaux Indicateurs ( SPI ) crée par la FAO. Grâce à une combinaison de cartes, tableaux et diagrammes, cet atlas permet d'obtenir une vue spatiale et temporelle de la variation d'information quantitative en relation avec la production et la santé animale.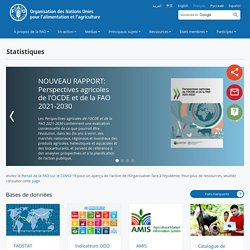 FAO - Food and Agriculture Organization of
CountrySTAT: CountrySTAT
STAT
AQUASTAT - FAO's Information System on Water and Agriculture
AQUASTAT is FAO's global information system on water and agriculture, developed by the Land and Water Division. The main mandate of the programme is to collect, analyze and disseminate information on water resources, water uses, and agricultural water management with an emphasis on countries in Africa, Asia, Latin America and the Caribbean. This allows interested users to find comprehensive and regularly updated information at global, regional, and national levels. All AQUASTAT products can be found using the left navigation menu. Shortcuts to our most popular programme areas containing country-level information are presented below for ease of use: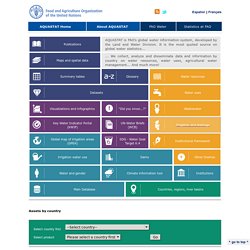 KIDS - Agro-maps
World Animal Health Information Database (WAHID) Interface The WAHID Interface provides access to all data held within OIE's new World Animal Health Information System (WAHIS). It replaces and significantly extends the former web interface named Handistatus II System. A comprehensive range of information is available from • immediate notifications and follow-up reports submitted by Country / Territory Members notifying exceptional epidemiological events current in their territory • six-monthly reports stating the health status of OIE-listed diseases in each Country / Territory.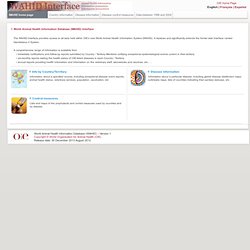 OIE World Animal Health Information Database - WAHID Interface
GODAE: Global Ocean Data Assimilation Experiment.
The Fleet Numerical Meteorology and Oceanography Center (FNMOC) — Naval Oceanography Portal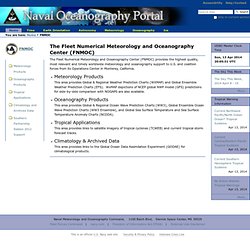 The Fleet Numerical Meteorology and Oceanography Center (FNMOC) provides the highest quality, most relevant and timely worldwide meteorology and oceanography support to U.S. and coalition forces from its Operations Center in Monterey, California. Meteorology Products This area provides Global & Regional Weather Prediction Charts (WXMAP) and Global Ensemble Weather Prediction Charts (EFS). WxMAP depictions of NCEP global NWP model (GFS) predictions for side-by-side comparison with NOGAPS are also available.
You are here: EPA Home ERROR page Please return to the previous page: http://www.epa.gov/developer/existingapps.html and use the comment link there to report this broken link. If you have not linked from an existing page, please check for typographical errors in the URL you entered or use the comments page to describe your problem to the EPA's Internet Support. When contacting us, please include the following information: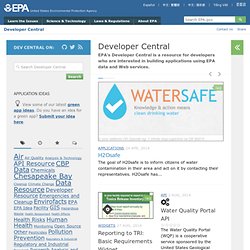 Developer Resources - Existing Apps | US Environmental Protection Agency
U.S. EPA Enforcement & Compliance History Online (ECHO) Database
Data Finder
Enel Open Data beta |
[beta] seismi.org
Global Disaster Alert and Coordination System
Weather Model - Global Jet Stream Wind and 250 mb Pressure (STORMSURF)
carte-interactive-situation-nucleaire-europe-apres-fukushima
Player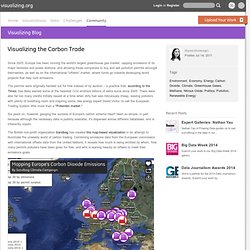 visualizing.org
Since 2005, Europe has been running the world's largest greenhouse gas market, capping emissions of its major factories and power stations, and allowing those companies to buy and sell pollution permits amongst themselves, as well as on the international "offsets" market, where funds go towards developing world projects that help curb emissions. The permits were originally handed out for free instead of by auction – a practice that, according to the Times , has likely earned some of the heaviest CO2 emitters billions of extra euros since 2005. There were also far too many credits initially issued at a time when dirty fuel was ridiculously cheap, leaving polluters with plenty of breathing room and inspiring some, like energy expert David Victor, to call the European Trading System little more than a "Potemkin market."
Transparency Index | FarmSubsidy.org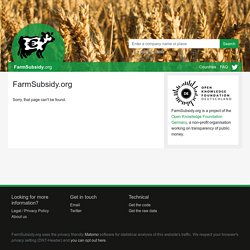 The farmsubsidy.org Transparency Index is a way of comparing how well EU member states are doing at providing information on who gets what from the Common Agricultural Policy. The scores are out of 100 and are weighted averages based on a number of criteria including: the number of years for which data has been released; the amount of detail in the data, e.g. geographical location, description of subsidy schemes, date, currency etc; the format of disclosure (we give extra points for disclosure of raw data in a machine-readable format and we penalise disclosure in PDF files). They are calculated and regularly updated by Nils Mulvad, co-founder of farmsubsidy.org.