Actions écologiques
Bio écolo, le blog nature et environnement
Tweet Les particuliers sont de plus en plus nombreux à se tourner vers l'isolation écologique. Soucieux d'apporter leur soutien à la protection de l'environnement, ils sont nombreux aujourd'hui à choisir des isolants qui ont un faible impact environnemental pour leur habitation. Au vu de cet engouement des particuliers pour des...
Planet Ark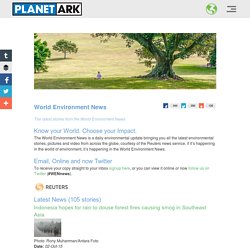 The World Environment News is a daily environmental update bringing you all the latest environmental stories, pictures and video from across the globe, courtesy of the Reuters news service. if it's happening in the world of environment, it's happening in the World Environment News. Latest News (170 stories) Drought threatens population in the northwest of Haiti Photo: Amelie Baron Date: 08-Apr-14 Country: Haiti Author: Amelie Baron Only cactus grows along the dirt road fringing arid fields on the way to the isolated village of Bas des Moustiques, on the outskirts of the northwestern city of Port-de-Paix in Haiti.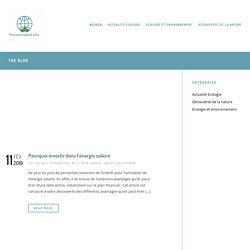 Vous pensiez que les faire-part étaient morts et enterrés ? L'avènement du web, des emails et des nouvelles technologies à certes ralentie l'activité mais les gens sont toujours attirés par ces documents que l'on partage lors de belles occasions. Le faire-part à la particularité d'être plus personnel qu'un simple email. C'est une solution de communication qui garde la cote auprès de nombreuses personnes.