La génération Y et l'enseignement
Association pour les applications pédagogiques de l'ordinateur a
Association pour les applications pédagogiques de l'ordinateur a
Utv - Thèmes - Etudiants et enseignants dans l'université du 21e
M'Sieur S.V.P. ?: Envie de savoir, envie d'apprendre
Envie de savoir, envie d'apprendre « Apprendre sans effort » : la formule fleurit sur Internet, puissant argument pour vous vendre des cours de langue, mais aussi des régimes amaigrissants, et toutes sortes de recettes de développement personnel. Si l'on se rend sur les forums, la question revient, insistante, dans ce genre de formulation : « Connaissez-vous des cours de (néerlandais, maths, anglais…), qui permettent d'apprendre facilement » ?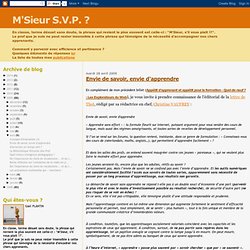 YouTube - Learning Styles of the Net Generation
Le raisonnement est une opération mentale fondée sur une logique de la pensée qui permet à l'individu de construire une conclusion à partir d'éléments divers de connaissance. Le raisonnement est selon Leibniz « une combinatoire qui met en jeu des opérations : conjonction, disjonction, négation, implication, incompatibilité, alternative ». Les différents types de raisonnement développés dans la ressource sont : la déduction, l'induction, l'analogie et le zapping. Les raisonnements sont utilisés lors d'activités et permettent l'acquisition de savoirs. Le raisonnement adopté pour s'approprier un savoir est propre à chacun.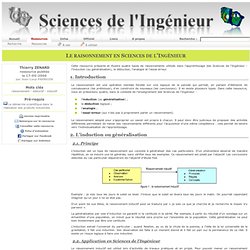 Sciences de L'Ingénieur - Le plaisir du raisonnement
Médiagraphie - pédagogie
Cégep Saint-Jean-sur-Richelieu -- Accueil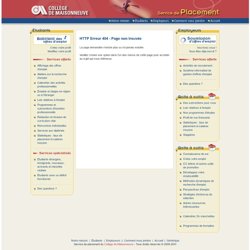 Créez votre profil Modifiez votre profil HTTP Erreur 404 - Page non trouvée La page demandée n'existe plus ou n'a jamais existée. Veuillez choisir une option dans l'un des menus de cette page pour accéder au sujet qui vous intéresse. Inscrivez-vous !
The page cannot be found
CASE - Génération Velos
Genera(lisa)tion Y | Generation Y 2.0
3/30/2009 By: Are you a professional developer, a high school teacher, or university faculty? Are you finding that some of your adult students born between 1976 and 1995 maybe even up to 2001 have specific needs that are difficult to meet in a traditional classroom situation? This generation is what we call the "Generation Y" high school and college students. You may be a Gen Yer or "Millennial".
Teaching Gen Yers