Photography
Fuckyeahprettyplaces. Tag Galaxy. Still Looking For Paradise? Maldives - justpaste.it. Double chain of twenty-six atolls… The Republic of Maldives, or simply the Maldives, is an island nation in the Indian Ocean.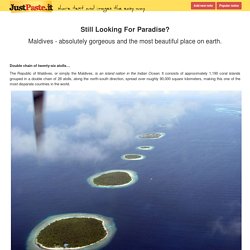 It consists of approximately 1,190 coral islands grouped in a double chain of 26 atolls, along the north-south direction, spread over roughly 90,000 square kilometers, making this one of the most disparate countries in the world. The atolls are composed of live coral reefs and sand bars, situated atop a submarine ridge 960 kilometers long that rises abruptly from the depths of the Indian Ocean and runs from north to south. National Geographic's Photography Contest 2010. A supercell thunderstorm rolls across the Montana prairie at sunset.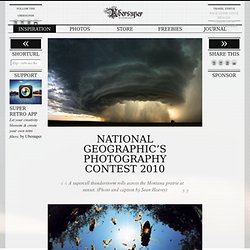 (Photo and caption by Sean Heavey) Salvation. Appreciate life to save the world. Wonders of Nature: Enchanted Pathways. This is the first post of our series about the wonders of nature where we're going to showcase only breathtaking images of many talented photographers.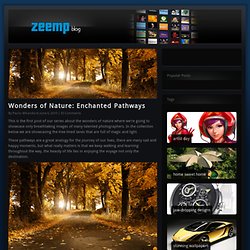 In the collection below we are showcasing the tree-lined lanes that are full of magic and light. These pathways are a great analogy for the journey of our lives, there are many sad and happy moments, but what really matters is that we keep walking and learning throughout the way, the beauty of life lies in enjoying the voyage not only the destination. Lars Van De Goor Portfolio – Please do check out his amazing portfolio here Gary McParland Portfolio – Please do check out his amazing portfolio here. This Damn Beautiful Autumn - Fall in Photographs. You could easily argue that autumn is the most beautiful season of the year.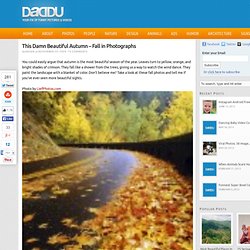 Leaves turn to yellow, orange, and bright shades of crimson. They fall like a shower from the trees, giving us a way to watch the wind dance. They paint the landscape with a blanket of color. Don't believe me?
---