mLearning
The Pros And Cons Of Technology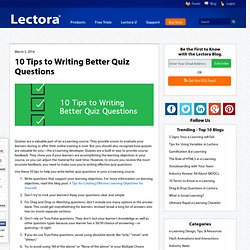 10 Tips to Writing Better Quiz Questions
Quizzes are a valuable part of an e-Learning course. They provide scores to evaluate your learners during or after their online training is over. But you should also recognize how quizzes are valuable for you—the e-Learning developer. Quizzes are a built-in way to provide course feedback. They show you if your learners are accomplishing the learning objectives in your course, so you can adjust the material for next time.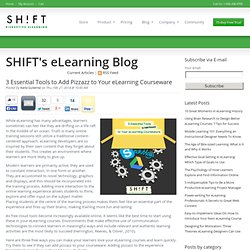 3 Essential Tools to Add Pizzazz to Your eLearning Courseware
3 Essential Tools to Add Pizzazz to Your eLearning Courseware While eLearning has many advantages, learners sometimes can feel like they are drifting on a life raft in the middle of an ocean. Truth is many online training sessions still utilize traditional content-centered approach. eLearning developers are so inspired by their own content that they forget about their students.
Calling All MOOCs
44 QR Codes Resources For Teaching & Learning We've taken a look at QR codes before–how they can be used to empower student voices, for example. While the potential is great, in short a QR Code is a physical link that can be scanned by smartphones or tablets in mobile learning circumstances. The following list from listly user Marianna Talei offers a huge variety of QR resources, from QR code generators to attaching images and hosting QR code treasure hunts.
44 QR Codes Resources For Teaching & Learning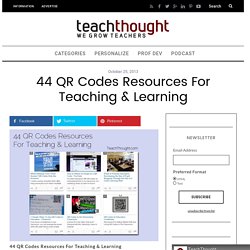 eLearning Interactivity
webadmin?A2=E-LEARNING-NORTHWEST;def87738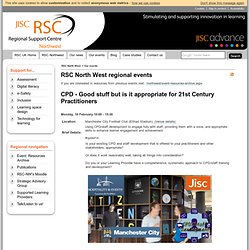 JISC RSC > RSC North West regional events
Is your existing CPD and staff development that is offered to your practitioners and other stakeholders, appropriate? Or does it work reasonably well, taking all things into consideration? Do you or your Learning Provider have a comprehensive, systematic approach to CPD/staff training and development? This RSC Northwest event provides an opportunity for those responsible for CPD/staff development and/or champions to... reflect; evaluate; and share;...current CPD delivery/practice and to look at... alternative techniques; strategies; procedures; and tools;...for effective CPD/staff development.
JISC RSC > RSC North West regional events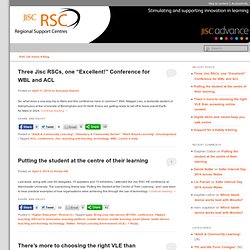 Bournville College delivers a diverse range of learning opportunities and caters for a broad range of learners each requiring differing levels of support to understand the risks associated with online activity. Rather than restricting access to online services, Bournville College prefers to encourage the use of technology in order to enhance skills and promote achievement. Continue reading Share and Enjoy Safer Internet Day is this year celebrating its 11th year on the 11th February.
Jisc Regional Support Centres Blog - Stimulating and supporting innovation in learning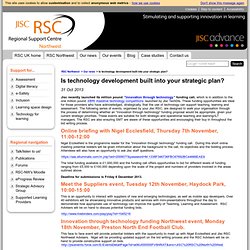 31 Oct 2013 Jisc recently launched its million pound "Innovation through technology" funding call, which is in addition to the one million pound SBRI Assistive technology competitions launched by Jisc TechDis. These funding opportunities are ideal for those providers who have acknowledged, strategically, that the use of technology can support teaching, learning and assessment.
Is technology development built into your strategic plan?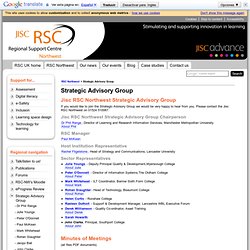 Strategic Advisory Group
Jisc RSC Northwest Strategic Advisory Group If you would like to join the Strategic Advisory Group we would be very happy to hear from you. Please contact the Jisc RSC Northwest on 01524 510067. Jisc RSC Northwest Strategic Advisory Group Chairperson Dr Phil Range, Director of Learning and Research Information Services, Manchester Metropolitan University About Phil RSC Manager
Green Learning Environments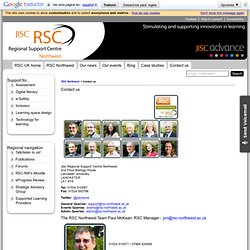 Don't show this message again This site uses cookies to allow customisation and to collect anonymous web metrics - how we use cookies Support for... Regional navigation
Contact us
Contact us
JISC RSC > RSC North West regional events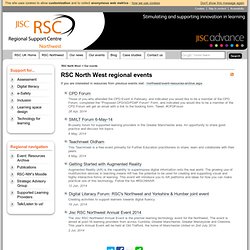 If you are interested in resources from previous events visit: /northwest/event-resources-archive.aspx Digital Literacy Forum The focus of this forum is on identifying Digital Literacy staff development needs, identifying appropriate mapped resources for CPD and engaging teaching staff in the process. 23 Jan, 2014 The "Bring Your Own Device" revolution The "Bring Your Own Device" revolution Rethinking your Organisation for BYOD from Boardroom to Classroom This event aims to provide in the morning a wide overview of aspects of BYOD.
webadmin?A2=E-LEARNING-NORTHWEST;869d878e
Podcasts
Are Chromebooks Viable
Learning in a Social Organization (LISO): a clickable guide | Centre for Learning & Performance Technologies
Online vs In-Person Learning: Which Is Actually Better? | Edudemic
The 4 Big Reasons You Should Try Mobile Learning | Edudemic
The Current State Of Mobile Learning In Education | Edudemic
The 6 People Needed To Implement E-Learning In Your Classroom | Edudemic - Next Mags
eLearning Tools-Resources-etc.
eLearning Tools-Resources-etc.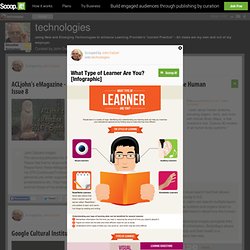 What Type of Learner Are You? [Infographic] | technologies
As practitioners will already know, the way that one learner studies may differ from the way that a classmate does, because of their different styles of learning. The four types are... - visual learners,- auditory learners,- read and write learners, and- kinesthetics learners.
A new lifeline for Zambia's favourite radio show
Happy with the Lifeplayer Interactive radio instruction is a popular way to reach those with no access to formal schooling, and thus in the Petauke District of Eastern Zambia, the recent introduction of two new radio models has boosted the popularity of the educational radio programme Learning At Taonga Market (LATM). Launched in 2000, the project was originally aimed at orphans in the AIDS-ravaged countryside; however, over the years, thousands of radio units have been donated by local and international benefactors, thus enabling the project to go national. With two new radio models now in use, LATM has started a new chapter.
Search Engine Optimization (SEO) has traditionally been applied to desktop searches and websites. However, booming smart phone sales have led to "mobile search" being more than half of local search traffic today! What not everybody realizes is that Google provides different search engine results for mobile devices. Your website may be enjoying a solid ranking on Google's desktop web search, but might not be found at all searching the same keywords on a mobile device. On top of that, small phone screen sizes make it difficult to explore results beyond the top ranks. As a result, it has become essential to optimize your mobile search presence to make the most out of online business opportunities!
Mobile SEO Strategies
Google+ Welcomes Teens
Aiming to hit Facebook in a vulnerable spot, Google on Thursday opened Google+ to teens — and added security enhancements designed to help secure their privacy. In a post explaining the move, Bradley Horowitz, vice president of product at Google+, doesn't mention Facebook by name, but dubs current social media sharing "second-rate." "In life, for instance, teens can share the right things with just the right people (like classmates, parents or close ties). Over time, the nuance and richness of selective sharing even promotes authenticity and accountability," Horowitz wrote. "Sadly, today's most popular online tools are rigid and brittle by comparison, so teens end up over-sharing with all of their so-called 'friends.'" Google, which had previously barred consumers under 18 from joining Google+, is attempting to avoid such a situation on its network via a series of enhancement aimed at protecting people on the network aged 13-17.
How Do College Students Actually Use Cell Phones? [Infographic]
Culture Teaching Strategies Dave Herholz You can learn anything you want on the Internet, so the adage goes. But even if that's true, even if it's now easier than ever to learn about almost any subject online, there are still very few opportunities to gain formal recognition — "credit," if you will — for informal learning done online. In September, the Mozilla Foundation launched its Open Badges Project, an effort to develop a technology framework that would make it easier to build, display and share digital learning badges. These badges are meant to showcase and recognize all kinds of skills and competencies — subject matter expertise as college degrees are meant to indicate for example, as well "soft skills" that aren't so easily apparent based on traditional forms of credentialing.
Will Informal Learning Carry the Same Weight as College Degrees?
Digital divide and social media: Connectivity doesn't end the digital divide, skills do. | Guest Blog
The Shrinking Price Of Mobile
The power of mobile
Are You Addicted to Your Mobile Phone?
35 Great Social Media Infographics
Are mDevices Destroying your Body?
Add your knowledge to the #mLearning toolkit from #JISC
Wired For Mobile Learning? INFOGRAPHIC
text messaging history
ringtones
Outlook Web App
M-Learning, MLearning, or mlearning: 3 Ways to Style it & One Concept that's Here to Stay
It's Not eLearning On A Phone
How Mobile Technology Ushered In A New Era Of Adult Education
How to build a university mobile application: best practice and insight | Higher Education Network | Guardian Professional
Google Docs for mobile
A flickr CC search toy