mLearning
webadmin?A2=E-LEARNING-NORTHWEST;def87738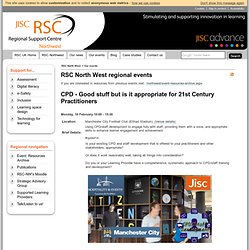 JISC RSC > RSC North West regional events
Payment collection: Please note that our preferred method of payment is online using either credit or debit card. Payments by cheque should be made payable to Lancaster University and sent to: The Events Team Jisc RSC Northwest 2nd Floor, Bailrigg House
JISC RSC > RSC North West regional events
Jisc Regional Support Centres Blog - Stimulating and supporting innovation in learning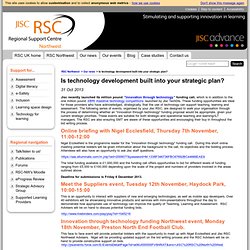 31 Oct 2013 Jisc recently launched its million pound "Innovation through technology" funding call, which is in addition to the one million pound SBRI Assistive technology competitions launched by Jisc TechDis. These funding opportunities are ideal for those providers who have acknowledged, strategically, that the use of technology can support teaching, learning and assessment.
Is technology development built into your strategic plan?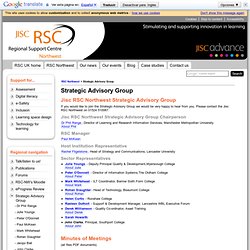 Strategic Advisory Group
Jisc RSC Northwest Strategic Advisory Group If you would like to join the Strategic Advisory Group we would be very happy to hear from you. Please contact the Jisc RSC Northwest on 01524 510067. Jisc RSC Northwest Strategic Advisory Group Chairperson Dr Phil Range, Director of Learning and Research Information Services, Manchester Metropolitan University About Phil RSC Manager
Green Learning Environments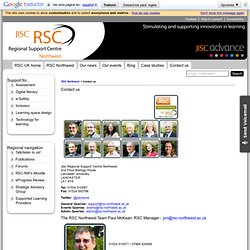 Don't show this message again This site uses cookies to allow customisation and to collect anonymous web metrics - how we use cookies Key themes Regional navigation
Contact us
Contact us
JISC RSC > RSC North West regional events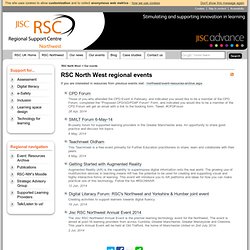 If you are interested in resources from previous events visit: /northwest/event-resources-archive.aspx SMILT Forum Meet for lunch: 12:30 Forum start time: 13:00 1 May, 2013 Sixth Form Forum This forum will deal with the specific needs of Sixth Form Colleges and reflect their delivery models and modes of study. 15 May, 2013 Social Media for Marketing (Keeping People Warm) Exploring how social media can be used to attract and retain prospective learners. Using social media as a meaningful marketing tool to recruit learners. 16 May, 2013 BYOD Forum Forum on Bring Your Own Devices (BYOD), a chance to air and discuss any issues, collect ideas and generally chew the fat.
webadmin?A2=E-LEARNING-NORTHWEST;869d878e
Podcasts
Are Chromebooks Viable
Learning in a Social Organization (LISO): a clickable guide | Centre for Learning & Performance Technologies
Online vs In-Person Learning: Which Is Actually Better? | Edudemic
The 4 Big Reasons You Should Try Mobile Learning | Edudemic
The Current State Of Mobile Learning In Education | Edudemic
The 6 People Needed To Implement E-Learning In Your Classroom | Edudemic - Next Mags
eLearning Tools-Resources-etc.
eLearning Tools-Resources-etc.
What Type of Learner Are You? [Infographic] | technologies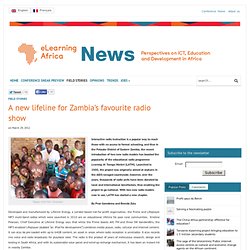 A new lifeline for Zambia's favourite radio show
Happy with the Lifeplayer
Search Engine Optimization (SEO) has traditionally been applied to desktop searches and websites. However, booming smart phone sales have led to "mobile search" being more than half of local search traffic today!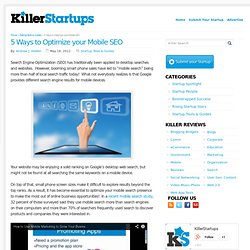 Mobile SEO Strategies
Google+ Welcomes Teens
Aiming to hit Facebook in a vulnerable spot, Google on Thursday opened Google+ to teens — and added security enhancements designed to help secure their privacy. In a post explaining the move, Bradley Horowitz, vice president of product at Google+, doesn't mention Facebook by name, but dubs current social media sharing "second-rate."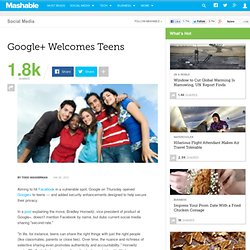 How Do College Students Actually Use Cell Phones? [Infographic]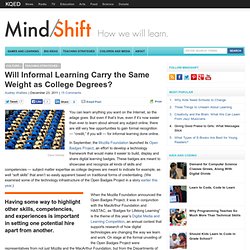 Dave Herholz You can learn anything you want on the Internet, so the adage goes.
Will Informal Learning Carry the Same Weight as College Degrees?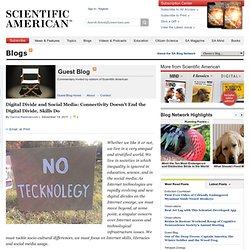 Digital divide and social media: Connectivity doesn't end the digital divide, skills do. | Guest Blog
Whether we like it or not, we live in a very unequal and stratified world.
The Shrinking Price Of Mobile
The power of mobile
Are You Addicted to Your Mobile Phone?
Are You Addicted To Your Mobile Phone?
35 Great Social Media Infographics
[Note: I recently updated this compilation to include some more recent visualizations... you can see it here .] Here's a collection of terrific social media infographics that might come in handy. As you probably know, infographics are visual representations of information, data, or knowledge.
Are mDevices Destroying your Body?
Add your knowledge to the #mLearning toolkit from #JISC
Wired For Mobile Learning? INFOGRAPHIC
text messaging history
ringtones
Outlook Web App
M-Learning, MLearning, or mlearning: 3 Ways to Style it & One Concept that's Here to Stay
Mobile Learning
It's Not eLearning On A Phone
How Mobile Technology Ushered In A New Era Of Adult Education
How to build a university mobile application: best practice and insight | Higher Education Network | Guardian Professional
Google Docs for mobile
A flickr CC search toy