eCPD
Editor's note: This post is contributed by Tom Chu. Tom is the SEO manager at PsPrint, an online printing company specializing in brochure and poster printing among other popular services. Follow PsPrint on Twitter.
Social Networks: How to Keep Up Like a Pro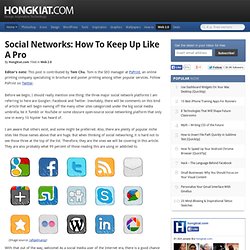 SMART Notebook 11 now available!
Studying and researching online is becoming an ever more important element of our digital skill set. I spend a lot of time reading online and skimming through numerous articles from journals and blogs, so I'm always keen to find useful tools which can assist me or my students in this and make the process more efficient. One tool which I have just discovered and which I hope will help with this process is Cruxbot. It's a very simple to use 'bookmarklet' tool (a bookmarklet is a button that you drag onto your browser bookmarks bar). To get the bookmarklet go to: http://www.cruxbot.com/howToUse.html click on the 'Cruxbot' image.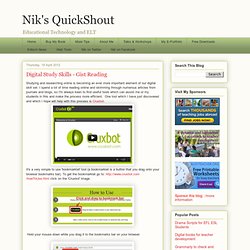 Digital Study Skills - Gist Reading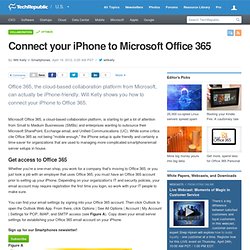 Connect your iPhone to Microsoft Office 365
Office 365, the cloud-based collaboration platform from Microsoft, can actually be iPhone-friendly.
The five best ways to switch between Google accounts
Examine the pros and cons of the five best ways to switch between Google accounts.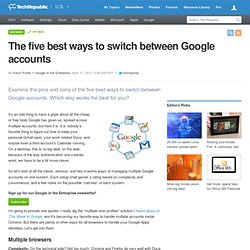 Teaching Parents and Others About Passwords
In 2010 Google launched Teach Parents Tech to help people teach their parents (and others) some basic computer and web browsing skills. Teach Parents Tech is a handy site that I have used with my own parents.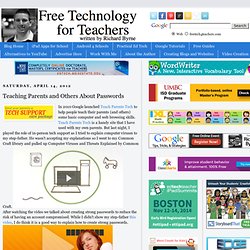 If you belong to a group or organization which still collects contact information during an event or meeting using the traditional pen and paper method, it's time to get into the digital age.You don't have to go far for the solution. Using Google Forms, you can collect names, emails, and other contact information on your computer or mobile device that supports mobile browsing. All the data is saved to a spread sheet which can be used for various purposes. Creating a Form To create a Google form, sign into your Google account and click on Documents in the menu bar.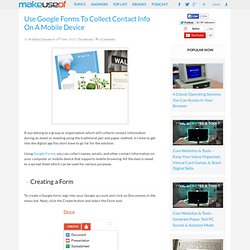 Use Google Forms To Collect Contact Info On A Mobile Device
Quick Tip: Apply a uniform size to all charts on an Excel sheet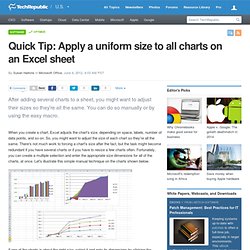 After adding several charts to a sheet, you might want to adjust their sizes so they're all the same.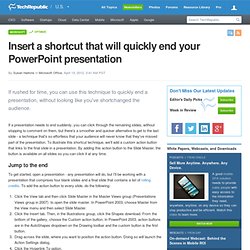 If rushed for time, you can use this technique to quickly end a presentation, without looking like you've shortchanged the audience.
Insert a shortcut that will quickly end your PowerPoint presentation
Intro to Google Docs Drawing
You can bypass Excel and insert a pie chart into a Word document, from inside Word.
Add a pie chart to a Word document without opening Excel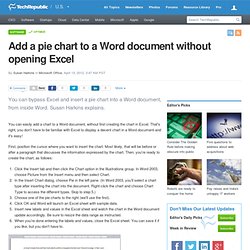 10 Ways To Quickly Use the iPad
In 2005, Professors Anderson and McCormick wrote A Common Framework for E-learning Quality and Ten Pedagogic Principles of E-Learning, describing an approach to the development of effective e-learning programs. According to Professors Anderson and McCormick, the Ten Principles may help designers to construct pedagogically sound e-learning materials and related activities.
10 Principles of Successful E-Learning | OEB Newsportal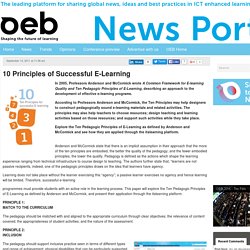 Over the summer I was running a number of two week ICT in language teaching courses for teachers from around the world. The courses were part of the Bell summer campus at Homerton College Cambridge. This was the first time in a while I had been asked to teach such long courses and i thought it was a great opportunity to see if I could fundamentally change the way the teachers related to technology, not just in the classroom as a tool for teaching learners, but as a tool within their everyday working practice. As sub goals I set out to run the course with absolutely no paper.
10 Tech Tools for Teacher Training Courses
10 most important things to teach your Word users
Sharing these tips and precautions with your Word users will help them become more confident and proficient -- which is a win for everyone (including you).
Nuance's iPhone apps, Dragon and Dragon Search have been available for free download for over a year now. Since then, the company has added a few other similar voice to text apps to its line of desktop and mobile applications. It's even rumored that Nuance has partnered with Apple to infuse voice commands within the next iPhone.
Writing Tips & Practice With Dragon Dictation Mobile Apps [iOS]
The app is pretty good on ipad - as long as you speak slowly and spell out any conflicting words for example: 'FOR' or 'FOUR' by rscsw Oct 3
When creating a document, you may need to use both portrait and landscape orientation since document content does not always fit in one orientation. Here is how to use both of them in your document in Word 2010. We'll demonstrate this using a blank document. 1. Launch Microsoft Word and create a new document. 2.
Word 2010: Use both Portrait and Landscape orientation in one document - Tech-Recipes
YouTube - Professor Moodle's Channel
Word 2007 Inserting YouTube Videos Into Word
Wireless Network Connection Troubleshooting
Sharebar I'm sure you've heard by now that storytelling can make learning more effective. Stories help us process and remember information. Perhaps they even touch a part of our consciousness associated with the magic and creativity of childhood. In my desire to become a better storyteller, I attended a session on the subject while at the Presentation Summit, a conference where the topics overlap surprisingly well with the interests of training professionals and learning specialists.
Web Tools for Educators
Web Browsers
What should we do if we come across email communications that clearly break the law?
Virtual Training Suite to have an 'appy' ending « Virtual Training Suite
Using Subtotal function Google spreadsheets
Under Ten Minutes
The Whiteboard Blog
Use PowerPoint's laser pointer to catch attention and add excitement
TechnoStories' Channel
Teacher Training Videos
Status-4-Evar
teachers's Channel - YouTube
Screencasts @sbrandt
Moodle tutorials
QR Codes
Now on Posterous Spaces: Embeddable Tweets
Obvious to you amazing to others
Kind of Digital | What is… guides | technologies
Julian Treasure: 5 ways to listen better
In 30 seconds
How To Write A Visual Style Guide for eLearning
Kindle Fire: How to display .mobi files as books and not documents - Tech-Recipes
JISC ITT: Digital Infrastructure Directions Report: Advantages of APIs
Insert custom HTML, CSS, and Javascript - Google Sites Help
IfL - The Institute for Learning - IfL members' online community
ICT CPD 4 Free
How Do I... - Tutorials-Posterous
How To Teach Online - eLearning Help
How to create an interactive ThingLink Tab for your Facebook Page
How to upgrade to the new YouTube channels look
How do I use Posterous for education?
How to Upload Videos to YouTube
HTG Explains: What Is RSS and How Can I Benefit From Using It?
HOW TO: Get the Most Out of Google Reader
How to bring debating activities into the classroom | Teacher Network Blog | Guardian Professional
How to customize Word bullet points
How to Carry Out an Online Survey Using Google Docs
Highlight text with the gradient fill effect in Word
Google: How to Find Manuals and Operating Instructions for Your Devices
Google Maps for Educators - How to Get Started
Flexible Computing: Your Journey to Cloud | Cable&Wireless Worldwide
Emerging Technologies Today & Tomorrow
Embed into PowerPoint
Embedding .mp3 audio files into Google Sites « MASHe
E-Learning Uncovered
Creating Comics with Photoscape
Comment-only access in Google documents - Docs Blog
Cloud Computing: The Layperson's Guide to Distributed Networks
Beginner's Guide to Integrating Technology
Cloud Computing - 284 Resources | EDUCAUSE | technologies
BBC - Learning
7 Things You Should Know About Projecting from Mobile Devices
Annotate Word Documents with Promethean ActivMarker
7 Things You Should Know About First-Generation Learning Analytics
7 Things You Should Know About... | EDUCAUSE | technologies
40 Interesting Ways to Use QR Codes in the Classroom
42+ Text-Editing Keyboard Shortcuts That Work Almost Everywhere
5 things You Can Do with Microsoft Outlook Calendar 2010
3 More Tasks to Teach Yourself to Teach with Technology
5 Great Ideas For Creating Successful Landing Pages