Design
Energy Seed by Sungwoo Park & Sunhee Kim. Trashing Batteries for Brighter Sidewalks We all know alkaline batteries are really bad for the environment if you don't dispose of them properly.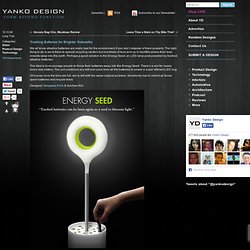 The right thing to do is send them to special recycling centers but hundreds of tons end up in landfills where their toxic innards seep into the earth. Perhaps a good solution is the Energy Seed, an LED lamp post powered by trashed alkaline batteries. The idea is to encourage people to throw their batteries away into the Energy Seed. Simple Ideas That Are Borderline Genius Part 8. Small Bathroom Design: Make the Most of a Tiny Bath. Clothes Hanger Chair | Seating. Coffee Joulies use phase change material to make your cup's temp just right. People who drink coffee know how much it sucks when you grab a cup from your local coffee shop, take sip, and recoil from the burning hot liquid you need so badly to start your day.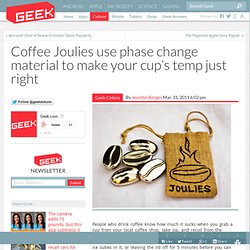 If only there was a way to cool your coffee down quickly, without sticking ice cubes in it, or leaving the lid off for 5 minutes before you can take another sip… Fortunately, two guys named Dave have created a solution to this common problem with a product called Coffee Joulies. Dave Petrillo and Dave Jackson spent the past nine months working from opposite ends of the country to develop Joulies with the intent of creating the "perfect coffee drinking experience." The Joulies absorb extra thermal energy in your coffee when it's too hot, and cools it down to a drinkable temperature three times faster than if you sat and waited. Joulies also releases that stored energy back into your coffee, which keeps it at the right temperature for twice as long. Bud - Multiplayer Tabletop Game by Joshua Chao.
The Bud reminds me of the Vulcan game of Kal-toh.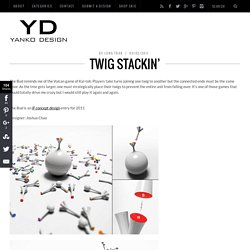 Players take turns joining one twig to another but the connected ends must be the same color. As the tree gets larger, one must strategically place their twigs to prevent the entire unit from falling over. It's one of those games that would totally drive me crazy but I would still play it again and again. The Bud is an iF concept design entry for 2011 Designer: Joshua Chao. Space-Saving Double-Swing Doors Pivot on Hidden Hinges. Imagine using half as much space for a doorway yet being able to open it in both directions – and all on smooth invisible track with concealed inset hinges that doors seem to float on air.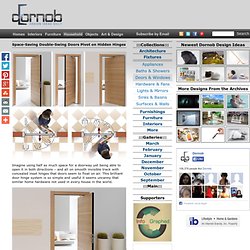 This brilliant door hinge system is so simple and useful it seems uncanny that similar home hardware not used in every house in the world. Push or pull and the Ergon door will spring to the side as it moves in or out, ending up flush and perpendicular with the adjacent door frame. From the offset paths it traces as seen from above it is impressive how much space is saved either way.
The inset hinge and steel slider system sit inline with the door and are thus invisible most of the time and minimalist when exposed. Dial Phone - Mobile Phone Concept by Jung Dae Hoon. Phone Fashion The trend in concept phones these days is turning retro, which is why we have the "Dial" reminisce the era of the round-dials on phones.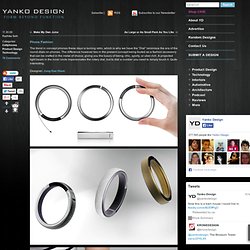 The difference however lies in the present concept being touted as a fashion accessory that can be crafted in the metal of choice; giving you the luxury of being, chic, sporty, or uber-rich. A projected light beam in the inner circle impersonates the rotary dial, but to dial a number you need to simply touch it. Quite interesting. Icoffee by Gerda Hopfgartner. Coffee from my Pocket You will be the belle of the ball when you pop this lovely little mamma out on the train ride from Scottland to London town.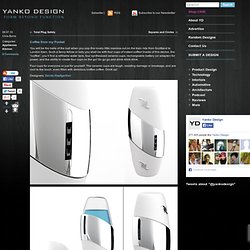 Such a fancy fellow or lady you shall be with four cups of instant coffee! Inside of this device, the "icoffee", you'll find a refillable water tank, four synthesized ceramic cups, rechargeable battery (or adapter) for power, and the ability to create four cups on the go!
Document Extractor - Combi Monitor, Screen & Printer by Byeong Min Choe. Print That Screen, Literally!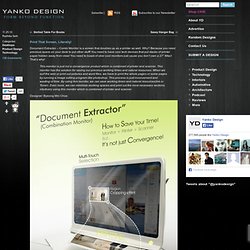 Document Extractor – Combi Monitor is a screen that doubles up as a printer as well. Why? Because you need precious space on your desk to put other stuff! You need to have cool tech devices that put stacks of printer paper hidden away from view! You need to boast of uber cool monitors just cause you don't own a 27" iMac! Furniture. Napkin PC. It is the time of CES and the media is currently filled with a lot of very interesting products - but here is one that you will not see (unfortunately).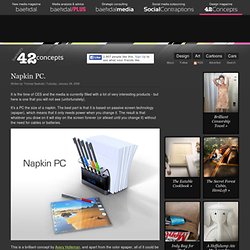 It's a PC the size of a napkin. The best part is that it is based on passive screen technology (epaper), which means that it only needs power when you change it. The result is that whatever you draw on it will stay on the screen forever (or atleast until you change it) without the need for cables or batteries. The Dumpling. Dumpling Inspired Backpack Here's a slightly different take on the backpack.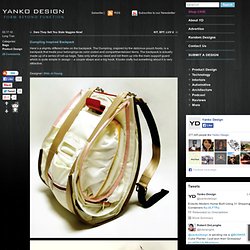 The Dumpling, inspired by the delicious pouch foods, is a backpack that treats your belongings as color coded and compartmentalized items. The backpack is actually made up of a series of roll-up bags. Take only what you need and roll them up into the main support guard which is quite simple in design – a couple straps and a big hook. It looks crafty but something about it is very attractive.
Air Umbrella. Try Air To Stay Dry Back in May last year I did a roundup of the Most Unconventional Umbrellas seen here on YD.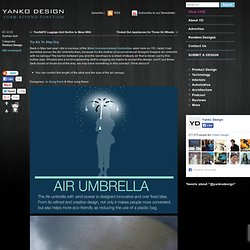 I wish I had stumbled across the Air Umbrella then, because it's the mother of unconventional designs! Imagine an umbrella with no canopy! Bin Ball. Not a Trash Ball Nay! For we know that the much more appeasing term for a container of trash is, of course, the "Bin!" The project you are about to look at here is called the "Bin.Ball" because it is not only a bin, it's a ball. And it's made for using during the times when you happen to be having a ball too, as in, having a totally rockin time at a party. Rain Drum. Posted on May 3, 2010 by saya Rain Drum, a recent work from a South Korea-based designer Dong Min Park, has been very popular on the Internet, and deemed as "an interesting amusement for boring rainy days". The shade of the umbrella is made up of five different wax cloths, to imitate the different frequency of the hi-hat, crash, tom-tom, bass and snare.
Washing Machine-in closet. A Clean Shirt Everyday I actually enjoy doing laundry because the results always leave me in some warm, cuddly, lethargic relaxed state. Maybe it's the combination of heat and dryer sheets; does it to me every time. But, if you told me I could leave it all behind and have clean clothes each time I opened my closet, I'd hand you my credit card. This Washing Machine for the closet takes all the cakes kids. Designed for men (men are dirtier than women people), it uses a combination of humidity, ionization, ozone (O3) and air pressure to destroy bacteria and remove stains.
---