Web analytics
Médiamétrie-eStat | La référence de la mesure au service d'Internet. Wysistat : Statistique de site internet, statistiques de fréquentation. Scorecard Research. Web Analytics et Online Intelligence - Solutions Web Analytics AT Internet. Produits | Omniture SiteCatalyst. Inc. - Mesure d'Internet. Insights - Développeurs Facebook. Q: How long does it take Facebook to process and display Insights data?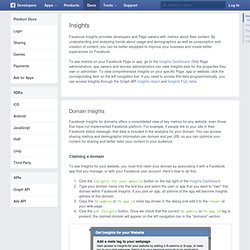 A: The data you access through Insights is at most 48 hours old. In the event of a delay, we will announce it on Platform Status. Q: What time zone are your metrics based on? Home | Quantcast.
Technologies | Accueil. CrazyEgg. Online Analytics | The Marketing Optimization Leader | Coremetrics. Coremetrics - a leading provider of web analytics and marketing optimization solutions is now part of the new Enterprise Marketing Management (EMM) group at IBM.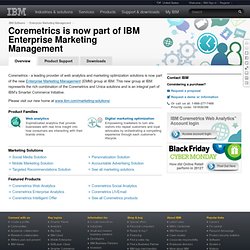 This new group at IBM represents the rich combination of the Coremetrics and Unica solutions and is an integral part of IBM's Smarter Commerce Initiative. Please visit our new home at www.ibm.com/marketing-solutions/ Web Analytics in Real Time | Clicky. Mesure l'exposition publicitaire : démonstration - Alenty - Advertising visibility and engagement analytics. Heatmaps, Visitor Movies, Web Analytics | Customer Experience Analytics by ClickTale. Ecommera. Service Cloud 3 - Customer Service for the Social Era - salesforce.
SocialMiner 8.5? [Cisco SocialMiner. HootSuite - Social Media Dashboard for Teams using Twitter, Facebook, Linkedin. Facebook Statistics, Application Statistics, Page Statistics. Web analytics, Analyse de web | Solutions d'analyses Web par Omniture.
---