Web analytics
Médiamétrie-eStat | La référence de la mesure au service d'Internet
Wysistat : Statistique de site internet, statistiques de fréquentation.
Scorecard Research
Omniture SiteCatalyst est la pierre angulaire de la plate-forme d'optimisation du commerce en ligne Omniture. Il vous permet de bénéficier d'une intelligence en temps réel pour élaborer vos stratégies en ligne et vos initiatives marketing. Il vous aide également à identifier les chemins les plus rentables à travers votre site Web, les points d'abandon des visiteurs, ce qui déclenche des événements de réussite importants ou encore comprendre comment différents segments de visiteurs interagissent avec votre site. SiteCatalyst vous apporte: Des données en temps réel pour prendre des décisions opportunes Un instantané des indicateurs de performances clés pour vos activités en ligne, présenté dans un tableau de bord facile à consulter Des alertes automatiques chaque fois qu'un indicateur de performance clé atteint un seuil critique ou un niveau exceptionnel Un emplacement unique pour mesurer, analyser et optimiser toutes vos initiatives en ligne et multicanal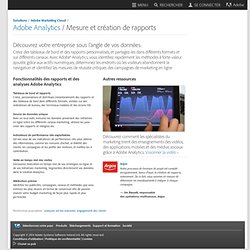 Produits | Omniture SiteCatalyst
Insights - Développeurs Facebook
Facebook Insights provides Facebook Platform developers and Facebook Page owners with metrics around their content. By understanding and analyzing trends within user growth and demographics, consumption of content, and creation of content, Page owners and Platform developers are better equipped to improve their business and create better experiences on Facebook. To see metrics on your Facebook Page or Platform app, go to the Insights Dashboard . Only Page administrators, app owners, and domain administrators can view Insights data for the properties they own or administer.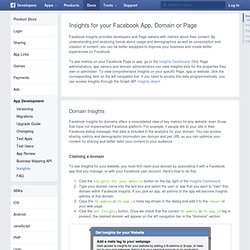 Technologies | Accueil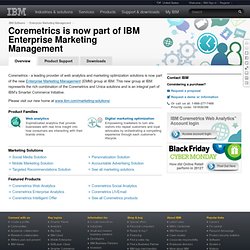 Coremetrics - a leading provider of web analytics and marketing optimization solutions is now part of the new Enterprise Marketing Management (EMM) group at IBM. This new group at IBM represents the rich combination of the Coremetrics and Unica solutions and is an integral part of IBM's Smarter Commerce Initiative. Please visit our new home at www.ibm.com/marketing-solutions/
Mesure l'exposition publicitaire : démonstration - Alenty - Advertising visibility and engagement analytics
ecommera
Service Cloud 3 - Customer Service for the Social Era - salesforce
The world is changing. Customers are demanding more and better service, delivered through every conceivable channel. That's why more companies are using salesforce.com's customer service software-as-a-service solution for call center CRM and help desk management. The key contrast with traditional customer support software is our "software as a service" model. Salesforce CRM Customer Service & Support is delivered by subscription over the Web, unlike on-premise customer service software.
SocialMiner 8.5? [Cisco SocialMiner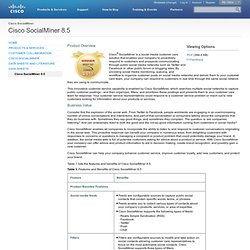 Product Overview Cisco ® SocialMiner is a social media customer care solution that enables your company to proactively respond to customers and prospects communicating through public social media networks such as Twitter and Facebook or other public forum or blogging sites. By providing social media monitoring, queuing, and workflow to organize customer posts on social media networks and deliver them to your customer care team, your company can respond to customers in real time through the same social network they are using to communicate. This innovative customer service capability is enabled by Cisco SocialMiner, which searches multiple social networks to capture public customer postings - and then organizes, filters, and prioritizes these postings and presents them to your customer care team for response. Your customer service representatives could respond to a customer service problem or reach out to new customers looking for information about your products or services. Business Value
Web analytics, Analyse de web | Solutions d'analyses Web par Omniture