Web analytics
Médiamétrie-eStat | La référence de la mesure au service d'Internet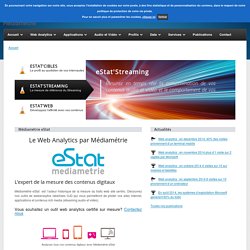 Médiamétrie-eStat Médiamétrie-eStat est un opérateur majeur en France de la mesure du trafic Internet site centric. Créée en 1997, cette technologie a été éprouvée par de nombreux clients et confère aujourd'hui à Médiamétrie-eStat une position historique, faisant de la société un des principaux acteurs du Web Analytics.
Wysistat version 7 Avec sa console en AJAX encore plus ergonomique, son module de suivi de positionnement dans les moteurs de recherche, la précision de ses informations Focus On Page, la visualisation des données sous Toolbar, et son Widget en temps réel, la solution de statistique de site internet Wysistat atteint des sommets d'innovation. Nouveautés : + Wysistat Toolbar : pour analyser l'ergonomie de vos pages, et de toutes vos pages !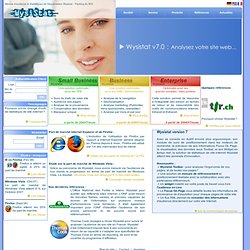 Wysistat : Statistique de site internet, statistiques de fréquentation.
Scorecard Research
Produits | Omniture SiteCatalyst
Insights - Développeurs Facebook
Q: How long does it take Facebook to process and display Insights data? A: The data you access through Insights is at most 48 hours old. In the event of a delay, we will announce it on Platform Status. Q: What time zone are your metrics based on?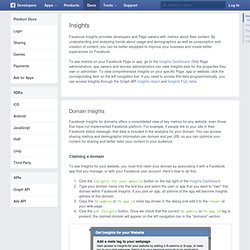 Technologies | Accueil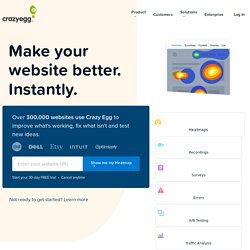 Over 200,000 businesses Convert Better with Crazy Egg, The Original Heatmapping Technology A heatmap is an easy way to understand what users want, care about and do on your site by visually representing their clicks - which are the strongest indicators of visitor motivation and desire. A Crazy Egg heatmap lets you collect more than 88% of the data you would using a traditional eye-tracking process. At a fraction of the price.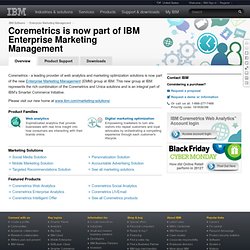 Coremetrics - a leading provider of web analytics and marketing optimization solutions is now part of the new Enterprise Marketing Management (EMM) group at IBM. This new group at IBM represents the rich combination of the Coremetrics and Unica solutions and is an integral part of IBM's Smarter Commerce Initiative. Please visit our new home at www.ibm.com/marketing-solutions/
723,865 web sites depend on Clicky to monitor, analyze, and react to their traffic in real time. "Clicky blows all other analytics packages out of the water. Hands down the easiest and fastest way to keep a pulse on your website activity."- Sam Zaid, gazaro.com More testimonials »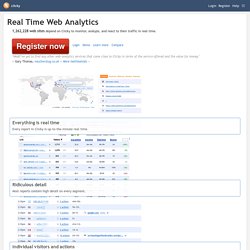 Mesure l'exposition publicitaire : démonstration - Alenty - Advertising visibility and engagement analytics
ecommera
Service Cloud 3 - Customer Service for the Social Era - salesforce
SocialMiner 8.5? [Cisco SocialMiner