Professional Residencies & Scholarships
Professional use
Exhibition Opportunities. Residency Unlimited WHAT IS A RU RESIDENCY? Our residencies are customized to support the specific needs of artists and curators working in all media and disciplines, at varying stages of their practice and career, and from around the world.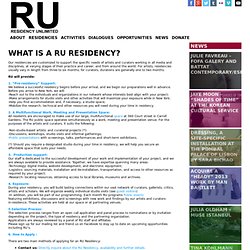 For artists, residencies usually vary in length from three to six months; for curators, durations are generally one to two months. RU will provide: 1. "Pre-residency" Support: We believe a successful residency begins before your arrival, and we begin our preparations well in advance. Residency & Vytlacil Campus. Building on the esteemed reputation of the Art Students League of New York, the League Residency at Vyt provides support to emerging, established, and teaching artists by bringing them together with masters and colleagues for intensive focus through an international residency program.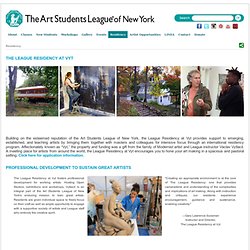 Affectionately known as "Vyt," the property and funding was a gift from the family of Modernist artist and League instructor Vaclav Vytlacil. A meeting place for artists from around the world, the League Residency at Vyt encourages you to hone your art making in a spacious and pastoral setting. Click here for application information. Artists in Residence in Studio Art | Claire Trevor School of Arts. Limited Enrollment.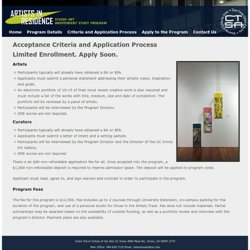 Apply Soon. Participants typically will already have obtained a BA or BFA. Applicants must submit a personal statement addressing their artistic vision, inspiration and goals. The Art Students League of New York | Drawing Classes 2011-2012. Painting + Printmaking. The Summer Studio Program at Virginia Commonwealth University is a supportive and rigorous residency program with an established track record of inspiring and developing artists within a hothouse environment.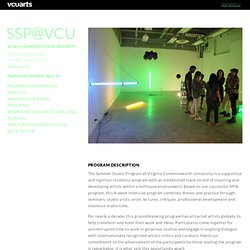 Based on our successful MFA program, this 8-week intensive program combines theory and practice through: seminars, studio visits, artist lectures, critiques, professional development and intensive studio time. For nearly a decade, this groundbreaking program has attracted artists globally to help transform and hone their work and ideas. About The Invisible Dog. The Invisible Dog Art Center opened in October, 2009, a raw space in a vast converted factory building with a charmed history and an open-ended mission: to create, from the ground up, a new kind of interdisciplinary arts center.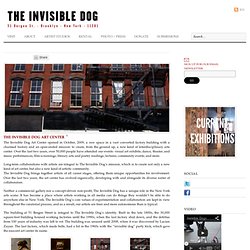 Over the last two years, over 50,000 people have attended our events: visual art exhibits; dance, theater, and music performances; film screenings; literary arts and poetry readings; lectures; community events; and more. Long-term collaborations with artists are integral to The Invisible Dog's mission, which is to create not only a new kind of art center, but also a new kind of artistic community. US-UK Fulbright Commission - Scholarship Awards and Advice on US-UK Exchange. Ruth Lilly Poetry Fellowships. Five Ruth Lilly and Dorothy Sargent Rosenberg Poetry Fellowships in the amount of $25,800 each (previously $15,000), will be awarded to young poets through a national competition sponsored by the Poetry Foundation, publisher of Poetry magazine.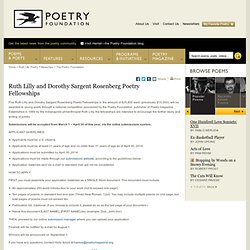 Established in 1989 by the Indianapolis philanthropist Ruth Lilly, the fellowships are intended to encourage the further study and writing of poetry. Submissions will be accepted from March 1 – April 30 of this year, via the online submissions system. Guidelines & Application. Guidelines Thank you for your interest in applying to the Edward F.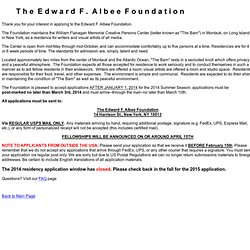 Albee Foundation. The Foundation maintains the William Flanagan Memorial Creative Persons Center (better known as "The Barn") in Montauk, on Long Island in New York, as a residence for writers and visual artists of all media. The Center is open from mid-May through mid-October, and can accommodate comfortably up to five persons at a time. Application Guidelines. January 1, for residencies starting May 1 of the same year, through February of the following year.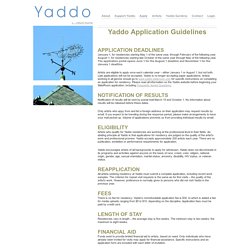 August 1, for residencies starting late October of the same year through May of the following year. The application portal opens June 1 for the August 1 deadline and November 1 for the January 1 deadline. Artists are eligible to apply once each calendar year – either January 1 or August 1, but not both.
Other Jobs. College. Try something new with StudyAbroad.com! ...to provide you with leading international internship and study abroad information and programs.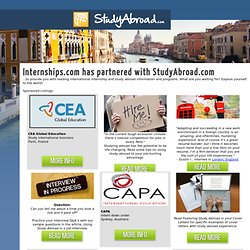 What are you waiting for? Expose yourself to the world! Sponsored Listings: CEA Global Education Study international businessParis, France "In the current tough economic climate, there's intense competition for jobs in every field. " Internships.
---