Water City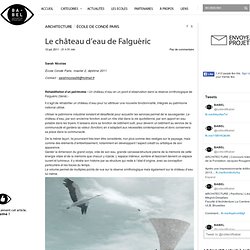 Sarah Nicolas École Condé Paris, master 2, diplôme 2011 Contact : sarahnicolas56@hotmail.fr Réhabilitation d'un patrimoine - Un château d'eau en un point d'observation dans la réserve ornithologique de Falguéric (Séné) - Il s'agit de réhabiliter un château d'eau pour lui attribuer une nouvelle fonctionnalité, intégrée au patrimoine national utilisé.
Le château d'eau de Falguéric
Eau en Poitou-Charentes : RPDE
dlandstudio
Newsflash: Huîtres Occuper le Gowanus | ECO BROOKLYN INC
We are now accepting checks to buy oysters. Here's the deal: around the corner from lies the heavily polluted Gowanus Canal. The industrial landscape of this former tidal creek is surreal in its bleakness – but to us it offers the exciting possibility of a rock bottom wasteland that has nowhere to go but up. Kate Orff gave this inspiring TED talk on her vision to restore the Gowanus Canal (highly recommended).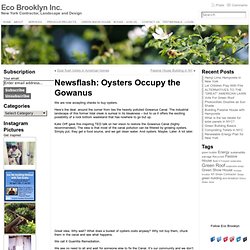 Programme estuaire de la rivière d'Hudson - État de New York Département de conservation de l'environnement
eMbyá | Paisagens & Ecossistemas
www.developpement-durable.gouv.fr/IMG/pdf/explore_2070-_2011.pdf
www.riob.org/IMG/pdf/De_Lacaze_Eau_en_montagne_230910_2.pdf
Observatoire National sur les Effets du Réchauffement Climatique Accueil du site > Énergie, Air et Climat > Effet de serre et changement climatique > Impacts et adaptation (ONERC) > Bases de données > Base de données des projets de recherche > Base de données des projets de recherche Énergie, Air et Climat
RExHySS : Impact du changement climatique sur les Ressources en Eau et les Extrêmes Hydrologiques dans les bassins de la Seine et la Somme | ONERC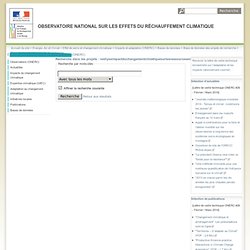 MAP
Pour ceux qui veulent parler de nous, la technologie RSS ? - PICRI Gestion citoyenne de l eau en Ile-de-France
Endurance and Performance Throughout the design and construction process, sustainability of the plaza was considered in terms of both material endurance and landscape performance. Reusing Storm-Water The plaza surface-and-drainage infrastructure is designed to function as a large self-sustaining cistern.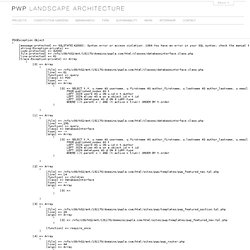 Shade and Cooling | PWP Landscape Architecture
www.pseau.org
Géo-Hyd
World Business Council for Sustainable Development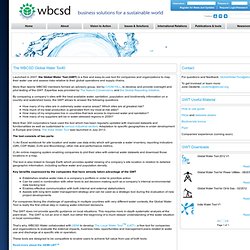 Launched in 2007, the Global Water Tool (GWT) is a free and easy-to-use tool for companies and organizations to map their water use and assess risks relative to their global operations and supply chains. More than twenty WBCSD members formed an advisory group, led by CH2M HILL, to develop and provide oversight and pilot testing of the GWT. Expertise was provided by The Nature Conservancy and the Global Reporting Initiative.
6ème Forum Mondial de l'Eau