Linux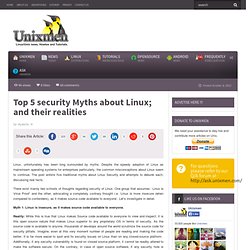 Top 5 security Myths about Linux; and their realities
Linux, unfortunately has been long surrounded by myths. Despite the speedy adoption of Linux as mainstream operating systems for enterprises particularly, the common misconceptions about Linux seem to continue. The post enlists five traditional myths about Linux Security and attempts to debunk each; discussing real facts. There exist mainly two schools of thoughts regarding security of Linux. One group that assumes ' Linux is Virus Proof' and the other, advocating a completely contrary thought i.e. 'Linux is more insecure (when compared to contenders), as it makes source code available to everyone'.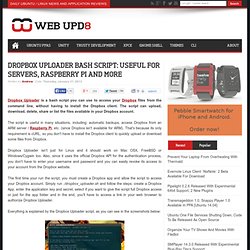 Dropbox Uploader is a bash script you can use to access your Dropbox files from the command line, without having to install the Dropbox client. The script can upload, download, delete, share or list the files available in your Dropbox account. The script is useful in many situations, including: automatic backups, access Dropbox from an ARM server / Raspberry Pi , etc. (since Dropbox isn't available for ARM). That's because its only requirement is cURL, so you don't have to install the Dropbox client to quickly upload or download some files from Dropbox.
Dropbox Uploader Bash Script: Useful For Servers, Raspberry Pi And More
Customizing your xterm
Posted by Steve on Thu 30 Dec 2004 at 18:29 xterm is the default terminal emulator, or shell program, that people use when running the X11 Window System. Despite its apparent simplicity it's very customizable, allowing you to change fonts, sizes, and colours with only a little effort. Many newcomers to Linux don't realise that there are menu options available with xterms and instead seem to believe that they must use the KDE, or GNOME terminal applications to get adjust fonts.
WiLL X TrEmE
Linux Administration Made Easy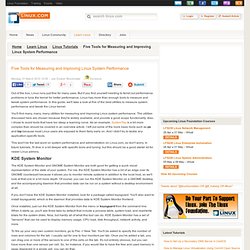 Out of the box, Linux runs just fine for many uses. But if you find yourself needing to ferret out performance problems or tune the kernel for better performance, Linux has more than enough tools to measure and tweak system performance. In this guide, we'll take a look at five of the best utilities to measure system performance and tweak the Linux kernel.
Five Tools for Measuring and Improving Linux System Performance
The Linux Geeks
Just because you're stuck at the command line all day long doesn't mean that you can't participate in the awesomeness of social networking. You can enjoy both with FBCMD , the command line Facebook applications. Back in February, I wrote Tweeting from the Command Line with Twyt , which, as you remember, was an article covering the command line Twitter client, Tywt.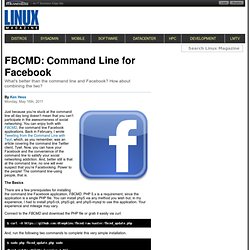 FBCMD: Command Line for Facebook
Linux Kernel /etc/sysctl.conf Security Hardening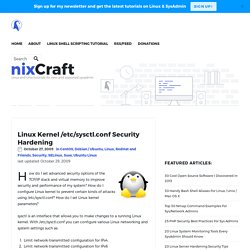 H ow do I set advanced security options of the TCP/IP stack and virtual memory to improve security and performance of my system? How do I configure Linux kernel to prevent certain kinds of attacks using /etc/sysctl.conf? How do I set Linux kernel parameters? sysctl is an interface that allows you to make changes to a running Linux kernel. With /etc/sysctl.conf you can configure various Linux networking and system settings such as: Limit network-transmitted configuration for IPv4 Limit network-transmitted configuration for IPv6 Turn on execshield protection Prevent against the common 'syn flood attack' Turn on source IP address verification Prevents a cracker from using a spoofing attack against the IP address of the server.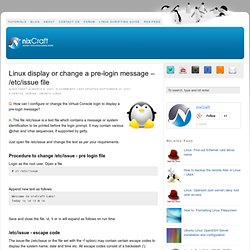 Q. How can I configure or change the Virtual Console login to display a pre-login message? A . The file /etc/issue is a text file which contains a message or system identification to be printed before the login prompt.
Linux display or change a pre-login message – /etc/issue file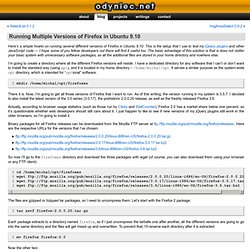 Running Multiple Versions of Firefox in Ubuntu 9.10 - odyniec.net
Here's a simple howto on running several different versions of Firefox in Ubuntu 9.10. This is the setup that I use to test my jQuery plugins and other JavaScript code — I hope some of you fellow developers out there will find it useful too. The basic advantage of this solution is that is does not clutter your basic system with unnecessary software packages, as all the additional files are stored in your home directory and nowhere else. I'm going to create a directory where all the different Firefox versions will reside. I have a dedicated directory for any software that I can't or don't want to install the standard way (using apt ), and it is located in my home directory – /home/michal/opt .
How to Install multiple versions of Firefox on Ubuntu: 5 steps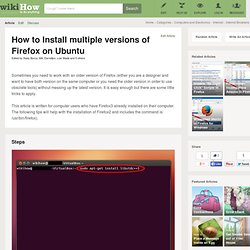 Edit Edited by Radu Borza, MA, Darrelljon, Lois Wade and 2 others Sometimes you need to work with an older version of Firefox (either you are a designer and want to have both version on the same computer or you need the older version in order to use obsolete tools) without messing up the latest version. It is easy enough but there are some little tricks to apply.
How to configure Firefox address bar with Search Engines
Reference for all "about"/"chrome" address bar strings for Firefox and Chrome
Command-line tool mutt has a well-deserved reputation as a powerhouse of an email client. It's fast, flexible and, best of all, surprisingly easy to use. Unfortunately getting the thing up and running can be, put mildly, a bit of a chore. If you've been tempted by mutt but put off by its complex array of options, the following basic setup will give you a chance to try it out on your Gmail account with a minimum of setup.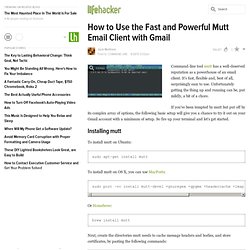 How to Use the Fast and Powerful Mutt Email Client with Gmail
sc: the Venerable Spreadsheet Calculator
Boy, there sure is a lot of software for Linux—a lot of software! Why, if you want a browser, you can choose between Firefox, Opera, Chrome, Galeon, Surf and many others. And, on the command line, wget, curl, Lynx, ELinks and more are available.
Understanding the dig command
Overview The command dig is a tool for querying DNS nameservers for information about host addresses, mail exchanges, nameservers, and related information. This tool can be used from any Linux (Unix) or Macintosh OS X operating system. The most typical use of dig is to simply query a single host.
Xiph.org