Innovation & Creativity
The best examples of street art in 2012 (48 pictures
National Flags Created From the Foods Each Country Is Commonly Associated With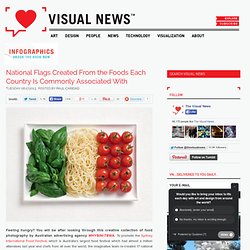 Feeling hungry? You will be after looking through this creative collection of food photography by Australian advertising agency WHYBIN\TBWA.
Finland has an education system the US should envy – and learn from | Linda Moore | Comment is free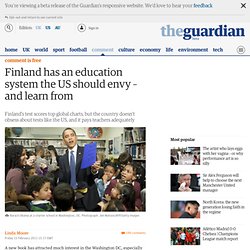 Barack Obama at a charter school in Washington, DC.
Partner and global creative director, Huge The Brooklyn, New York-based digital agency has created bold user experiences for clients including Barneys New York, HBO, and Pizza Hut. The Creative Visionary "The ability to instantly communicate through imagery now seems to transcend everything for businesses--for content creators, for e-commerce companies, for mass brands. Facebook, the most popular website out there, decided that images are more important than the written word when it put a cover photo at the top of pages. Instagram has developed technologies that make images load faster and faster. We now understand that humans can parse tons of visual information quickly.
Joe Stewart, Creative Director At Huge, On Making User Experience Pop
Not so long ago, we featured a radical proposal for New York City's payphones.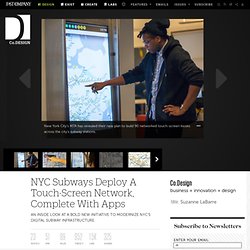 NYC Subways Deploy A Touch-Screen Network, Complete With Apps
DNA Test for Ancestry from National Geographic | Genographic Project
Map of Human Migration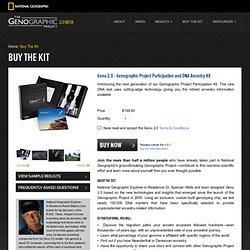 Mark Millar messes with the superhero genre again in Supercrooks.
Kick-Ass Writer Mark Millar on Why Superhero Genre Was Due for Overhaul | Underwire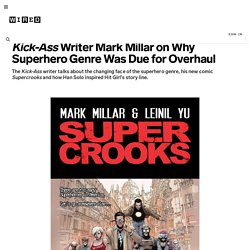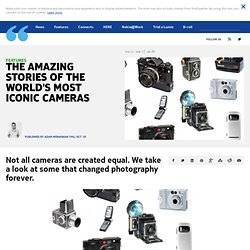 Not all cameras are created equal. We take a look at some that changed photography forever.
The amazing stories of the world's most iconic cameras
The 11th Principle of Good Design | Wells Riley
I talk about Dieter Rams a lot. Partly because his (at the time) humble and understated work now defines the visual language of Apple's entire product line, and partly because products he designed 52 years ago are still being made today.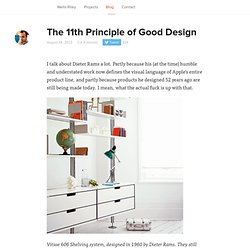 From the art of the pitch to a smooth sale and everything in between, these seven tenets come straight from the annals of successful startups.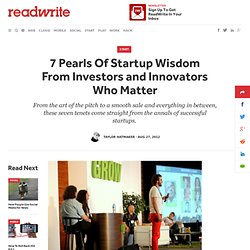 7 Pearls Of Startup Wisdom From Investors and Innovators Who Matter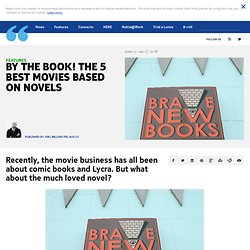 By the book! The 5 best movies based on novels
Recently, the movie business has all been about comic books and Lycra. But what about the much loved novel? The ability to check out countless books and films on your smartphone is one of the great things about living in the future.
Customers don't just adopt innovations; they alter them, adapt to them, and are changed by them.
What Google Gets That Others Don't: Innovation Evolves Customers
Beta List
Innovation / Business Model Innovation. I attended Alex' workshop in Boston in oct 2011 on this. Phenomenal ! Started using this for my clients !
the best street art in Helsinki
Since today is Friday and I'm sure many of you are already looking forward to the weekend, I've decided to showcase some of the amazing street art I discussed in my last post about Helsinki.
A short while ago, I wrote an article on this site suggesting that you can't build a brand simply by setting out to build a brand. And in fact, thinking too much about brands can actually get in the way of the real business of your company. I suggested that you try an experiment: Stop talking about brands for a month, and see what happens.
Why Branding Is An Artifact Of The Past
Inspirational Hand Painted Body Art | Gadgetfist
The art of animation is a lot older than you think. Walt Disney might have brought it to the masses in the 1920s, but the first projected animation came courtesy of a machine called the magic lantern invented way back in 1650. Things have changed immeasurably since then.
Cartoon time! A day in the life of an animator
Truthfully, I thought everyone knew about the 'Lucky 7 Lounge'.
The story of the 'secret' room at Pixar, frequented by Steve Jobs and many other celebrities
Creating Start-Up Success
Business Model Alchemist
13 sites to get your creative juices flowing | dreambeaker
Does Creativity Require Constraints?
Magic Hours: Tom Bissell on the Secrets of Creators and Creation
www.strategy-business.com/media/file/00078.pdf
www.strategy-business.com/media/file/sb65-11404-Global-Innovation-1000-Why-Culture-Is-Key.pdf