Sweet!
Orange Glazed Strawberry Scones. Yesterday morning for Easter I made these tender and moist strawberry scones.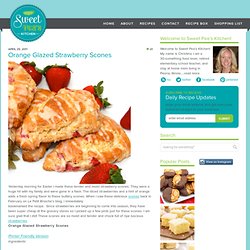 They were a huge hit with my family and were gone in a flash. The diced strawberries and a hint of orange adds a fresh spring flavor to these buttery scones. When I saw these delicious scones back in February on Le Petit Brioche's blog, I immediately bookmarked the recipe. Since strawberries are beginning to come into season, they have been super cheap at the grocery stores so I picked up a few pints just for these scones.
I am sure glad that I did! Upside-Down Banana Toffee Cake. This cake is warm and sunny, casual but impressive.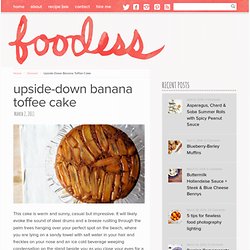 It will likely evoke the sound of steel drums and a breeze rustling through the palm trees hanging over your perfect spot on the beach, where you are lying on a sandy towel with salt water in your hair and freckles on your nose and an ice cold beverage weeping condensation on the stand beside you as you close your eyes for a mid-afternoon siesta in the sun between snorkeling and dancing the warm night away… now cue the painful hurtle back to reality; Vancouver's 100 km/hour wind-warning, raindrops-the-size-of-golf-balls, pasty skin, frizzy hair and damp socks reality… Let's just focus on cake, okay? Bananas, brown sugar toffee, rum, and spices. The cake is made in a well-seasoned cast iron skillet. You make the toffee first, arrange the bananas on top, then pour the cake batter over and stick the whole thing in the oven. Apple Carrot Oatmeal Cake with Broiled Coconut Topping and Molasses Cream Cheese Icing.
As winter finishes itself off, we often find ourselves with a few remnants of winter eating lingering in the back of the refrigerator: hardy, woody carrots, soft and wrinkled apples.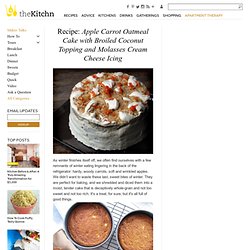 We didn't want to waste these last, sweet bites of winter. They are perfect for baking, and we shredded and diced them into a moist, tender cake that is deceptively whole-grain and not too sweet and not too rich. It's a treat, for sure, but it's all full of good things. This is a recipe adapted from one of our favorite cookbooks: More-With-Less Cookbook, a 25-year-old classic of frugal, modest, and whole-grain cooking. Frozen Custard. You can serve the perfect dessert at your next barbecue once you learn how to make homemade frozen custards desserts.
Frozen custard is quick, easy, and economical to make and can be made in almost any flavor. To make Frozen Custard, you will need: Plum,Chocolate and Pistachio Bake. A big sigh of relief!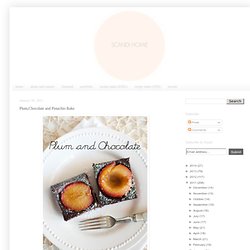 This Sunday I woke up and something felt different. It wasn't as uncomfortably hot as it has been for the past couple of weeks and I could only think of one thing: baking! I had bought a big bag of plums the previous day and paring them with chocolate was the obvious choice. This is another guilt-free treat: again I've used no butter and no sugar, only fat free yoghurt and raw honey. I've used really dark chocolate which gives it richness without too much sweetness, and I've added raw cacao nibs and pistachio for texture. Healthy Quick Fruit Desserts. Longing for a sweet after-dinner treat but don't have hours to spend on a complicated layer cake?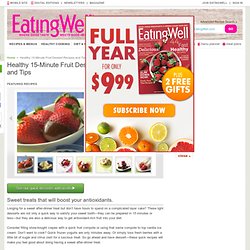 These light desserts are not only a quick way to satisfy your sweet tooth—they can be prepared in 15 minutes or less—but they are also a delicious way to get antioxidant-rich fruit into your diet. Consider filling store-bought crepes with a quick fruit compote or using that same compote to top vanilla ice cream. Tgif: monkey edition. « Of Cookies & Carrots. Firstly: If my face looked kind of big in those photos yesterday it's probably because you guys compliment me too much and it's going to my head. ;) Secondly: Thank GOODNESS it's Friday.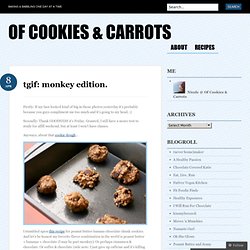 Granted, I still have a neuro test to study for alllll weekend, but at least I won't have classes. Anyways, about that cookie dough… I stumbled upon this recipe for peanut butter-banana-chocolate chunk cookies. And let's be honest my favorite flavor combination in the world is peanut butter + bananas + chocolate (I may be part monkey). Ice Cream. July is National Ice Cream month, and I'm so excited to show you how making your own homemade ice cream is easier than you may think!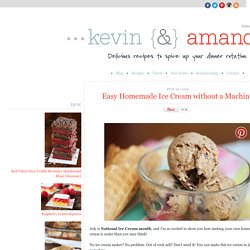 No ice cream maker? No problem. Out of rock salt? Don't need it! You can make this ice cream in just four easy steps. Monkey Bread II Recipe.
---