WHS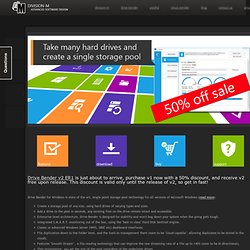 Drive Bender for Windows is state of the art, single point storage pool technology for all versions of Microsoft Windows (read more). Create a storage pool of any size, using hard drives of varying types and sizes.Add a drive to the pool in seconds, any existing files on the drive remain intact and accessible.Enterprise level architecture, Drive Bender is designed for stability and won't bog down your system when the going gets tough.Integrated S.M.A.R.T. monitoring out of the box, using the "best in class" Hard Disk Sentinel engine.Classic or advanced Windows Server (WHS, SBSE etc) dashboard interfaces. File duplication down to the folder level, and the tools to management them (soon to be "cloud capable", allowing duplicates to be stored in the cloud).Features "Smooth Stream" , a file reading technology that can improve the raw streaming rate of a file up to 140% (soon to be bi directional).Thin provisioning, you set the size of the pool regardless of the underlying drives.
Drive Bender - news
Intel Matrix Storage Technology provides new levels of protection, performance, and expandability in 2008 for desktop and mobile platforms. Whether using one or multiple hard drives, users can take advantage of enhanced performance and lower power consumption. When using more than one drive the user can have additional protection against data loss in the event of hard drive failure. Valuable digital memories are protected against a hard drive failure when the system is configured for any one of three fault-tolerant RAID levels: RAID 1, 5 or 10. By seamlessly storing copies of data on one or more additional hard drives, any hard drive can fail without data loss or system downtime. When the failed drive is removed and a replacement hard drive is installed, data fault tolerance is easily restored.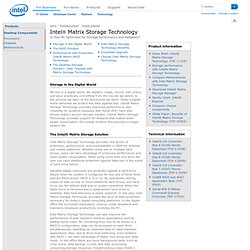 Matrix Storage Technology
Adding a Drive Moving on, the question arises how non-RAID drives will be added to your home server storage. First, let's look at the odd case where you add an uninitialized drive. Looking toward the upper right corner of the dashboard, you will notice the red, yellow, and blue alert notices. You will notice that there is one alert and information notification. Clicking on these icons will bring up this window: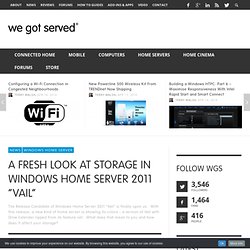 A Fresh Look at Storage in Windows Home Server 2011 "Vail"
Amahi Home Server - Making Home Networking Simple
Review of the Final HomeServerSync Beta Part 2 The Sync Client | Using Windows Home Server
Review of the Final HomeServerSync Beta Part 1 The Windows Home Server Add-In | Using Windows Home Server
HomeServerSync - Home Page
HomeServerSync - release your Home Server ! Stream Sync Share Secure Now available for a 15 day trial period - test it, and prove to yourself that this is 'the' Home Server Add In for 2010. Request YOUR 15 day trial now - simply click here - within minutes you will be realising the real power behind HomeServerSync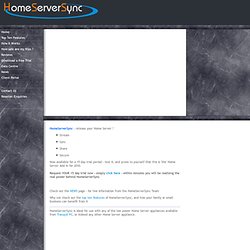 Windows Home Server Community How-to Resources Tutorials Reviews
Using Windows Home Server - WHS and the Connected Digital Home
Andreas M's Windows Home Server AddIns
MS Windows Home Server
Featured Article 4 Steps to Protecting Your Digital Life by Matt Whitlock on October 1, 2010 11:36 AM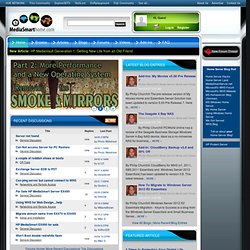 MediaSmart Home : Your HP MediaSmart Server Community and Forum