Education
Stanford Engineering Everywhere (http://see.stanford.edu/see/courses.aspx) offers few good courses: Introduction to Computer Science: Programming Methodology CS106A Programming Abstractions CS106B Programming Paradigms CS107 Artificial Intelligence: Introduction to Robotics CS223A Natural Language Processing CS224N Machine Learning CS229 Linear Systems and Optimization: The Fourier Transform and its Applications EE261 Introduction to Linear Dynamical Systems EE263 Convex Optimization I EE364A Convex Optimization II EE364B Additional School of Engineering Courses: Programming Massively Parallel Processors CS193G iPhone Application Programming CS193P Seminars and Webinars All the courses include lectures (youtube), assignments, and everything you need to study these topics.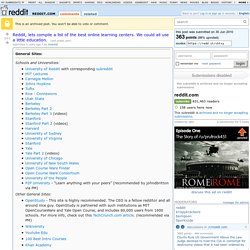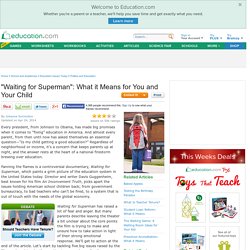 Every president, from Johnson to Obama, has made big promises when it comes to "fixing" education in America. And almost every parent, from then until now has asked themselves an essential question—"Is my child getting a good education?" Regardless of neighborhood or income, it's a concern that keeps parents up at night, and the answer rests at the heart of a national firestorm brewing over education.
"Waiting for Superman": What it Means for You and Your Child
The Messenger Series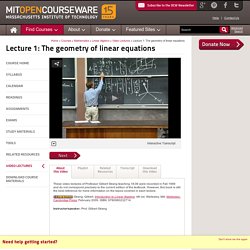 Hi. This is the first lecture in MIT's course 18.06, linear algebra, and I'm Gilbert Strang. The text for the course is this book, Introduction to Linear Algebra. And the course web page, which has got a lot of exercises from the past, MatLab codes, the syllabus for the course, is web.mit.edu/18.06. And this is the first lecture, lecture one.
Mathematics | 18.06 Linear Algebra, Spring 2010 | Video Lectures | Lecture 1: The geometry of linear equations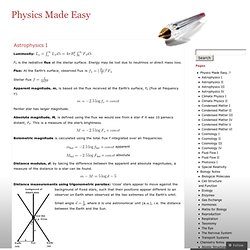 Luminosity: Fλ is the radiative flux at the stellar surface. Energy may be lost due to neutrinos or direct mass loss. Flux: At the Earth's surface, observed flux is Stellar flux
Astrophysics I « Physics Made Easy