Monografía
Documents Related to the Cold War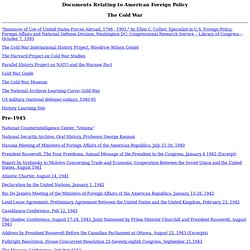 Documents Relating to American Foreign Policy The Cold War "Instances of Use of United States Forces Abroad, 1798 - 1993," by Ellen C. Collier, Specialist in U.S.
Search :: Mount Holyoke College
91144: Nuclear Weapons in the Former Soviet Union: Location, Command, and Control
Congressional Research Service Reports 91144: Nuclear Weapons in the Former Soviet Union: Location, Command, and Control Updated November 27, 1996 Amy F.
Leo Szilard, Interview: President Truman Did Not Understand
UP to Atomic Bomb: Decision UP to Leo Szilard Home Page An authorized web-reprint of the full text of "President Truman Did Not Understand," U.S. News & World Report, August 15, 1960, pages 68-71.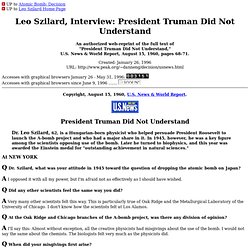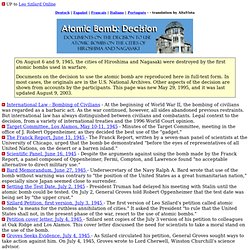 International Law - Bombing of Civilians - At the beginning of World War II, the bombing of civilians was regarded as a barbaric act. As the war continued, however, all sides abandoned previous restraints. But international law has always distinguished between civilians and combatants. Legal context to the decision, from a variety of international treaties and the 1996 World Court opinion. Target Committee, Los Alamos, May 10-11, 1945 - Minutes of the Target Committee, meeting in the office of J.
ATOMIC BOMB: DECISION (Hiroshima-Nagasaki)
Advisory Council Our Advisory Council includes the following college and university professors: Professor Richard Falk, Princeton University Dr. Frank Settle, Washington and Lee University Dr. Michael Wallace, University of British Columbia Dr.
Nuclear Files: About Us: About the Nuclear Files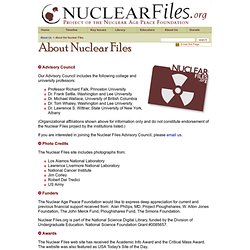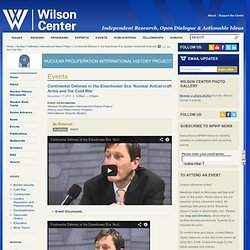 Fueled by Cold War anxiety about the threat of a surprise nuclear attack by Soviet jet-bombers, the U.S. nuclear arsenal ballooned from 841 warheads when President Eisenhower assumed office in 1953 to over 18,000 by the time he left office in 1961. Roughly 20% of these warheads were based around cities and military installations throughout the U.S. for air defense purposes. The fact that the widely publicized deployment of over 3,500 nuclear weapons explicitly intended for use directly over or near U.S. territory enjoyed broad public support is a telling measure of early Cold War fears, according to Christopher Bright, author of Continental Defense in the Eisenhower Era: Nuclear Antiaircraft Arms and the Cold War.
Continental Defense in the Eisenhower Era: Nuclear Antiaircraft Arms and the Cold War
Search
The National Archives Learning Curve | Cold War
Documents Related to the Cold War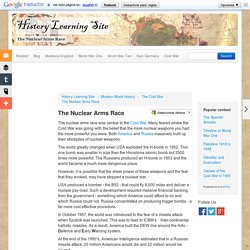 The Nuclear Arms Race
The nuclear arms race was central to the Cold War. Many feared where the Cold War was going with the belief that the more nuclear weapons you had, the more powerful you were. Both America and Russia massively built up their stockpiles of nuclear weapons.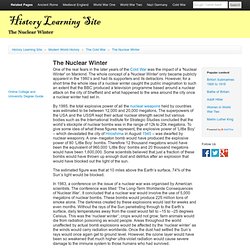 One of the real fears in the later years of the Cold War was the impact of a 'Nuclear Winter' on Mankind. The whole concept of a 'Nuclear Winter' only became publicly apparent in the 1980's and had its supporters and its detractors. However, for a short time the whole idea of a nuclear winter caught the public imagination to such an extent that the BBC produced a television programme based around a nuclear attack on the city of Sheffield and what happened to the area around the city once a nuclear winter had set in. By 1985, the total explosive power of all the nuclear weapons held by countries was estimated to be between 12,000 and 20,000 megatons. The superpowers of the USA and the USSR kept their actual nuclear strength secret but various bodies such as the International Institute for Strategic Studies concluded that the world's stockpile of nuclear bombs was in the range of 12k to 20k megatons.
The Nuclear Winter
Manifiesto Russell-Einstein, una declaración sobre armas nucleares, Londres 9 de julio de 1955
There lies before us, if we choose, continual progress in happiness, knowledge, and wisdom. Shall we, instead, choose death, because we cannot forget our quarrels? We appeal as human beings to human beings: Remember your humanity, and forget the rest.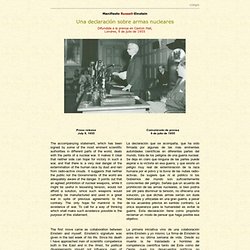 Russell-Einstein Manifesto
For more information please see: Origins of the Russell-Einstein Manifesto, by Sandra Ionno Butcher http://www.pugwash.org/publication/phs/history9.pdf The Russell-Einstein Manifesto Issued in London, 9 July 1955 Bertrand Russell and Albert Einstein IN the tragic situation which confronts humanity, we feel that scientists should assemble in conference to appraise the perils that have arisen as a result of the development of weapons of mass destruction, and to discuss a resolution in the spirit of the appended draft. We are speaking on this occasion, not as members of this or that nation, continent, or creed, but as human beings, members of the species Man, whose continued existence is in doubt.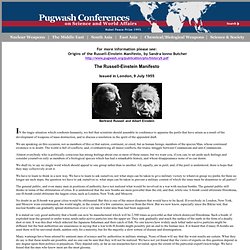 Continental Defense in the Eisenhower Era: Nuclear Antiaircraft Arms and the Cold War
us_nuclear_arsenal_2010
CRS-StrategicNuclearForcesReport_Amy_Woolf
Nuclear Files - From nuclear proliferation to nuclear testing, from Hiroshima to North Korea, Nuclear Files offers the A to Z on nuclear issues.
Volunteers Needed! Experienced Docents or Museum Collections Specialists Please contact Executive Director Jason Hall (Jason@coldwar.org) to volunteer for docent duty or collections maintenance This former US Army Security Agency Field Station is the new home of the Cold War Museum…Vint Hill, Fauquier Co., Virginia, USA.
Cold War Museum
The JSTOR site requires that your browser allows JSTOR (http://www.jstor.org) to set and modify cookies. JSTOR uses cookies to maintain information that will enable access to the archive and improve the response time and performance of the system. Any personal information, other than what is voluntarily submitted, is not extracted in this process, and we do not use cookies to identify what other websites or pages you have visited.
Carl von Clausewitz
Name[edit] Clausewitz's Christian names are sometimes given in non-German sources as "Carl Philipp Gottlieb" or "Carl Maria." He spelled his own given name with a "C" in order to identify with the classical Western tradition; writers who use "Karl" are often seeking to emphasize his German (rather than European) identity.
Chronology 1 Compiled for The Cuban Missile Crisis, 1962 Edited by Laurence Chang & Peter Kornbluh (New York: The New Press, 1992, 1998) January 1, 1959 to September 27, 1962 September 28, 1962 to October 26, 1962 October 26, 1962 to November 15, 1962 November 18, 1962 - January 1992 (Includes List of Abbreviations) Chronology 2 Compiled for The President's Foreign Intelligence Advisory Board (PFIAB) "Chronology of Specific Events Relating to the Military Buildup in Cuba," Undated.
The Cuban Missile Crisis, 1962: Chronologies of the Crisis