Musique
David Bowie & Iggy Pop - The Passenger(Live)
Goûte Mes Disques | Congratulations - MGMT - la chronique
Ra - Wxfdswxc2 Extended mp3 - Ad Noiseam online store
Coming more or less at the same time as Ra's "Ultrafood" record with Mad EP, the second album of this very interesting french act expands considerably the scope of his talent displayed on his previous "Raoul loves you", and sees Ra dwelving deeper into his melodic-but-weird, cut-up-but-accessible, catchy-but-original take of electronic hip hop, giving birth to an infectious, tasty and remarkable album. The best release on Sublight so far, in my opinion. Don't pass on this one. File Format: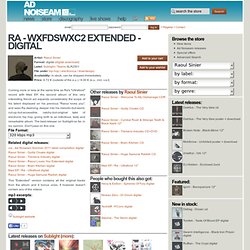 Slagsmalsklubben - Sponsored by Destiny (Official video)
Les Chroniques Automatiques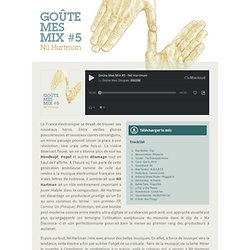 Goûte Mes Mix #5
Lire le mix Tracklist Few Nolder - Top Bernard Fèvre - Polyester Sutekh - The Diamond House Ciara - Get In, Fit In Soundhack - B1 Max Tundra - M.B.G.A.T.E.