Organization
Pro-life. Rosary Center - Rosary Confraternity. Cardinal Mindszenty Foundation. FlyLady.net: Your personal online coach to help you gain control of your house and home. Video for Merlin's "Inbox Zero" talk. Google Tech Talk: Inbox Zero This is the video for my Inbox Zero talk I presented in July of 2007 at Google.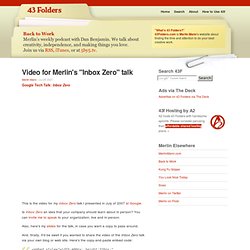 Is Inbox Zero an idea that your company should learn about in person? You can invite me to speak to your organization, live and in-person. Also, here's my slides for the talk, in case you want a copy to pass around. Email: Empty Your Inbox with the Trusted Trio. D*I*Y Planner | the best thing in printing since Gutenberg. Zen Habits | Simple Productivity. My organiser - blog to discovery - Revelations along the way to a simpler, happier and more successful life. Needing a new organisastion system I am a big believer that it is important to develop your own organisation system that works for your lifestyle, so I have spent a lot of time developing my own organiser. In the last two years I have tried both paper and electronic systems and finally settled on a system using Rollabind discs and […] Also posted in organisation In need of a new organisation system I really like my current organisation system, but I have noticed one serious flaw recently; it is very easy to procrastinate when I'm selecting tasks.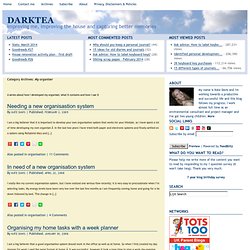 My energy levels have been very low over the last few months so I am frequently coming home and going for a lie down followed by bed. Autofocus System. The Autofocus Time Management System Chinese (Simplified Characters) Version (off-site) Chinese (Traditional Characters) Version (off-site)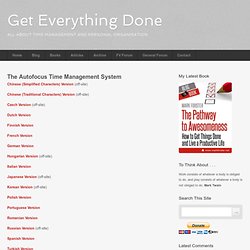 My new organizer « Corrie Haffly. My history of organizer systems in bulleted list format: Early college years: Cheap DayRunner vinyl organizer with calendar refill and address bookLater college years: Leather DayTimer organizer that weighed about 50 lbs. with binder-ring style calendar, addresses, notepaper, etc., slots for ID and credit cards, zipper pocket, notepad, blah blah blah…Briefly: Hand-me-down Palm Pilot from my sister.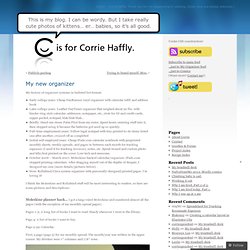 Spent hours entering stuff into it, then stopped using it because the batteries got used up so quickly.Full-time employment years: Yellow legal notepad with tiny printed to-do items listed one after another, crossed off as completedInitial self-employed years: Cheap iPads.com calendar notebook with preprinted monthly sheets, weekly spreads, and pages in between each month for tracking expenses (I used it for tracking invoices), notes, etc. Spiral-bound and custom photo and title/text printed on the cover. Write Damn Now: Handmade moleskine: a GTD notebook for creative writers. Make Your Own Moleskine-Like-Notebook. What we'll make: Your very own Moleskine-like-notebook/journal/sketchbook.
The one we'll be making is 3.5 x 5.5 x .5 inches. I use this size because it fits nicely into my back or front pants pocket. Strangely enough it is also the same size as the Moleskine notebook. For the pages we'll be using 20# bond paper (the same paper you use in your copier and inkjet printer). Deadline: Home. PingMe - What *Should* You Be Doing? 43 Folders. Getting Sandy in my Face. For quite a while now, Tasks Jr has been my task management tool of choice.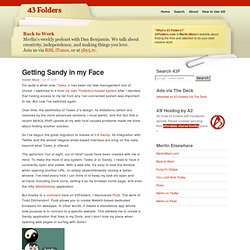 I switched to it from my own Tinderbox-based system after I decided that having access to my list from any 'net-connected system was important to me. But now I've switched again. Over time, the aesthetics of Tasks Jr's design, its limitations (which are resolved by the more advanced versions, I must admit), and the fact that a recent MySQL/PHP update at my web host caused problems made me think about finding another solution. So I've begun the great migration to Values of n's Sandy. Cool Web 2.0 apps for everyone - Posts in Productivity and business. - Notetaker Wallet.
---