Mac
How To: Rip & Encode What's Needed: VLC Media Player Fairmount DVD2OneX HandBrake Steps: 1.
View topic - How To: Rip, Encode and Combine Using Fairmount & DTOX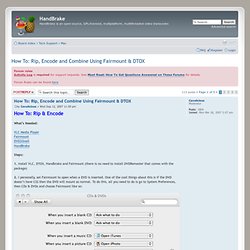 By Charles W. Moore Monday, February 26, 2007. Tags: Blogs ï OSX Odyssey ï Hot Topics ï News ï 194937 Some folks dismiss running OS X system maintenance routines "routinely," most conveniently executed with a GUI maintenance utility like OnyX, Mac Pilot, Cocktail, MainMenu, IceClean, or a raft of others, as a waste of time.
Yes; Running System Maintenance Routines Really Can Help - OS X Odyssey 857 - Applelinks.com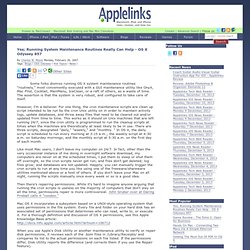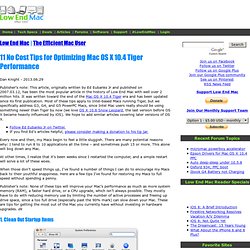 Publisher's note: This has been the most popular article in the history of Low End Mac. Bear in mind that this was written toward the end of the Mac OS X 10.4 Tiger era, so some tips may not apply to newer versions of OS X. This is the most popular article in our history, currently at 1.85 million hits.
11 Ways to Optimize Your Mac's Performance
Quickly download multiple linked items in Safari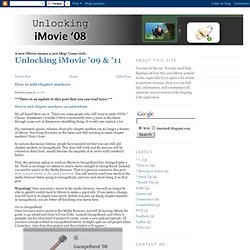 ***There is an update to this post that you can read here:*** How to add chapter markers: an addendum We all heard Steve say it. "There are some people who still want to make DVDs." Classic. Sometimes I wonder if Steve concurrently lives 5 years in the future through some sort of dimension-straddling thing.
How to add chapter markers
3.1 Actiontec Verizon Online FiOS FAQ - dslreports.com
A. No. The STBs and DVRs need internet connectivity to display the Program Guide and Video On Demand. Imagine at every half hour seeing the little popup on the TV screen. Instead of showing details for the show you are watching, it says Data Not Available.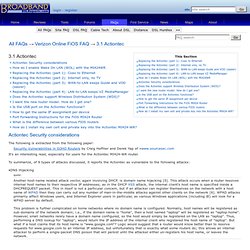 How to share and stream media from a Mac to PlayStation 3
Apple and Sony are fierce competitors, but that hasn't stopped the PlayStation 3 playing nicely with Mac OSX computers. Thanks to some great third-party software, and Sony's decision to add support for the UPnP AV standard, the PS3 has, in some ways, become a better solution than Apple's own offering to the problem of streaming content – audio, video and photos – from a Mac to the TV. Here's our quick guide to creating a Mac-supported PS3 media center. Step One : Turning the Mac into a PS3-friendly media server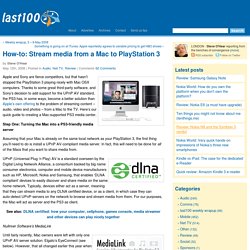 Running OS X 10.6 Snow Leopard: installation play by play - MacFixIt
Written by Topher Kessler Snow Leopard is finally here! I just received my copy, and after creating a full Time Machine backup of my system, I went ahead with the install process. My main computer is a 17" Unibody MacBook Pro , 2.66GHz with 4GB RAM and a 7200RPM 320GB hard drive that is running OS X 10.5.8. Since I use this machine for most of my work I was a little nervous about how the revamped underpinnings of Snow Leopard would interact with the various programs I rely on; therefore, the first thing I did was ensure my backup was functional and accessible so I could restore to Leopard if necessary. I then opened Disk Utility and ran a drive verification on the boot volume, to be sure the drive was functioning properly before continuing.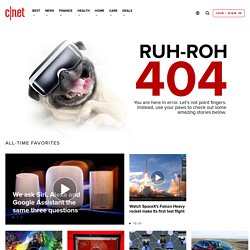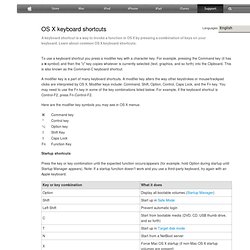 To use a keyboard shortcut, or key combination, you press a modifier key with a character key. For example, pressing the Command key (the key that has a symbol) and the "c" key at the same time copies whatever is currently selected (text, graphics, and so forth) into the Clipboard.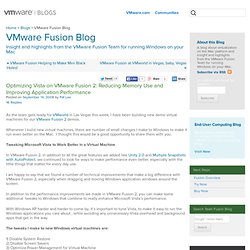 Team Fusion: Optimizing Vista on VMware Fusion 2: Reducing Memory Use and Improving Application Performance
As the team gets ready for VMworld in Las Vegas this week, I have been building new demo virtual machines for our VMware Fusion 2 demos. Whenever I build new virtual machines, there are number of small changes I make to Windows to make it run even better on the Mac. I thought this would be a good opportunity to share them with you. Tweaking Microsoft Vista to Work Better in a Virtual Machine In VMware Fusion 2, in addition to all the great features we added like Unity 2.0 and Multiple Snapshots with AutoProtect , we continued to look for ways to make performance even better, especially with the little things that matter for every day use. I am happy to say that we found a number of technical improvements that make a big difference with VMware Fusion 2, especially when dragging and moving Windows application windows around the screen.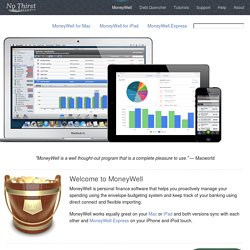 No Thirst Software - MoneyWell
Requires OS X Lion or Mountain Lion. "MoneyWell is a well thought-out program that is a complete pleasure to use." Macworld, June 2010 What is MoneyWell? MoneyWell is personal finance software that increases your wealth while reducing your debt. It does this by wrapping the tried and true envelope-budgeting system in a beautiful, modern interface.
It's an exciting time to be a Mac user. Everyone knows that we get to use Mac OS X Leopard, the world's most advanced operating system. And now, if you have an Intel-based Mac and an application called VMware Fusion , you also have the option of using the world's second and third and fourth best operating systems! Yes, we're talking about Microsoft Windows, the operating system that the rest of the world has the misfortune privilege of using. Why would someone want to go and do something like install Windows on their Mac?
How to Run Windows on Your Mac with VMware Fusion
Rip anythin with vlc - even complex ARccOS copy Protection on DVDs
WARNING: If you use Guest accounts in Snow Leopard, a bug has been that wipes the guest account contents entirely. 10.6.2 resolves this issue according to Apple. It may related to an earlier 10.4 bug that I indicated below, about using the Migration Assistant between PowerPC and Intel Macs. Instead if you have done so, be sure to backup at least twice and if necessary, rename the Guest account something else and give it admin access until the issue has been resolved.
Migrating from 9 to X FAQ
Share iTunes library with OS X and Windows via a server
After some trial-and-error research, I finally managed to move my iTunes library from my MacBook to a Linux file server, and to also use it from Windows machines. I wanted to be able to manage my library from all the computers on my network, so the iTunes sharing option was not enough. But I am the only user of the library: there will not be more than one instance of iTunes using (modifying) the library at once, otherwise this hint will certainly not work (see note at the bottom). My file server (running Gentoo Linux) runs Samba for Windows sharing and netatalk for AFP. On each computer, I mount my Linux home directory.
Move iTunes XML Library (NOT the music) just the library files [Archive] - iPod - iPhone - iTunes Forums at iLounge
I recently set up a Mac mini in my living room to act as a media server. Instead of trying to update separate music libraries every time I added songs to my collection, I was just adding the music to the Mac mini's iTunes library and streaming it my laptop. That worked fine until I tried to sync my iPhone. For obvious (copyright) reasons you cannot sync an iPhone to a shared library.
How-To: One iTunes Library With Multiple Computers | TheAppleBlog
nightstrm wrote: Double-tap when playing video (or single tap and click the button in the upper right-hand corner of the screen... it will zoom in on the picture, and is definitely the preferred way of doing what you are saying. I'm aware of this however maybe i'm being picky but I have a problem with this too When viewing fullscreen on the iphone (via double-tap or little expanding icon) I loose too much of the original movie and I don't like this. I'm happy with the 640x352 video so I just need to know if there is anyway to get handbrake to automatically crop a cinemascope movie to this ratio?
View topic - What Settings would be close to iTunes Store movies?
Change Quicktime (.mp4) icon to DVD Covers - Neowin Forums
Windows dont recognise Mac formatted HDD - Mac - Apple