SatCOM
SNG FOR BEGINNERS_PACSAT
satellite links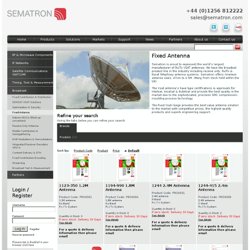 SatEquip SEMATRON
Fixed Antenna Sematron is proud to represent the world's largest manufacturer of Rx/Tx VSAT antennas.
OMTs, Feedhorns and Adapters
Satellite, Digital TV, BSKYB, Freesat, Freeview, SkyHD, Sky+, 3DTV, Home Cinema, and Home AV support forum.
Satcom Online - For Satcom Resources
Satellite internet services worldwide
Satellite Communications - Questions and Answers from January 11, 2011 to March 04, 2011
The SNG Forum and Workbench
Question: What is Signal to Noise Ratio?
What is Signal to Noise Ratio? - Understanding Signal to Noise Ratio Specifications - Stereo Specifications