SatCOM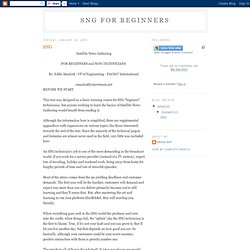 Typically, most uplink platforms will follow a similar path as they ingest, equalize and transmit signals. Below is a rough signal flow breakdown within an uplink truck and the equipment involved in the process.  A live camera or a production platform sends a video and an audio signal to the truck via a coaxial or a fiber cable.
SNG FOR BEGINNERS_PACSAT
satellite links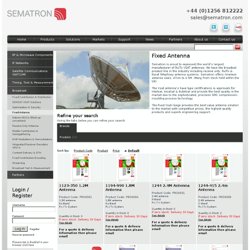 SatEquip SEMATRON
Fixed Antenna Sematron is proud to represent the world's largest manufacturer of Rx/Tx VSAT antennas. We have the broadest product line in the industry including receive only, Rx/Tx & Rural Telephony antenna systems. Sematron offers nineteen antenna sizes, 47cm to 4.5M. (Many from stock held within the UK) The Vsat antenna's have type certifications & approvals for Intelsat, AsiaSat & Eutelsat and provide the best quality in the market due to the sophisticated, precision SMC compression moulding process technology.
OMTs, Feedhorns and Adapters
Satellite, Digital TV, BSKYB, Freesat, Freeview, SkyHD, Sky+, 3DTV, Home Cinema, and Home AV support forum.
Satcom Online - For Satcom Resources
There are over 300 communications satellites in the geostationary orbit, directly above the equator, spaced typically 2 or 3 degrees apart. Because they orbit the earth at the same speed and in the same direction as the earth rotates they remain fixed in the sky and you can use a fixed pointing very small aperture terminal (VSAT) to communicate. The maximum possible coverage area from any one orbit position is approx one third of the earth, as that is all that is visible from the orbit position at a height of 35726 km. For example, a satellite above the equator to south of India can provide coverage which includes South Africa, Europe to Japan and Australia, as well as India which is almost directly below it. To help with small dish operations spot beams are pointed down at particular areas.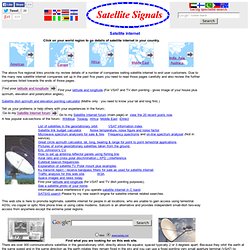 Satellite internet services worldwide
Satellite Communications - Questions and Answers from January 11, 2011 to March 04, 2011
On The Workbench Click Here to Enter the SNG Forum The SNG Forum is a free online meeting place for Satellite and TV Production professionals and enthusiasts. The new front page, nicknamed "The Workbench" is an effort to bring a more professional look and feel, but also so we can all have a place to put and later find our favorite notes. One of the biggest concerns and problems in the forum has been flood of unnessessary comments that often have nothing to do with the original post.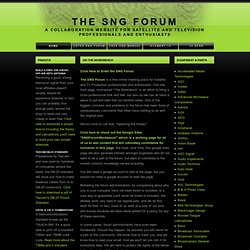 The SNG Forum and Workbench
Question: What is Signal to Noise Ratio? Answer: Signal to noise ratio is a specification that measures the level of the audio signal compared to the level of noise present in the signal. Signal to noise ratio specifications are common in many components, including amplifiers, phonograph players, CD/DVD players, tape decks and others. Noise is described as hiss, as in tape deck, or simply general electronic background noise found in all components.
What is Signal to Noise Ratio? - Understanding Signal to Noise Ratio Specifications - Stereo Specifications