SatCOM
SNG FOR BEGINNERS_PACSAT. Satellite links.
Books
SatEquip SEMATRON. Fixed Antenna Sematron is proud to represent the world's largest manufacturer of Rx/Tx VSAT antennas.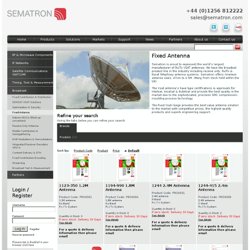 We have the broadest product line in the industry including receive only, Rx/Tx & Rural Telephony antenna systems. Sematron offers nineteen antenna sizes, 47cm to 4.5M. (Many from stock held within the UK) The Vsat antenna's have type certifications & approvals for Intelsat, AsiaSat & Eutelsat and provide the best quality in the market due to the sophisticated, precision SMC compression moulding process technology. OMTs, Feedhorns and Adapters. Satellite, Digital TV, BSKYB, Freesat, Freeview, SkyHD, Sky+, 3DTV, Home Cinema, and Home AV support forum. Satcom Online - For Satcom Resources. Satellite internet services worldwide. Satellite Communications - Questions and Answers from January 11, 2011 to March 04, 2011. The SNG Forum and Workbench.
Dishes
What is Signal to Noise Ratio? - Understanding Signal to Noise Ratio Specifications - Stereo Specifications. Question: What is Signal to Noise Ratio?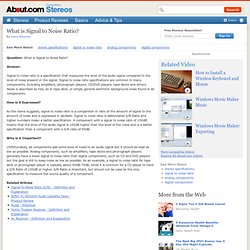 Answer: Signal to noise ratio is a specification that measures the level of the audio signal compared to the level of noise present in the signal. Signal to noise ratio specifications are common in many components, including amplifiers, phonograph players, CD/DVD players, tape decks and others. Noise is described as hiss, as in tape deck, or simply general electronic background noise found in all components.
---