Articles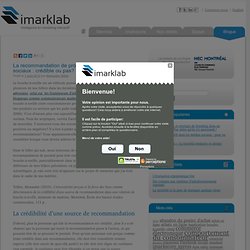 Le bouche-à-oreille est un véhicule puissant en marketing et a fait l'objet de plusieurs de nos billets dans les dernières semaines (le billet sur les « brand advocates , celui sur les fournisseurs d'information ou encore celui sur les blogueurs comme communicateurs marketing ). On sait maintenant que le bouche-à-oreille entre consommateurs peut être plus efficace pour promouvoir des produits ou services que les pubs traditionnelles (Goldsmith et Horowitz, 2006).
La recommandation de produits sur les médias sociaux : crédible ou pas? | imarklab
In the last post 10 Tips to Increase Earned Media the first tip was to find and partner with brand ambassadors.
Digital PR: Finding Brand Ambassadors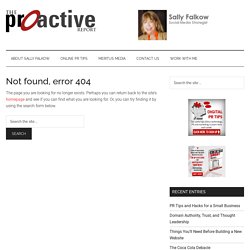 Today I want to share with you some advices to improve the "word of mouth" marketing for small business, that in my opinion is the most effective type of marketing.
How improve the word of mouth through email | Fanchimp blog
The age-old saying that Word of Mouth (WoM) is the best form of advertising still rings true to this day as we now know, more than ever before, that personal recommendations from our friends have the highest impact on our purchasing decisions.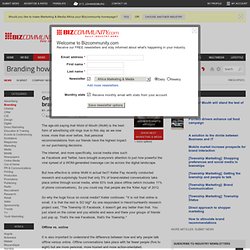 Get people talking about your brand
Médias sociaux : le nouveau moment de vérité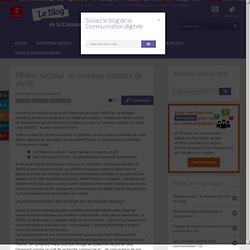 10 avril 2012 | Ecrit par Philippe Gerard | 11 Commentaires
Article posté par Isabelle Canivet - Bourgaux le Vendredi 15 juillet 2011 Publier et diffuser son contenu web a pour objectif de gagner en visibilité.
Marketing viral - buzz, viral buzz, seeding et marketing d'influence : générer du trafic et des liens entrants
Le bouche-à-oreille, grande source d'influence pour le consommateur belge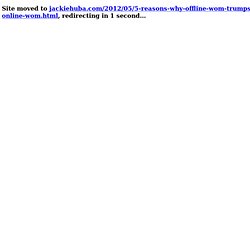 5 surprising things about word of mouth marketing
« 5 surprising things about word of mouth marketing | Main | Tune in to the Dell Customer Service Think Tank, Mon 6/25 » 5 surprising things about word of mouth marketing Social media marketing is still all the rage, but an important new book out from Ed Keller and Bray Fay reminds marketers where and how customers are actually talking about brands,services and companies.
March 21, 2013
Word of mouth Archives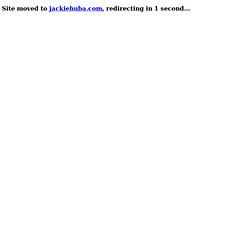 WOM | Brand & Content Guru Blog
Consumer Trust in Online, Social and Mobile Advertising Grows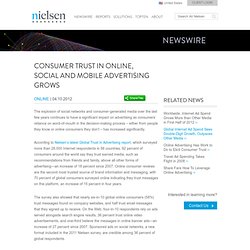 The explosion of social networks and consumer-generated media over the last few years continues to have a significant impact on advertising as consumers' reliance on word-of-mouth in the decision-making process – either from people they know or online consumers they don't – has increased significantly. According to Nielsen's latest Global Trust in Advertising report, which surveyed more than 28,000 Internet respondents in 56 countries, 92 percent of consumers around the world say they trust earned media, such as recommendations from friends and family, above all other forms of advertising—an increase of 18 percent since 2007. Online consumer reviews are the second most trusted source of brand information and messaging, with 70 percent of global consumers surveyed online indicating they trust messages on this platform, an increase of 15 percent in four years.
Word of Mouth Still Most Trusted Resource Says Nielsen; Implications for Social Commerce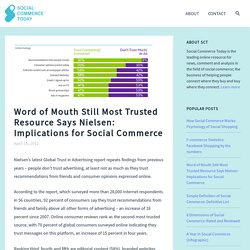 Nielsen's latest Global Trust in Advertising report repeats findings from previous years – people don't trust advertising, at least not as much as they trust recommendations from friends and consumer opinions expressed online.
Thesis presentation: Influencing & measuring word of mouth on Twitter
Word of Mouth Marketing: When a Human Phenomenon Goes Business
People have always talked about their experiences, emotions, needs and also products, services and brands. Word of mouth is an old and human phenomenon.
The now commonly held notion that social media-related marketing is a requirement for business success may not carry as much water as once thought. Despite all the technological advances in recent years, especially in the realm of social media, a recent study suggests that the vast majority of public discussion about products, brands and services occur in everyday word-of-mouth encounters with others, not online.
Measuring Offline Vs. Online Word-of-Mouth Marketing
We all know that economic times are tough. I always suggest that businesses don't pull their marketing budget.
Word of Mouth Marketing: Five Tips to Generate it for Your Business
Why Traditional Marketing Fails
Non-Traditional Traditional Marketing: Word of Mouth and Social Media Tips | Smart Company Growth
Measuring the Stages of the Cyclic Social Media Marketing Funnel
communitymanager.blog-observer.com/wp-content/uploads/2011/06/FICHE_DE_LECTURE1.pdf
www.travelmichigannews.org/mtr/pdf/WOM_Research_Paper.pdf
Fiche de lecture : BUZZ … Le marketing du bouche à oreille | Community Manager
Faites marcher le bouche-à-oreille autour de votre activité
wom101/wom101.pdf
Infographic - The Word and the World of Customers
faculty.som.yale.edu/dinamayzlin/MktgScience_galley.pdf
"Word of Mouth" study shows Google directly informs 146 million brand conversations a day
Viral marketing vs spreadable media | EngageSciences
Copywriter, l'une des activités les mieux payées du web !