Social Networks
50 Free Social Media Tools You Can't Live Without. A couple years ago, Jay Baer wrote a great blog post called 'The 39 social media tools I'll use today' which was an all-in-one toolkit for social media marketers (and still is).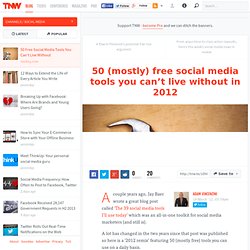 A lot has changed in the two years since that post was published so here is a '2012 remix' featuring 50 (mostly free) tools you can use on a daily basis. Whether you are just starting out in the social media arena or have been at it for a few years, this will hopefully be a handy resource. So, let's serve 'em up! Listening / Research The foundations for any social media marketing activity start with listening and in-depth research, ranging from influencer identification to campaign planning.
ManageFlitter - Twitter Account Management - Over 426 Million Unfollowed. Flickr. Quora. 20 conseils pour améliorer votre SMO (réseaux sociaux) Comme tout blog qui se respecte, nous avions le « projet » de guest-blogging.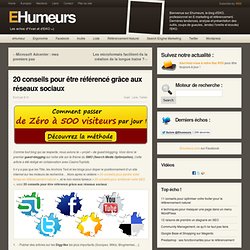 Voici donc le premier guest-blogging sur notre site sur le thème du SMO (Search Media Optimization). Cette article a été rédigé en collaboration avec CasinoToplists. Il n'y a pas que les Title, les Anchors Text et les blogs pour doper le positionnement d'un site internet sur les moteurs de recherche… Alors après le célèbre « 20 conseils pour perdre votre temps en référencement naturel », et le non moins fameux « 20 conseils pour améliorer votre SEO », voici 20 conseils pour être référencé grâce aux réseaux sociaux :
eReputation
Facebook. Twitter. Les 7 étapes de votre Plan Marketing pour les réseaux sociaux (PMRS) ConseilsMarketing.fr a le plaisir d'accueillir Nathanael Ramos de www.metrosapiens.com, coach en networking (personnel & PME), qui nous donne les 7 étapes pour créer son plan marketing sur les Réseaux Sociaux.
Saviez-vous que -Burger King a dépensé 50 000 dollars pour son application Facebook Whopper Sacrifice et a reçu en retour une couverture médiatique équivalente à 400 000 dollars de publicité, en plus de 32 millions de pages vues.
---