Social Networks
A couple years ago, Jay Baer wrote a great blog post called 'The 39 social media tools I'll use today' which was an all-in-one toolkit for social media marketers (and still is). A lot has changed in the two years since that post was published so here is a '2012 remix' featuring 50 (mostly free) tools you can use on a daily basis.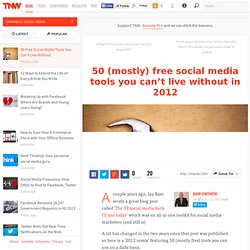 20 conseils pour améliorer votre SMO (réseaux sociaux)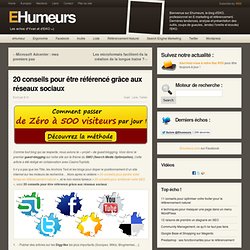 Comme tout blog qui se respecte, nous avions le « projet » de guest-blogging.
ConseilsMarketing.fr a le plaisir d'accueillir Nathanael Ramos de www.metrosapiens.com, coach en networking (personnel & PME), qui nous donne les 7 étapes pour créer son plan marketing sur les Réseaux Sociaux. Saviez-vous que -Burger King a dépensé 50 000 dollars pour son application Facebook Whopper Sacrifice et a reçu en retour une couverture médiatique équivalente à 400 000 dollars de publicité, en plus de 32 millions de pages vues.