Literature
Get flash to fully experience Pearltrees
by Maria Popova What the Mad Hatter has to do with one of the most inspired collaborations in Western culture. Last week, we marveled at Leonard Weisgard's stunning illustrations for the first color edition of Alice in Wonderland , circa 1949. But it turns out they might not be the most culturally intriguing. As reader Varvn Aryacetas points out on Twitter , exactly two decades later a collaboration of epic proportion took place as the Lewis Carroll classic was illustrated by none other than Salvador Dalí .
Star Maker is a science fiction novel by Olaf Stapledon , published in 1937. The book describes a history of life in the universe, dwarfing in scale Stapledon's previous book, Last and First Men (1930), a history of the human species over two billion years. Star Maker tackles philosophical themes such as the essence of life, of birth, decay and death, and the relationship between creation and creator. A pervading theme is that of progressive unity within and between different civilizations. Some of the elements and themes briefly discussed prefigure later fiction concerning genetic engineering and alien life forms.
from The Man Who Rode the Thunder William H. Rankin (1920–2009) Reprinted in Into the Blue: American Writers on Aviation and Spaceflight Most Story of the Week readers probably heard of last week's daredevil stunt by Austrian skydiver Felix Baumgartner, who jumped from a capsule in a pressurized suit twenty-four miles above the sea level, plunged to the earth for ten minutes (including more than four minutes in free fall), and broke through the sound barrier with a peak velocity of 834 mph (Mach 1.24). Baumgartner's feat reminded us of the extraordinary story of Lieutenant Colonel William H. Rankin. Half a century ago, Rankin was flying solo in a jet fighter when the plane malfunctioned while traveling in excess of 500 miles per hour.
No Logo: Taking Aim at the Brand Bullies is a book by Canadian author Naomi Klein . First published by Knopf Canada and Picador in December 1999, [ 1 ] [ 2 ] shortly after the 1999 WTO Ministerial Conference protests in Seattle had generated media attention around such issues, it became one of the most influential books about the alter-globalization movement and an international bestseller. [ 3 ] [ edit ] Focus The book focuses on branding , and often makes connections with the alter-globalization movement. Throughout the four parts ("No Space", "No Choice", "No Jobs", and "No Logo"), Klein writes about issues such as sweatshops in the Americas and Asia , culture jamming , corporate censorship , and Reclaim the Streets . She pays special attention to the deeds and misdeeds of Nike , The Gap , McDonald's , Shell , and Microsoft – and of their lawyers, contractors, and advertising agencies .
Go Rin No Sho calligraphed in Kanji . Musashi strived for as great a mastery in that art as in swordsmanship. The Book of Five Rings ( 五輪書 , Go Rin No Sho ? ) is a text on kenjutsu and the martial arts in general, written by the swordsman Miyamoto Musashi circa 1645. There have been various translations made over the years, and it enjoys an audience considerably broader than only that of martial artists: for instance, some business leaders find its discussion of conflict and taking the advantage to be relevant to their work.
by Maria Popova What Freud has to do with auditory cheesecake, European opera and world peace. Last year, Horizon's fascinating documentary on how music works was one of our most-liked pickings of 2010. But perhaps even more fascinating than the subject of how music works is the question of why it makes us feel the way it does. Today, we try to answer it with seven essential books that bridge music, emotion and cognition, peeling away at that tender intersection of where your brain ends and your soul begins.
by Maria Popova What charcoal has to do with democracy, equality and the cultural necessity for absurdity. A couple of weeks ago, after raving about one of our all-time favorite books, Bill Bryson's A Short History of Nearly Everything , reader Ian Shepherd alerted us to the recent publication of an illustrated version of the book. Needless to say, A Short History of Nearly Everything: Special Illustrated Edition is just as fantastic as you'd expect. Today, courtesy of Ian's photographic skills, we take a peek inside as we await our copy in the mail: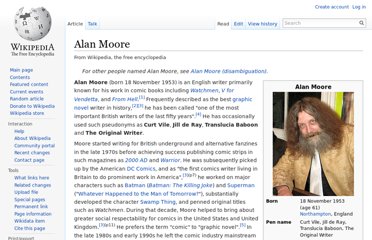 Alan Moore (born 18 November 1953) is an English writer primarily known for his work in comic books, a medium where he has produced series including Watchmen , V for Vendetta , and From Hell . [ 5 ] Frequently described as the best graphic novel writer in history, [ 6 ] (p10) [ 7 ] (p7) he has also been described as "one of the most important British writers of the last fifty years". [ 8 ] He has occasionally used such pseudonyms as Curt Vile , Jill de Ray , and Translucia Baboon . Moore started out writing for British underground and alternative fanzines in the late 1970s before achieving success publishing comic strips in such magazines as 2000 AD and Warrior . He was subsequently picked up by the American DC Comics , and as "the first comics writer living in Britain to do prominent work in America", [ 7 ] (p7) he worked on big name characters such as Batman ( Batman: The Killing Joke ) and Superman ( Whatever Happened to the Man of Tomorrow?