Interesting
How a sense of sacred can help sustainable business | Guardian Sustainable Business | Guardian Professional
'Discovery ultimately could lead to better climate understanding and prediction' Is Earth really a sort of giant living organism as the Gaia hypothesis predicts? A new discovery made at the University of Maryland may provide a key to answering this question.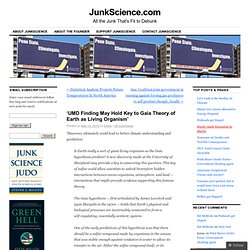 'UMD Finding May Hold Key to Gaia Theory of Earth as Living Organism'
How much water is there on Earth, from USGS Water Science for Schools water information site
Call for Arctic geoengineering as soon as possible - environment - 12 December 2011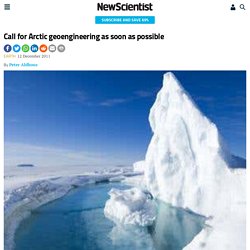 It's the most urgent call for geoengineering yet: begin cooling the Arctic by 2013 or face runaway global warming. But the warning – from a voice on the scientific fringe – may be premature, according to experts contacted by New Scientist .
New molecule could help cool planet
Lions Green Team
by Maria Popova What rainforest tribes in the jungle have to do with reindeer swimmers in the Arctic. What are the secrets of this amazing planet we call home, and what exactly is our place in it?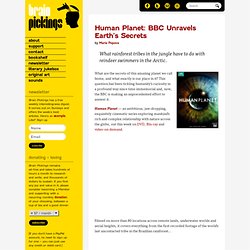 Human Planet: BBC Unravels the Secrets of Earth
Beautiful waterfall of West Virginia - Yahoo! News Photos
Offers $1 Million Reward to First to Make In Vitro Meat | PETA.org
UPDATE: In 2008, PETA announced a $1 million prize for the first laboratory to use chicken cells to create in vitro (test tube) meat if the product were commercially viable by June 30, 2012.
Richter Scale"
Whenever a major earthquake is in the news, you'll probably hear about its Richter scale rating.