Health Blogs
start - health
Q, a blog by Equinox | Your daily guide to fitness, life and style.
- Jack Kruse
Mark's Daily Apple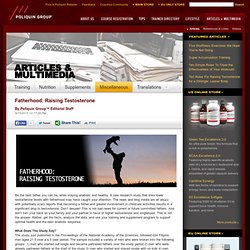 Fatherhood: Raising Testosterone
Be the best father you can be, while staying anabolic and healthy. A new research study that links lower testosterone levels with fatherhood may have caught your attention. The news and blog media are all abuzz with potentially scary reports that becoming a father and greater involvement in childcare activities results in a significant drop in testosterone. Don't despair!