Air/Water
Carbon filtering is a method of filtering that uses a piece of activated carbon to remove contaminants and impurities, using chemical adsorption . Each piece of carbon is designed to provide a large section of surface area, in order to allow contaminants the most possible exposure to the filter media. One pound (450 g) of activated carbon contains a surface area of approximately 100 acres (40 Hectares). This carbon is generally activated with a positive charge and is designed to attract negatively charged water contaminants. Carbon filtering is commonly used for water purification , but is also used in air purifiers . Carbon filters are most effective at removing chlorine , sediment , and volatile organic compounds (VOCs) from water.
Carbon filtering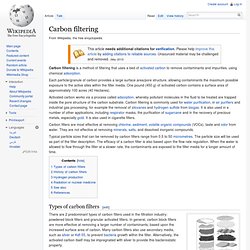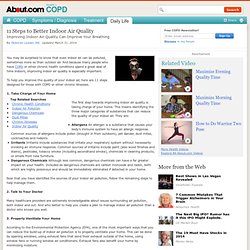 You may be surprised to know that even indoor air can be polluted, sometimes more so than outdoor air. And because many people who have COPD or other chronic health conditions spend a great deal of time indoors, improving indoor air quality is especially important. To help you improve the quality of your indoor air, here are 10 steps designed for those with COPD or other chronic illnesses.
Indoor Air Quality - Improving Indoor Air Quality
How to Remove Fluoride from Drinking Water
Most people are aware that there is a controversy surrounding public fluoridation of drinking water. Here is a list of ways to obtain drinking water without fluoride. In addition, I've listed water purification methods which do not remove fluoride from water. Ways to Remove Fluoride from Water Reverse Osmosis Filtration This is used to purify several types of bottled water (not all), so some bottled waters are unfluoridated. Reverse osmosis systems are generally unaffordable for personal use.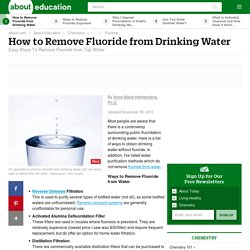 Pure Effect Filters | Countertop Water Filters | Radiation, Fluoride, Pharmaceuticals, Heavy Metals
The Best Water Filtration