Weinstein
4571 - Fourni par Google Documents
This is an interesting development.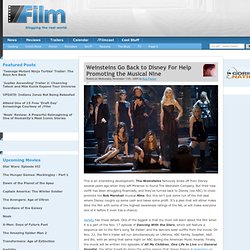 Weinsteins Go Back to Disney For Help Promoting the Musical Nine Quel est le point commun entre Chicago, Pulp Fiction, The Queen, Le Patient Anglais et No Country For Old Men ? Ces œuvres, ainsi que de nombreux autres grands films, sont tous sortis du mythique studio indépendant créé à la fin des années 1970 par les frères Weinstein : Miramax. Aujourd'hui, le studio est à la dérive, et après l'avoir fermé, son possesseur, Disney, cherche un acquéreur.
Miramax