Twitter use
What Twitterers Want: News. Twitter can be a lot of things for a lot of different people.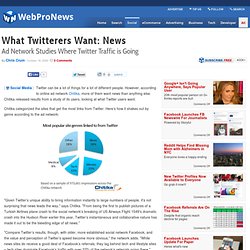 However, according to online ad network Chitika, more of them want news than anything else. Chitika released results from a study of its users, looking at what Twitter users want. PR Pros Use Twitter to Reinvigorate Brands, Engage. Fairmont Hotels & Resorts operates luxury properties in countries all over the world, from the U.S. and Canada to Asia the Middle East and Africa.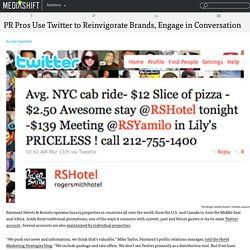 Aside from traditional promotions, one of the ways it connects with current, past and future guests is via its main Twitter account. Several accounts are also maintained by individual properties. "We push out news and information; we think that's valuable," Mike Taylor, Fairmont's public relations manager, told the Hotel Marketing Strategies blog. Hadopi_twitter_sptk. Twitter - Usage et tendances. 10 People You Won't See on Twitter Anymore. This week Twitter announced changes to its Terms of Service spelling out that you own your Tweets, and that Twitter can place ads next to your content.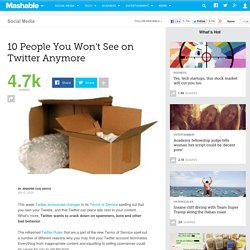 What's more, Twitter wants to crack down on spammers, bots and other bad behavior. The refreshed Twitter Rules that are a part of the new Terms of Service spell out a number of different reasons why you may find your Twitter account terminated. Everything from inappropriate content and squatting to selling usernames could be cause for you to get the boot. Upon closer look we noticed that Twitter is closing the curtain on at least 10 types of Twitter users we see regularly attempt to game the service. Spintank » Spincase – Cartographie de la circulation de l'info s. Le 10 juin dernier, le Conseil Constitutionnel a censuré une partie substantielle du projet de loi Création et internet (HADOPI).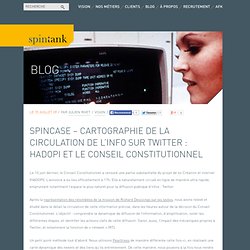 L'annonce a eu lieu officiellement à 17h. Elle a naturellement circulé en ligne de manière ultra rapide, empruntant notamment l'espace le plus naturel pour la diffusion publique d'infos : Twitter. Après la représentation des retombées de la mission de Richard Descoings sur les lycées, nous avons relevé et étudié dans le détail la circulation de cette information précise, dans les heures autour de la décision du Conseil Constitutionnel. Shanenickerson.com: the 46 stages of Twitter. Il tente de tricher à son exam' avec Twitter... sur 20minutes.fr.
Voilà les faits tels qu'ils sont présentés sur Internet: Romain, étudiant en école multimédia, galère pendant son examen de Flash (un logiciel de création d'animations) ce vendredi matin.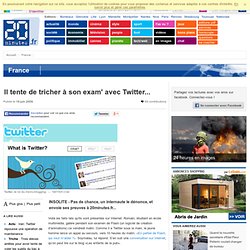 Comme il a Twitter sous la main, le jeune homme lance un appel au secours, vers 10 heures du matin: «En partiel de Flash, qui veut m'aider ?». Soymalau, lui répond. S'en suit une conversation sur Internet, qu'on peut lire sur le blog «Les enfants de la pub». «Pour 300 €, je ne téléphone pas à ton école» Romain demande à Soymalau de lui réaliser sept animations contre 100 euros. Comment les Ministres et les Secrétaires d'Etat utilisent-ils Tw. Cela faisait longtemps que je voulais faire une étude sur l'utilisation de Twitter par les membres du gouvernement français, j'ai donc profité de la pause estivale pour décortiquer pour le compte de ma société (2803 MEDIA) l'ensemble des tweets de chaque Ministre ou Secrétaire d'Etat pour essayer de classifier le contenu et voir ainsi comment les membres du gouvernement (ou leur service de com) utilisent l'outil de micro-blogging à la mode.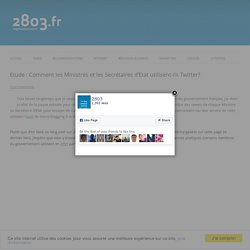 Plutôt que d'en faire un long post sur 2803, j'ai opté pour un format whitepaper sur slideshare et téléchargeable sur cette page (le dernier lien). J'espère que vous y trouver des informations pertinentes et y découvrirez quelques bonnes pratiques (certains membres du gouvernement utilisent en effet parfaitement l'outil). I'm Engaged! (4 Tales of Accidental Twitter Friends) | Almost Sa. Posted by Irene Koehler in Business, Networking, Social Media, Tips, Twitter on November 17, 2009 | 16 responses It's true, I'm engaged.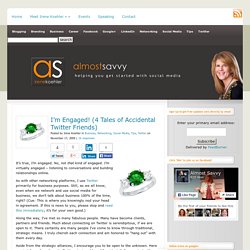 No, not that kind of engaged. 123people acquired by PagesJaunes Groupe. [Austria/France] According to investir.fi and various other sources, the world's leading people search engine 123people, which strives from Austria, has been acquired by the leading french yellow pages company PagesJaunes.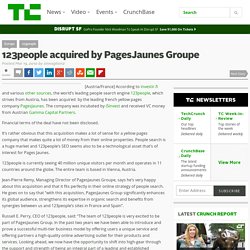 The company was incubated by i5invest and received VC money from Austrian Gamma Capital Partners. Financial terms of the deal have not been disclosed. It's rather obvious that this acquisition makes a lot of sense for a yellow pages company that makes quite a lot of money from their online properties. People search is a huge market and 123people's SEO seems also to be a technological asset that's of interest for Pages Jaunes. 123people is currently seeing 40 million unique visitors per month and operates in 11 countries around the globe.
The Million Follower Fallacy: Audience Size Doesn't Prove Influe. A group of researchers have proven something we already expected to be the case: your Twitter follower count is somewhat of a meaningless metric when it comes to determining influence.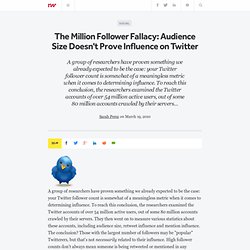 To reach this conclusion, the researchers examined the Twitter accounts of over 54 million active users, out of some 80 million accounts crawled by their servers. They then went on to measure various statistics about these accounts, including audience size, retweet influence and mention influence. Twitter Flatlining?