Twitter use
What Twitterers Want: News
Hmm ok pour FB. Mais ça n'explique pas le cas Twitter. Ok on a du pre-breakingnews et ça fait du trending topics pendant des semaines mais quand même, ça reste majoritairement un canal de geeks et pseudo-geeks non ? À moins que ce soit déjà devenu mainstream aux USA ? by romainpouzol Oct 20
A mon avis, cela tient surtout à ce que peu de gens partagent des liens sur Facebook - la focntionnalité est d'ailleurs trés recente by Patrice Oct 20
Je suis assez surpris de voir que la part des Tech soit aussi importante chez Fessebouc et aussi peu importante chez Twitter. by romainpouzol Oct 20
MediaShift . PR Pros Use Twitter to Reinvigorate Brands, Engage
Fairmont Hotels & Resorts operates luxury properties in countries all over the world, from the U.S. and Canada to Asia the Middle East and Africa.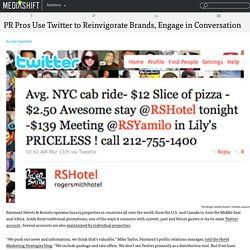 Twitter - Usage et tendances
This week Twitter announced changes to its Terms of Service spelling out that you own your Tweets, and that Twitter can place ads next to your content.
10 People You Won't See on Twitter Anymore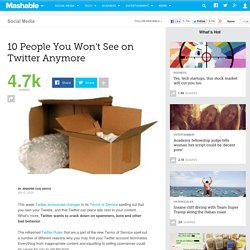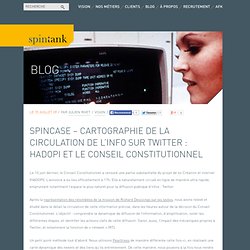 Le 10 juin dernier, le Conseil Constitutionnel a censuré une partie substantielle du projet de loi Création et internet (HADOPI).
Spintank » Spincase – Cartographie de la circulation de l'info s
Et pourquoi ne pas demander une meilleure prise en charge de pearltrees par twitter ;-) Cela dit, dans un mois, une carte pareille se fera beaucoup beaucoup plus facilement.... et je ne parle pas que de twitter! by Patrice Jul 17
shanenickerson.com: the 46 stages of Twitter
Voilà les faits tels qu'ils sont présentés sur Internet: Romain, étudiant en école multimédia, galère pendant son examen de Flash (un logiciel de création d'animations) ce vendredi matin. Comme il a Twitter sous la main, le jeune homme lance un appel au secours, vers 10 heures du matin: «En partiel de Flash, qui veut m'aider ?».
Il tente de tricher à son exam' avec Twitter... sur 20minutes.fr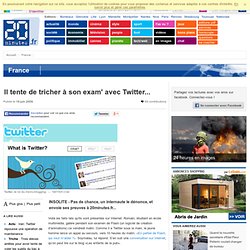 Mea Culpa
Mea Culpa
Cela faisait longtemps que je voulais faire une étude sur l'utilisation de Twitter par les membres du gouvernement français, j'ai donc profité de la pause estivale pour décortiquer pour le compte de ma société (2803 MEDIA) l'ensemble des tweets de chaque Ministre ou Secrétaire d'Etat pour essayer de classifier le contenu et voir ainsi comment les membres du gouvernement (ou leur service de com) utilisent l'outil de micro-blogging à la mode. Plutôt que d'en faire un long post sur 2803, j'ai opté pour un format whitepaper sur slideshare et téléchargeable sur cette page (le dernier lien). J'espère que vous y trouver des informations pertinentes et y découvrirez quelques bonnes pratiques (certains membres du gouvernement utilisent en effet parfaitement l'outil).
Comment les Ministres et les Secrétaires d'Etat utilisent-ils Tw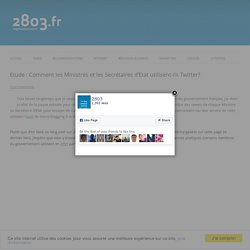 Posted by Irene Koehler in Business, Networking, Social Media, Tips, Twitter on November 17, 2009 | 16 responses It's true, I'm engaged. No, not that kind of engaged.
I'm Engaged! (4 Tales of Accidental Twitter Friends) | Almost Sa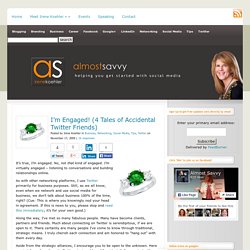 123people acquired by PagesJaunes Groupe
[Austria/France] According to investir.fi and various other sources, the world's leading people search engine 123people, which strives from Austria, has been acquired by the leading french yellow pages company PagesJaunes. The company was incubated by i5invest and received VC money from Austrian Gamma Capital Partners. Financial terms of the deal have not been disclosed. It's rather obvious that this acquisition makes a lot of sense for a yellow pages company that makes quite a lot of money from their online properties. People search is a huge market and 123people's SEO seems also to be a technological asset that's of interest for Pages Jaunes. 123people is currently seeing 40 million unique visitors per month and operates in 11 countries around the globe.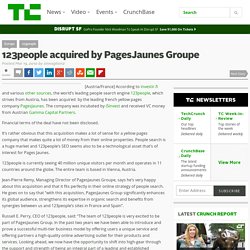 Plus ou moins philosophico-de fond…
A group of researchers have proven something we already expected to be the case: your Twitter follower count is somewhat of a meaningless metric when it comes to determining influence.
The Million Follower Fallacy: Audience Size Doesn't Prove Influe