Facebook vs privacy?
Get flash to fully experience Pearltrees
Privacy, Facebook's critical issue — and Achilles heel — has come to the fore again. After the company unveiled a program that automatically shared data with special partners and changed the way it tracks people's interests last month, bloggers and users are up in arms.
JasonNation Population: 22,718 Signup: http://www.jasonnation.com Important TechCrunch50 Message: At the bottom Rights: Please do not post on the web (it's dead) Wordcount: 1,658 (short one) Location: Mahalo HQ, Santa Monica Mood: Quixotic ========================================= Last Wednesday, 10AM, Las Vegas. The South Point Hotel and Casino, a couple of miles off the strip.
Well I bet they didn't quite expect that.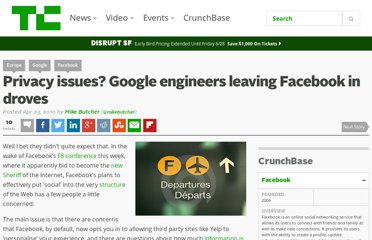 A number of high-profile web industry leaders have quit Facebook this week, a turn of events that's sure to heat up conversation about the social network's perceived transgressions.
Friday is Facebook CEO Mark Zuckerberg's 26th birthday.
It's interesting that lots of people who really don't like Facebook's privacy don't get mad when journalists and bloggers put into public view Steve Jobs' emails to them. Today I got an email from Mark Zuckerberg, CEO/founder of Facebook. I am not going to be the one to put that into public view until he gives me permission to.
In a recent Inc Magazine live chat , I found myself, somewhat surprisingly even to me, defending Facebook regarding their ongoing and evolving privacy policy . Here's what I said: The essence of my argument is that there's enormous advantage for users in giving up some privacy online and that we need to be exploring the boundary conditions – asking ourselves when is it good for users, and when is it bad, to reveal their personal information.