Facebook vs privacy?
Why Mark Zuckerberg needs to come clean about his views on priva. Privacy, Facebook's critical issue — and Achilles heel — has come to the fore again.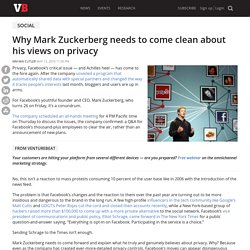 After the company unveiled a program that automatically shared data with special partners and changed the way it tracks people's interests last month, bloggers and users are up in arms. For Facebook's youthful founder and CEO, Mark Zuckerberg, who turns 26 on Friday, it's a conundrum. The company scheduled an all-hands meeting for 4 PM Pacific time on Thursday to discuss the issues, the company confirmed: a Q&A for Facebook's thousand-plus employees to clear the air, rather than an announcement of new plans. No, this isn't a reaction to mass protests consuming 10 percent of the user base like in 2006 with the introduction of the news feed. The problem is that Facebook's changes and the reaction to them over the past year are turning out to be more insidious and dangerous to the brand in the long run. The Big Game, Zuckerberg and Overplaying your Hand « The Jason C. JasonNation Population: 22,718 Signup: Important TechCrunch50 Message: At the bottom Rights: Please do not post on the web (it's dead) Wordcount: 1,658 (short one) Location: Mahalo HQ, Santa Monica Mood: Quixotic ========================================= Last Wednesday, 10AM, Las Vegas.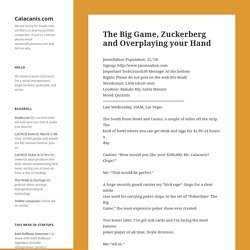 The South Point Hotel and Casino, a couple of miles off the strip. The kind of hotel where you can get steak and eggs for $2.99–24 hours a day. Cashier: "How would you like your $200,000, Mr. Calacanis? Chips?" Privacy issues? Google engineers leaving Facebook in droves. More Web Industry Leaders Quit Facebook, Call For Open Alternati. A number of high-profile web industry leaders have quit Facebook this week, a turn of events that's sure to heat up conversation about the social network's perceived transgressions.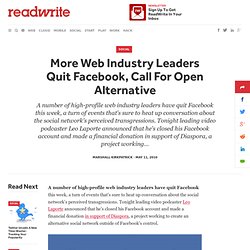 Tonight leading video podcaster Leo Laporte announced that he's closed his Facebook account and made a financial donation in support of Diaspora, a project working to create an alternative social network outside of Facebook's control. Laporte said he was convinced to make the move by a post written by entrepreneur Jason Calacanis, in which Calacanis called Facebook a "monster" and called for users to throw their support behind OpenID and advocates of distributed social networking as open as the internet.
Well, These New Zuckerberg IMs Won't Help Facebook's Privacy Pro. The Media Attacks On Facebook And Mark Zuckerberg Are Getting Ou. Friday is Facebook CEO Mark Zuckerberg's 26th birthday.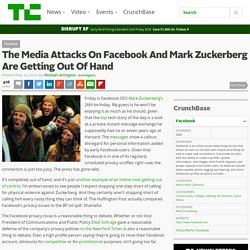 My guess is he won't be enjoying it as much as he should, given that the top tech story of the day is a look at a private instant message exchange he supposedly had six or seven years ago at Harvard. The messages show a callous disregard for personal information added by early Facebook users. Given that Facebook is in one of its regularly scheduled privacy scuffles right now, the connection is just too juicy. The press has gone wild. Facebook Privacy: A Bewildering Tangle of Options - Graphic - NY. When do you throw a CEO's privacy under the bus? It's interesting that lots of people who really don't like Facebook's privacy don't get mad when journalists and bloggers put into public view Steve Jobs' emails to them.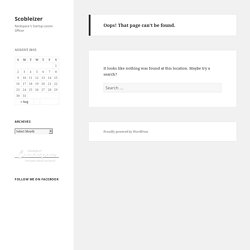 Today I got an email from Mark Zuckerberg, CEO/founder of Facebook. I am not going to be the one to put that into public view until he gives me permission to. My Contrarian Stance on Facebook and Privacy. In a recent Inc Magazine live chat, I found myself, somewhat surprisingly even to me, defending Facebook regarding their ongoing and evolving privacy policy.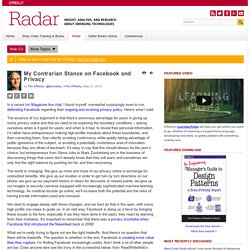 Here's what I said: The essence of my argument is that there's enormous advantage for users in giving up some privacy online and that we need to be exploring the boundary conditions – asking ourselves when is it good for users, and when is it bad, to reveal their personal information.
---