IPhone vs Android
Pearltrees: Is Pearltrees becoming more... Android Market Is Attracting More App Developers. One software developer, James Englert, 26, had just released his first application for Android, 's operating system for cellphones.
When asked, he tossed out an estimate for his take from sales of the app, a simple program that shows train schedules: "$1 to $2 per day." The room erupted with laughter. "That's pretty good money," he protested over the clamor. The others could relate to Mr. Letter From Silicon Valley: Doing the Math on Android vs. Apple | Epicenter  If you live in the Silicon Valley echo chamber, nothing has been hotter lately than the Android/iPhone smackdown.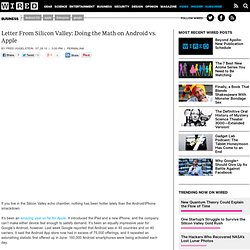 It's been an amazing year so far for Apple. It introduced the iPad and a new iPhone, and the company can't make either device fast enough to satisfy demand. It's been an equally impressive year for Google's Android, however. Last week Google reported that Android was in 40 countries and on 40 carriers. The Problem With iPhone Killers… Here we are again.
The hype leading up to a new mobile device is reaching a fever pitch. Motorola's Droid sounds, looks, and by some accounts, is impressive. As such, everyone's favorite superlative is being thrown out there once again: "iPhone killer." Admob data – Android making great progress | The Equity Kicker. Data out from Admob's regular report on mobile web activity derived from data on where their ads are shown shows that 10% of smartphone web requests now come from Android devices (see the chart below).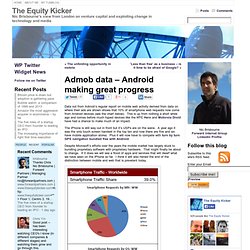 This is up from nothing a short while ago and comes before much hyped devices like the HTC Hero and Motorola Droid have had a chance to make much of an impact. The iPhone is still way out in front but it's USPs are on the wane. A year ago it was the only touch screen handset in the top ten and now there are five and six have mobile application stores. iPhone games that charge to keep playing | The Equity Kicker. iPhone game download prices have been steadily decreasing over the last year and since Apple allowed developers to charge for in-game transactions on free to download apps the trend towards free has accelerated.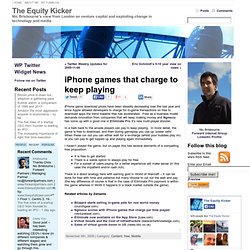 Free as a business model demands innovation from companies that will keep making money and Ngmoco has come up with a good one in Eliminate Pro it's new multi-player shooter. In a hark back to the arcade players can pay to keep playing. The Droid fails AS A PRODUCT when compared to Palm Pre and iPhon. So, the hype got to me.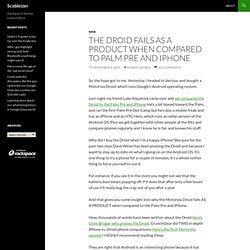 Yesterday I headed to Verizon and bought a Motorola Droid, which runs Google's Android operating system. Last night my friend Luke Kilpatrick came over and we compared the Droid to the Palm Pre and iPhone. Verizon Droid Sells 100,000 Units At Launch. As with anything else, the proof will be in the numbers.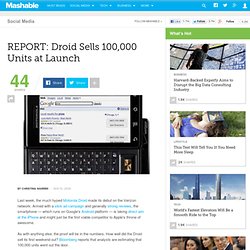 How well did the Droid sell its first weekend out? Bloomberg reports that analysts are estimating that 100,000 units went out the door.According to the report, that means that about half of the 200,000 phones that Verizon stocked in its stores and authorized retailers were sold over the weekend. While Rivals Jockey For Market Share, Apple Bathes In Profits. Market share is probably the easiest and most often used point of comparison between competing products.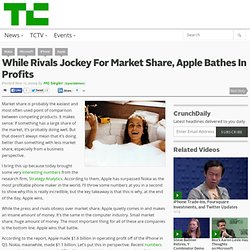 It makes sense: If something has a large share of the market, it's probably doing well. But that doesn't always mean that it's doing better than something with less market share, especially from a business perspective. Why I disagree with @Arrington about Droid. Mike Arrington, founder of the famous and influential TechCrunch blog, and I totally disagree about the Motorola Droid and whether or not it's a great product or not.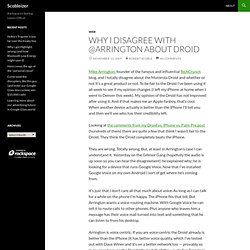 To be fair to the Droid I've been using it all week to see if my opinion changes (I left my iPhone at home when I went to Denver this week). My opinion of the Droid has not improved after using it. Will Apple's History Repeat? - Continuations. Will Apple's History Repeat?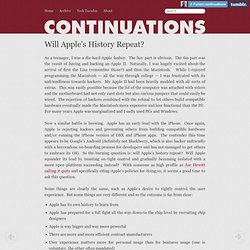 As a teenager, I was a die-hard Apple fanboy. The boy part is obvious. The fan part was the result of having and hacking an Apple II. Ray Ozzie is wrong about smartphone apps. Microsoft exec Ray Ozzie, at a lunchtime session with bloggers at its PDC conference told the bloggers that apps won't be a differentiating factor on smart phones. He is wrong. Totally wrong. Why is Mike Arrington so passionate about his Droid (we argued about it for 39 minutes on the Gillmor Gang last week and then we went to the beach together on Sunday and argued about it some more in private). The Google Phone Is Very Real. And It's Coming Soon.
The debate over Droid v. iPhone rages on, but lots more Android surprises are on the way. Get ready for the Google Phone. It's no longer a myth, it's real. The next "super" Android device will almost certainly be a HTC phone that's much thinner than even the Droid or iPhone – The Dragon/Passion. This is the phone the senior Android guys at Google are now carrying around and testing, at least as of a couple of weeks ago. If you're willing to give up the Droid's keyboard, the Dragon/Passion is going to be a really cool phone. Mobile operators get closer to their destiny as simple ISPs | Th. Reading this morning on Techcrunch that Google's rumoured 'phone' may be a data only device and that AT&T has confirmed they will sell data only plans to customers who bring in Blackberry and Windows mobile devices has me thinking that the day when operators recognise their destiny and accept their future as simple ISPs is getting close.
There is nothing wrong with being a simple ISP (also known as a dumb pipe) of course, except maybe the name. Traditional telecoms businesses like BT started out with content and portal ambitions in the late 1990s and backed out of that to be ISPs in recent years and I've thought for a long time that mobile operators will go the same way. This is not a bad thing, running a lean and mean network can be a profitable exercise and one that adds a lot of value to society. Electricity and water utilities have been doing this for years.
The Droid Might Be Getting All The Love, But The iPhone Has All. 24 November '09, 01:37am Follow Clicky, a real-time analytics service, recently updated their global dashboard stats (aggregate data from nearly 150,000+ web sites) that includes a special report on the Motorola Droid. Currently, the Droid holds 1.86% of mobile web usage. Android devices across the board have a total of 5.12% mobile web market share. Apple And Android Now Make Up 75 Percent Of U.S. Smartphone Web. When it comes to the mobile Web, increasingly there are only two mobile platforms which matter: Apple and Android. According to AdMob's October, 2009 mobile metrics report, the iPhone/iPod Touch and Android phones accounted for 75 percent of mobile Web traffic in the U.S., as measured by all the mobile ad requests it tracks. That number is up from a combined 65 percent in September, 2009.
The iPhone is miles ahead of everyone else, but Android is quickly rising as a strong second. 2010: The Year Android Will Shake Its Money Maker. Apple's Mistake. Phil Schiller Grants Interview About Apple's App Store, Claims D. The iPhone And The Droid Face Off.. In Song. Apple vs. Google: Who's going to win the great mobile-phone war? AdMob: Android Passes iPhone Web Traffic In U.S. Android Keeps on Growing - But Most Users Still Stuck on Old Ver. Five reasons iPhone vs Android isn't Mac vs Windows - O'Reilly R. Ye olde Android vs. iPhone debate (my experiences without an iPh. Developers Betting on Android for Long-Term Success, Says Survey. Android Continues Gaining Ground, Ready to Surpass Windows Mobil.
---