SM
Branding in the age of social media. Required reading this week at FreshNetworks has been this great presentation from Mike Trap on what he calls 'scalable intimacy', the intersection between branding and social media.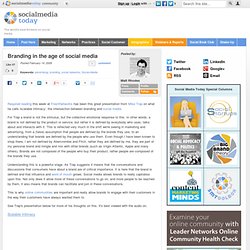 For Trap a brand is not the stimulus, but the collective emotional response to this. In other words, a brand is not defined by the product or service, but rather it is defined by everybody who uses, talks about and interacts with it. This is reflected very much in the shift we're seeing in marketing and advertising, from a (false) assumption that people are defined by the brands they use, to an understanding that brands are defined by the people who use them.
Even though I have been known to shop there, I am not defined by Abercrombie and Fitch, rather they are defined by me, they are part of my personal brand and mingle and mix with other brands (such as Virgin Atlantic, Apple and many others). Scalable Intimacy. Branding in the Age of Social Media. Social Media Marketing- How to Become an "Expert" in Social Medi. How do you become something that you may not even know what it is?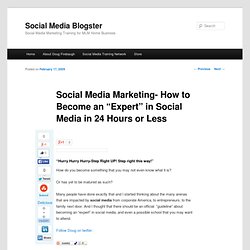 Or has yet to be matured as such? Many people have done exactly that and I started thinking about the many arenas that are impacted by social media from corporate America, to entrepreneurs, to the family next door. And I thought that there should be an official "guideline" about becoming an "expert" in social media, and even a possible school that you may want to attend. Follow Doug on twitter. Advertising, Marketing, Media, PR News and more - Media » Blog A. Brandtology. Top Buzz Hong Kong 30 Mar – 5 Apr 2014 Discussions about the Hong Kong government and the ongoing search for the missing flight MH370 dominated online last week.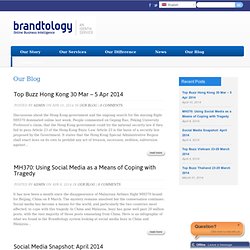 People commented on Geping Rao, Peking University Professor's claim, that the Hong Kong government could try the national security law if they fail to pass Article 23 of the Hong Kong Basic Law. Article 23 is the basis of a security law proposed by the Government. It states that the Hong Kong Special Administrative Region shall enact laws on its own to prohibit any act of treason, secession, sedition, subversion against...
Luxury SM. Publicité. Jaron Lanier / You Are Not A Gadget. Super-Social Networking: Superhero Facebook Status Updates - Com. These days, everyone in the world seems to be on Facebook, including our bosses, parents, and the people we hated in high school.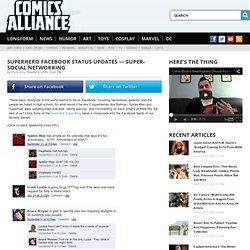 So what would it be like if superheroes like Batman, Spider-Man and Superman were updating their statuses, taking quizzes, and commenting on each other's profiles like the rest of us? Chris Sims of the Invincible Super-Blog takes a closer look into the Facebook feeds of our favorite heroes. (Click on each update for more info.) SM/CM Resources. Lamebook – Funny Facebook Statuses, Fails, LOLs and More – The O.
---