SM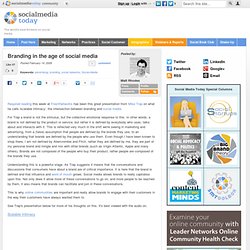 Required reading this week at FreshNetworks has been this great presentation from Mike Trap on what he calls 'scalable intimacy', the intersection between branding and social media. For Trap a brand is not the stimulus, but the collective emotional response to this. In other words, a brand is not defined by the product or service, but rather it is defined by everybody who uses, talks about and interacts with it. This is reflected very much in the shift we're seeing in marketing and advertising, from a (false) assumption that people are defined by the brands they use, to an understanding that brands are defined by the people who use them. Even though I have been known to shop there, I am not defined by Abercrombie and Fitch, rather they are defined by me, they are part of my personal brand and mingle and mix with other brands (such as Virgin Atlantic, Apple and many others).
Branding in the age of social media
Scalable Intimacy. Branding in the Age of Social Media.
How do you become something that you may not even know what it is? Or has yet to be matured as such? Many people have done exactly that and I started thinking about the many arenas that are impacted by social media from corporate America, to entrepreneurs, to the family next door. And I thought that there should be an official "guideline" about becoming an "expert" in social media, and even a possible school that you may want to attend. Follow Doug on twitter.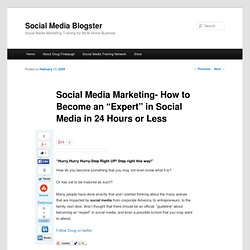 Social Media Marketing- How to Become an "Expert" in Social Medi
malheureusement, il me sera difficile d'etre cette editrice fofolle en etant basee en Chine. Je n'ai meme plus acces a Youtube depuis... deux semaines et je ne serais pas etonnee que cela dure jusqu'au 4 juin. by Lucile Apr 30
J'admets que j'étais aussi un peu déçu... On manque encore d'éditeurs foufous. Et puis se sont des zones web tellement peu explorées... Y a vraiment un truc à exploiter by Elrring Peace Apr 29
rassure, rassure, c'est ce qu'on dit. by Lucile Apr 20
Ah... SM c'était pas pour ce que je pensais... Ca me rassure un peu :) by Elrring Peace Apr 18
Advertising, Marketing, Media, PR News and more - Media » Blog A
Introducing a New Social Media Listening Tool, The Social Express The social media landscape is continually exposed to innovation, and one can make such observation as various new startups join this bandwagon with innovative products/solutions that introduce their own elements of how users leverage on social elements. As such, a lot more rich data is available that is created by online users. Companies are increasingly putting more emphasis on their efforts on social media in making strategic decisions. Today, clients are demanding better tools to help them in addressing their needs.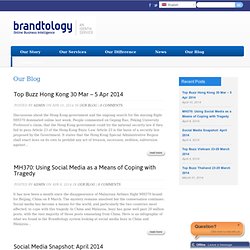 Brandtology
These days, everyone in the world seems to be on Facebook, including our bosses, parents, and the people we hated in high school.