SM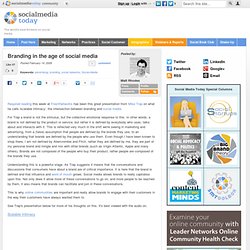 Required reading this week at FreshNetworks has been this great presentation from Mike Trap on what he calls 'scalable intimacy', the intersection between branding and social media . For Trap a brand is not the stimulus, but the collective emotional response to this. In other words, a brand is not defined by the product or service, but rather it is defined by everybody who uses, talks about and interacts with it. This is reflected very much in the shift we're seeing in marketing and advertising, from a (false) assumption that people are defined by the brands they use, to an understanding that brands are defined by the people who use them. Even though I have been known to shop there, I am not defined by Abercrombie and Fitch, rather they are defined by me, they are part of my personal brand and mingle and mix with other brands (such as Virgin Atlantic, Apple and many others).
Branding in the age of social media
Scalable Intimacy. Branding in the Age of Social Media.
How do you become something that you may not even know what it is? Or has yet to be matured as such? Many people have done exactly that and I started thinking about the many arenas that are impacted by social media from corporate America, to entrepreneurs, to the family next door. And I thought that there should be an official "guideline" about becoming an "expert" in social media, and even a possible school that you may want to attend. Follow Doug on twitter.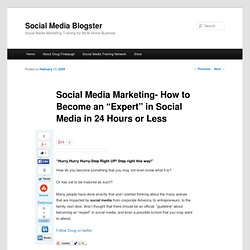 Social Media Marketing- How to Become an "Expert" in Social Medi
malheureusement, il me sera difficile d'etre cette editrice fofolle en etant basee en Chine. Je n'ai meme plus acces a Youtube depuis... deux semaines et je ne serais pas etonnee que cela dure jusqu'au 4 juin. by Lucile Apr 30
J'admets que j'étais aussi un peu déçu... On manque encore d'éditeurs foufous. Et puis se sont des zones web tellement peu explorées... Y a vraiment un truc à exploiter by Elrring Peace Apr 29
rassure, rassure, c'est ce qu'on dit. by Lucile Apr 20
Ah... SM c'était pas pour ce que je pensais... Ca me rassure un peu :) by Elrring Peace Apr 18
Advertising, Marketing, Media, PR News and more - Media » Blog A
Measuring the Success and Effectiveness of Commercials Much-Awaited Yearly Events Two of the most popular events — the Super Bowl and Chinese New Year collided in February, attracting millions of viewers anticipating what's in store for them. The Super Bowl has always been a much-awaited occasion in the U.S. Considered as one of the biggest sporting events in the United States, it is also a time when great commercials are aired and watched with much gusto. Super Bowl commercials are no longer mere fillers in between games – the very high price tag that comes along every air time slot...
Brandtology
Brandtology: Business and Brand Online Intelligence :: Technolog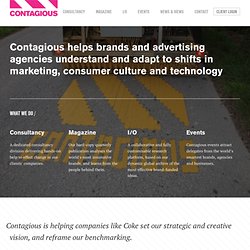 Jaron Lanier / You Are Not A Gadget
Jaron Lanier, computer scientist extraordinaire, musician and the father of virtual technology, refuses to get caught up in the relentless march of progress, without stepping back and questioning what we're up to. Lanier has written You Are Not A Gadget , designed as a manifesto to challenge the progress of the internet from within. In the book, published today by Allen Lane, Lanier questions the premises and assumptions of web 2.0. He writes: 'Something like missionary reductionism has happened to the internet with the rise of web 2.0.' He asks questions such as: does fixing your personality via Facebook affect development?
Oct 5th 2009 By: Chris Sims These days, everyone in the world seems to be on Facebook, including our bosses, parents, and the people we hated in high school. So what would it be like if superheroes like Batman, Spider-Man and Superman were updating their statuses, taking quizzes, and commenting on each other's profiles like the rest of us?