Movies frame by frame
Movie Screenshots: Index - Mozilla Firefox. Sebastian. This blog started out as just a dump for 1.) images found while roaming the Internet for suitable images either to be posted in my other blog or for other personal use, 2.) images I had scanned myself, 3.) my own creations, photoshopped, drawn or photoed.As you might notice, many of the posts are just a batch - like a collage - of images with or without some kind of theme.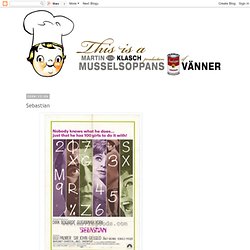 This makes it impossible to credit the place (blog, site or other) I found them at had I remembered it. Once in a while, when I know that several images was taken from the same place, I do credit. It's not that I don't want to, it's just that it goes against my idea of an image dump and it'd take to much time and effort.If anyone has any objections to my using images that they have the rights to please let me know.
Barbarella. Barbarella from 1968 (Wikipedia, IMDb)Directed by Roger VadimBased on the French Barbarella comics from Jean-Claude Forest.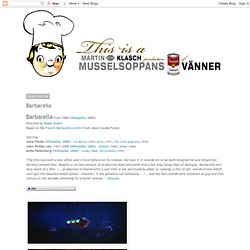 Starring:Jane Fonda (Wikipedia, IMDb) - Cat Ballou (1965), Klute (1971), The China Syndrome (1979)John Phillip Law, 1937-2008 (Wikipedia, IMDb) - Diabolik (1968), Skidoo (1968)Anita Pallenberg (Wikipedia, IMDb) - Candy (1968), Performance (1970) "The film was both a box office and critical failure on its release, but now it is considered to be both imaginative and influential. Modesty Blaise. Modesty Blaise from 1966 (Wikipedia, IMDb) Directed by Joseph Losey (Wikipedia, IMDb)Starring:Monica Vitti (Wikipedia, IMDb)Terrence Stamp (Wikipedia, IMDb)Dirk Bogarde (Wikipedia, IMDb)Harry Andrews (Wikipedia, IMDb) There's not much in it for the fans of the original comic book Modesty and as a movie it's pretty awful - but the sets, the costumes, the op-art, the cars, the style and especially the use of color in virtually every frame is very cool - as I hope these stills will show.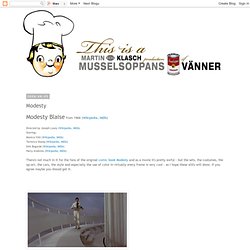 If you agree maybe you should get it. \'Jeu de Massacre\' (1966). : un album sur Flickr - Mozilla Fire. Anna, une comédie musicale (1967).  : un album sur Flickr - Mozi. Le Pacha (1968) : un album sur Flickr - Mozilla Firefox.
---