For Mom
Philadelphia artist Ed Bing Lee has been perfecting his knotting artistry for over 25 years and now is able to create practically anything using basic macrame knots. For example art pieces that look like food. He gathered them into "Delectable series". Look at them and you'll be suprised by talent of the artist!
Knitted Food by Ed Bing Lee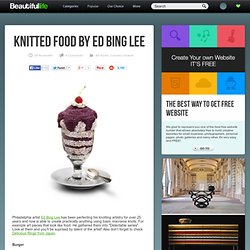 If I want to decrease 14 stitches over 6 inches - how many rows should I work between decreases?My pattern needs me to increase 13 stitches evenly over a row - how often do I increase?I want to knit something 13 inches wide - how many stitches do I cast on?I want to knit a piece 22.5 inches long - how many rows do I work?