DIY
How to Install a Paver Patio
How to Lay the Foundation for a Patio or Walkway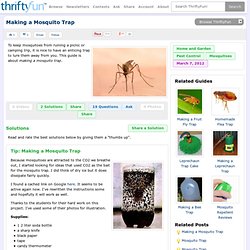 To keep mosquitoes from ruining a picnic or camping trip, it is nice to have an enticing trap to lure them away from you. This guide is about making a mosquito trap. Solutions Read and rate the best solutions below by giving them a "thumbs up". Tip: Making a Mosquito Trap Because mosquitoes are attracted to the CO2 we breathe out, I started looking for ideas that used CO2 as the bait for the mosquito trap.
Headphone Wrapping
Garbage Can Rain Barrel
Mama With a Dash of DIY Drama: No-Sew Window Treatments (Tutorial)
Good Ideas!! / Coat old toilet paper / paper towel rolls in peanut butter, roll in birdseed, and slip onto a tree branch to make easy little bird feeders!
Amongst other things, I mentioned how wonderful they are for creating custom embellishments without the need for any fancy pants equipment. Yep, waterslide decal paper is a truly fab product, though as great as it is, there is one drawback – although it's somewhat tough it's not especially durable. So, whilst it's perfect for ornamental purposes, it's not ideal for more practical applications….until now that is! Magic decal coating paper is a product designed to be used in conjunction with standard decal paper to make the finished transfers durable – yes, even dishwasher resistant! If you're already familiar with magic decal coating paper then please excuse my tardy excitement, though for everyone else who is just getting to the party now too, feel free to start throwing the streamers! My recently aquired assortment of SLOM jars from IKEA were awaiting some DIY craftiness and seemed the perfect victims candidates for my first magic decal experiment.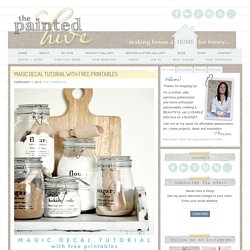 Ceiling Storage Bins
WD-40: Uses
Recycled creamer bottles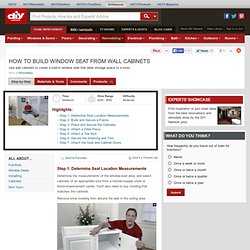 How to Build Window Seat From Wall Cabinets
Determine the measurements of the window-seat area, and select cabinets of an appropriate size from a kitchen-supply store or home-improvement center. You'll also need to buy molding that matches the cabinets. Remove shoe molding from around the wall in the sitting area. Build a wooden frame pedestal from 2" by 4" lumber (Image 1). (For added height, use 2" by 6" lumber for the frame.)