Graphic Design
Get flash to fully experience Pearltrees
Designers If you're a designer who wants to get involved with this project, there's a few things you can do. Sharing Your Designs Please upload your designs to our Creative Commons licensed database. Occupy Design Toolkit
I am probably going to get a lot of flak for the title of this post, but hold your horses. In this case, I mean it quite literally. Because, today I am showcasing some amazing logos that have monkeys in them. There are all kinds .. shy ones, rebellious ones, funny ones, cute ones, geeky ones and corporate ones. I've also thrown in some angry monkeys, some evil monkeys and even a whistling primate for good measure.
The "Personal License (single use)" grants you a non-exclusive and non-transferable right to make use of this product in a single non-commercial* website (or application**), your own work or client work. * A non-commercial application is an application which is not owned by a company, even if the application in which this product will be included does not directly generate income an individual, when the application in which this product will be included generates income in any form (i.e. a website with paid advertising) ** An application can be a website, a software, an electronic document such as a PowerPoint presentation or an e-book, a printed document, a video production There is no restriction on the number of copies of this product within the same application. For example, with one Personal License you can include this product in all the pages of your website.
"A method to produce the perfect book." The perfect book. This is how designer-genius Jan Tschichold described this system. Not the ok book, nor the pretty good book, but the perfect book.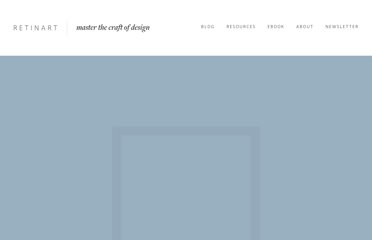 Just a short two-hour train ride from London, Penarth is a little town on the south coast of Wales , just outside Cardiff . Set back from the hustle and bustle in a renovated coach house, we make stuff for large international organisations, small startups and the web community. Our work gets us up in the morning. It's what makes us tick. We run workshops and have spoken at many web conferences all over the world such as An Event Apart , Do Lectures , Web Directions South , and Build .
Layout can both be one of the easiest and one of the trickiest facets of web design. Sometimes a designer can bust out an amazing layout in minutes and sometimes that same designer can struggle for the better part of day with the same task. Each project is unique and calls for a unique solution, but I've found it helpful to keep a few rock solid and incredibly versatile alignments in mind that I can bust out when I get stuck. The ten layouts below should be enough to get you through even the worst cases of designer's block when you can't figure out the best way to arrange the content on your page.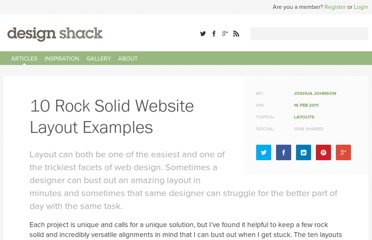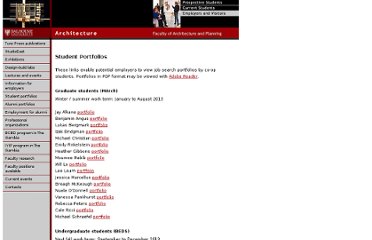 These links enable potential employers to view job search portfolios by co-op students. Portfolios in PDF format may be viewed with Adobe Reader . Winter / summer work term: January to August 2013