Research
CYE Book Review. For Back to School, Reimagine Classroom Design. Teaching Strategies Lenny Gonzales By Therese Jilek As the school year begins, most classrooms across the country will mirror traditional class design: rows of desks with passive children sitting quietly listening to a teacher in the front of the class.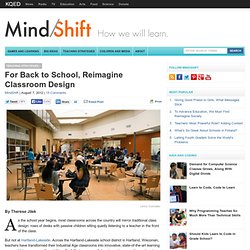 But not at Hartland-Lakeside. Across the Hartland-Lakeside school district in Hartland, Wisconsin, teachers have transformed their Industrial Age classrooms into innovative, state-of-the-art learning spaces. The impact of classroom design on collaborative learning | Bulmer | Proceedings of The Australian Conference on Science and Mathematics Education (formerly UniServe Science Conference) The PDF file you selected should load here if your Web browser has a PDF reader plug-in installed (for example, a recent version of Adobe Acrobat Reader).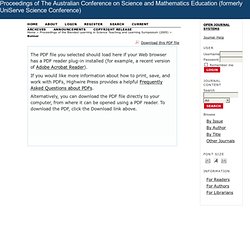 If you would like more information about how to print, save, and work with PDFs, Highwire Press provides a helpful Frequently Asked Questions about PDFs. Alternatively, you can download the PDF file directly to your computer, from where it can be opened using a PDF reader. Building and Environment - A holistic, multi-level analysis identifying the impact of classroom design on pupils' learning. Abstract The aim of this study was to explore if there is any evidence for demonstrable impacts of school building design on the learning rates of pupils in primary schools.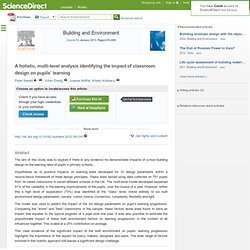 Hypotheses as to positive impacts on learning were developed for 10 design parameters within a neuroscience framework of three design principles. These were tested using data collected on 751 pupils from 34 varied classrooms in seven different schools in the UK. The multi-level model developed explained 51% of the variability in the learning improvements of the pupils, over the course of a year. However, within this a high level of explanation (73%) was identified at the "class" level, linked entirely to six built environment design parameters, namely: colour, choice, connection, complexity, flexibility and light.
Ed Tech
Curriculum Design. Common Core and PARCC. Alternative Calendars and J-Terms. Images/stories/pdf-files/Where_Do_We_Begin.pdf. Cyfs.unl.edu/docs/working_papers/CYFS_Working_Paper_2012_6.pdf. History of Ed Tech.
Library Design. Best Practices. Teacher Evaluation and Pay Models. Education: Beyond the Book. New Media Consortium Names 10 Top 'Metatrends' Shaping Educational Technology - Wired Campus. A group of education leaders gathered last week to discuss the most important technology innovations of the last decade, and their findings suggest the classroom of the future will be open, mobile, and flexible enough to reach individual students—while free online tools will challenge the authority of traditional institutions.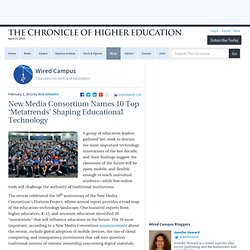 The retreat celebrated the 10th anniversary of the New Media Consortium's Horizon Project, whose annual report provides a road map of the education-technology landscape. One hundred experts from higher education, K-12, and museum education identified 28 "metatrends" that will influence education in the future. The 10 most important, according to a New Media Consortium announcement about the retreat, include global adoption of mobile devices, the rise of cloud computing, and transparency movements that call into question traditional notions of content ownership concerning digital materials. Learning Spaces. Space, whether physical or virtual, can have a significant impact on learning.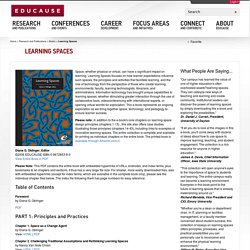 Learning Spaces focuses on how learner expectations influence such spaces, the principles and activities that facilitate learning, and the role of technology from the perspective of those who create learning environments: faculty, learning technologists, librarians, and administrators. Information technology has brought unique capabilities to learning spaces, whether stimulating greater interaction through the use of collaborative tools, videoconferencing with international experts, or opening virtual worlds for exploration. This e-book represents an ongoing exploration as we bring together space, technology, and pedagogy to ensure learner success. Please note: In addition to the e-book's core chapters on learning space design principles (chapters 1-13) , this site also offers case studies illustrating those principles (chapters 14-43), including links to examples of innovative learning spaces.
ERIC PDF Download. Harvard Educational Review - Journal Article. Journal Article Authors Richard J.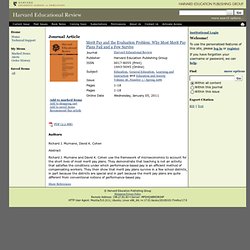 Murnane, David K. Cohen Abstract.
Flipped Classroom PD. Technology in Schools Faces Questions on Value.
---