PBS Capstone Research
Proficient Use of Technology with the NETS•T Title The Secret Life of Bees and Other Integration Adventures Summary
View Exhibit : PBS TeacherLine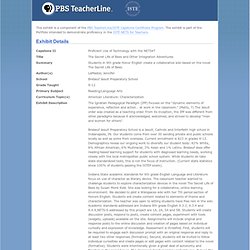 iGoogle
LearningStyles and Assessment
Legacy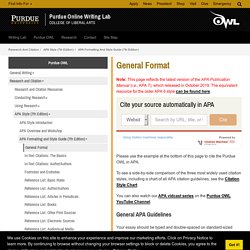 Summary: APA (American Psychological Association) style is most commonly used to cite sources within the social sciences. This resource, revised according to the 6th edition, second printing of the APA manual, offers examples for the general format of APA research papers, in-text citations, endnotes/footnotes, and the reference page.
OWL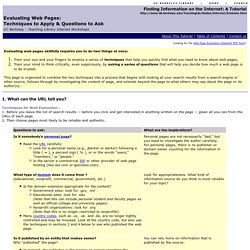 Evaluating Web Pages: Techniques to Apply & Questions to Ask
1. What can the URL tell you? Techniques for Web Evaluation : 1. Before you leave the list of search results -- before you click and get interested in anything written on the page -- glean all you can from the URLs of each page.
Ed Tech Reflections
In my brief July hiatus from daily life at school, several topics have filtered through my less stressed brain. Time for reflection, without a timeline, is to be treasured… even if treasure does not automatically appear in the form of a report or initiative (that's another topic though)… Today I am processing the idea of feedback versus evaluation through the lens of professional development. I live in Indiana… a state at the "forefront" of the Ed Reform Movement. 2012-13 marked the beginning of an evaluation system and pay scale tied to big testing, Student Learning Objectives and growth models (the state model is called RISE but districts can write their own model). Some issues have arisen, not the least of which is it's mid-July and we still don't have access to our state exam scores to base salaries on, but arguing the deficiencies of the system is not my goal here.
Editor's note: Chris Casal is a member of the NYC DOE Social Media Advisory Team. His insights have helped inspire and guide teachers in the effective use of social media in the classroom. Here's how he does it.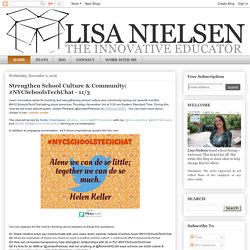 The Innovative Educator
EduCon 2.2 — January 29–31, 2010 — Philadelphia
Looking for the upcoming EduCon 2.3? Visit EduCon23.org There's a new site for EduCon 2.3 — being held January 28–30, 2011 — online at EduCon23.org. What is Educon?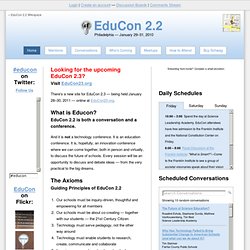 For Educators
Project-Based Learning Articles
Web Resources for Communication Skills
Welcome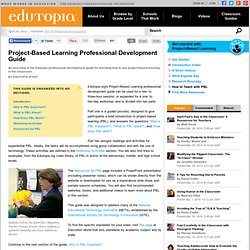 An overview of the Edutopia professional development guide for teaching how to use project-based learning in the classroom. Edutopia.org's Project-Based Learning professional development guide can be used for a two- to three-hour session, or expanded for a one- to two-day workshop, and is divided into two parts. Part one is a guided process, designed to give participants a brief introduction to project-based learning (PBL), and answers the questions "Why is PBL important?", "What is PBL about?", and "How does PBL work?"
Creative Educator - Digital Storytelling Across the Curriculum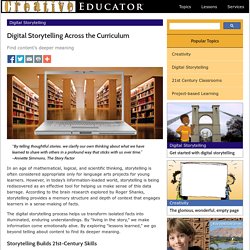 "By telling thoughtful stories, we clarify our own thinking about what we have learned to share with others in a profound way that sticks with us over time." —Annette Simmons,The Story Factor In an age of mathematical, logical, and scientific thinking, storytelling is often considered appropriate only for language arts projects for young learners. However, in today's information-loaded world, storytelling is being rediscovered as an effective tool for helping us make sense of this data barrage. According to the brain research explored by Roger Shanks, storytelling provides a memory structure and depth of context that engages learners in a sense-making of facts. The digital storytelling process helps us transform isolated facts into illuminated, enduring understandings.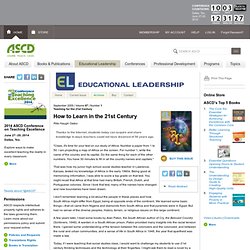 Teaching for the 21st Century:How to Lear
"Class, it's time for your test on our study of Africa. Number a paper from 1 to 50. I am projecting a map of Africa on the screen. For number 1, write the name of the country and its capital. Do the same thing for each of the other numbers.
Pew Research Center's Internet & American Life Project
Abstract This paper presents the findings from the third survey administration of a longitudinal study that explores the beliefs, practices, and efficacy of social studies faculty members from across the United States in terms of instructional technology use. The findings of this study demonstrate that familiarity with the National Educational Technology Standards, as well as confidence with technology, are related to the frequency and type of technology that social studies faculty members utilize in their courses. This survey is particularly significant because it reports on the field's beliefs and practices over time, and results can influence policy, funding, and future research. Citation Friedman, A., Bolick, C., Berson, M. & Porfeli, E. (2009).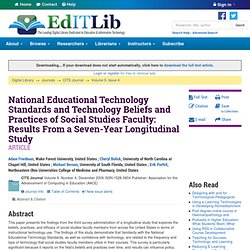 National Educational Technology Stand
Education Week's Digital Directions: Digital Tools Expand Option
UserID: iCustID: IsLogged: false IsSiteLicense: false UserType: anonymous
100 Web Tools to Enhance Collaboration (Part 1) by Ozge Karaoglu
0 Comments January 5, 2010 By: Tech Learning Blog Staff Jan 5
Assistive Technology: Education: Disability.gov
21st Century Learning and Skills