Corporate Lobbying
Prison Industries: "Don't Let Society Improve or We Lose Business" (Image: Jared Rodriguez / Truthout)One out of every 100 people in the United States is imprisoned.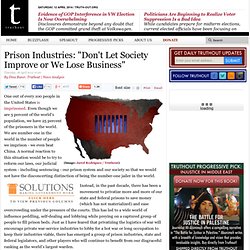 Even though we are 5 percent of the world's population, we have 25 percent of the prisoners in the world. We are number one in the world in the number of people we imprison - we even beat China. A normal reaction to this situation would be to try to reform our laws, our judicial system - including sentencing - our prison system and our society so that we would not have the disconcerting distinction of being the number-one jailer in the world. Instead, in the past decade, there has been a movement to privatize more and more of our state and federal prisons to save money (which has not materialized) and ease overcrowding under the pressure of the courts. This has led to a wide world of influence peddling, self-dealing and lobbying while preying on a captured group of people to fill prison beds.
America's Top Prison Corporation: A Study in Predatory Capitalism and Cronyism. (Image: Jared Rodriguez / Truthout)Last week I wrote about the private prison company The GEO Group and how allowing private businesses to operate prisons can affect our justice system, our laws and the fate of our prison population.
This week, I will tackle the largest private prison company, the Corrections Corporation of America (CCA) and its unprecedented proposal to buy prisons from money-strapped states, as well as how CCA has gamed the system with trips through the revolving door, self-dealing and influence peddling. Just to set the stage as to how large the prison population is in the United States: our prison population is the highest in the world; one out of 100 US residents are in prison. Privatizing Louisiana Prisons | News. Click to enlarge Paul Wilson, head of AVC's corrections officers union, says the state has thrown employees under the bus.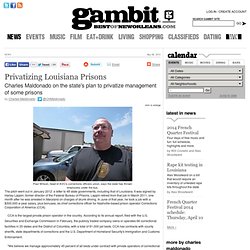 The pitch went out in January 2012: a letter to 48 state governments, including that of Louisiana. It was signed by Harley Lappin, former director of the Federal Bureau of Prisons. Lappin retired from that job in March 2011, one month after he was arrested in Maryland on charges of drunk driving. In June of that year, he took a job with a $300,000-a-year salary, plus bonuses, as chief corrections officer for Nashville-based prison operator Corrections Corporation of America (CCA). Cellphone Price Calculator Scrapped After Industry Lobbying: Report. The federal government's decision to scrap a cellphone cost calculator for consumers came after lobbying from large telecom firms, and happened despite Industry Canada defending the calculator as accurate, a news report states.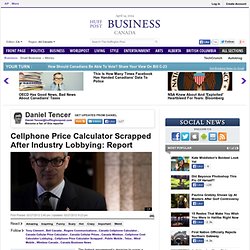 The revelations come as Ottawa prepares to auction off a new block of wireless spectrum. Consumer advocates have raised concerns the government is planning to set up the auction in such a way that would favour the large telcos and reduce competition in the marketplace. First put into development in 2007 by then-Industry Minister Maxime Bernier, the calculator project was meant to result in an online tool consumers could use to figure out which cellphone plan was cheapest for their purposes. Lobbyists hit up Harper as budget day closes in.
---