Representation
5 Gender Stereotypes That Used To Be the Exact Opposite. The hardest stereotypes to break are the ones that are so old as to go all the way back to hunter-gatherer days.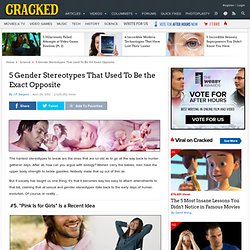 After all, how can you argue with biology? Women carry the babies, men have the upper body strength to tackle gazelles. Seventeen magazine vows not to alter images, to 'celebrate every kind of beauty' Seventeen publishes a "Body Peace Treaty" vowing to show "real girls and models"It's in response to a teen-led petition signed by 84,000 calling photo altering dangerousThe teen behind that petition celebrates a "huge victory" after the magazine's announcementBut an ex-model questions why the magazine didn't admit to ever seriously altering images (CNN) -- When teenage girls check out Seventeen magazine, they'll be getting the complete picture -- no ifs, ands or Photoshopped butts about it.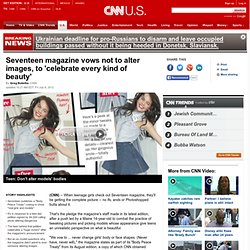 That's the pledge the magazine's staff made in its latest edition, after a push led by a Maine 14-year-old to combat the practice of tweaking pictures and picking models whose appearance give teens an unrealistic perspective on what is beautiful. "We vow to ... never change girls' body or face shapes. (Never have, never will)," the magazine states as part of its "Body Peace Treaty" from its August edition, a copy of which CNN obtained Thursday. A Girl's Guide To Battling The Harmful Effects Of Mass Media.
Video Games. Researcher reveals how "Computer Geeks" replaced "Computer Girls" | The Clayman Institute for Gender Research. Asked to picture a computer programmer, most of us describe the archetypal computer geek, a brilliant but socially-awkward male.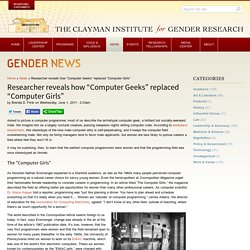 We imagine him as a largely noctural creature, passing sleepless nights writing computer code. According to workplace researchers, this stereotype of the lone male computer whiz is self-perpetuating, and it keeps the computer field overwhelming male. Smearing of feminism – a history through illustrations « GenderBen! Cartoons have been sources of entertainment, political point-making, and propaganda for centuries.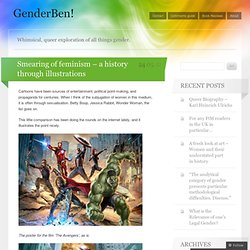 When I think of the subjugation of women in this medium, it is often through sexualisation. Betty Boop, Jessica Rabbit, Wonder Woman, the list goes on.
---