CG Portals(Educational)
Whether you're new to the program altogether or a pro who needs a refresher on the latest features, author Steve Grisetti gets you up and running quickly with Premiere Elements 12, the affordable and intuitive video-editing program from Adobe. Read more... Photographing textiles, whether a shirt or a handmade quilt, requires careful styling and lighting to accurately show the texture of the fabric and the way it folds and drapes—and to make it look as beautiful as possible. Read more...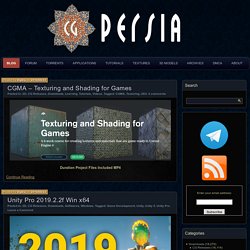 RenderSpirit | your daily dose of CG news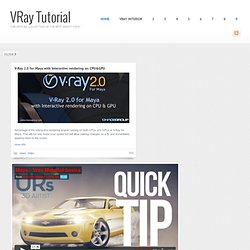 VRay Tutorial | All about V-Ray
25 New Features Target Speed, Lighting and Visualization Quality; 64-Bit Rendering, V-Ray RT for CPU and GPU, Plus Support for SketchUp 2013 Now Available Sofia, Bulgaria – 16 September 2013 – With today's launch of Chaos Group's V-Ray 2.0 for SketchUp, the access designers have to faster rendering, better lighting tools, and more detail in complex scenes has reached new heights. It's the biggest expansion to V-Ray for SketchUp's rendering capabilities yet, and it's all thanks to the help of a vast and very dedicated group of beta testers.
The best PC for computer graphics and 3d rendering: October 2013 Oftenly, computer graphics specialists are faced with the problem of choosing the optimal configuration of the computer for their needs. We regularly asked the question: which computer to buy for 3ds Max? That is why in this publication, we decided to analyze the most successful PC assemblies, which are the best choice for the CG professional.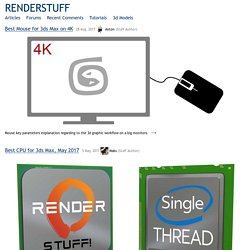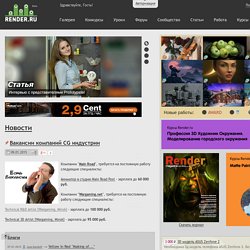 Эд Кэтмулл (Ed Catmill) со-основатель анимационной студии PIXAR, и Эми Воллес (Amy Wallace) издали свою книгу о творчестве в бизнесе. Помимо Эда и Эми, со страниц книги к читателям обращаются Даниэль Пинк, Том Питерс, и Чип и Дэн Хет (Daniel Pink, Tom Peters, и Chip и Dan Heath).Creativity, Inc книга для менеджеров, которые хотят привести своих сотрудников к новым высотам, руководство для тех, кто стремится к оригинальности, а также первому в своей истории, путешествию в нервный центр Pixar Animation Studios – побывать на заседаниях, сессии детального анализа и мозгового штурма, во время которых создавались некоторые из самых успешных анимационных фильмов в истории. Эта книга о том, как построить творческую культуру-но это также, как пишет соучредитель и президент PIXAR Эд Кэтмулл, "выражение идей, которые я считаю, возможно, сделают в нас лучшее."Книга уже доступна для заказа в Amazon за $20.52 и представлена в твердом переплете. Есть версия для Kindle.
Following up on the 52 Weekly Best Visualizations posted two days ago, I'm proud to present now the selected 12 BEST of MONTH visualizations of 2013! It was far from easy to make this selection of the 12… but for each month – There can be only one! Each will get a 100 Euro Voucher, to spend on great looking 3D furniture models by Designconnected. the BEST OF YEAR is coming next! Read More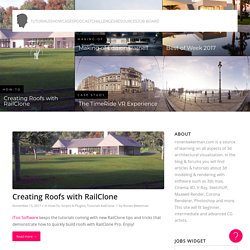 Max Underground - 3DS Max news
CGWORKSHOP.ORG | 3D TRAINING
MintViz - Creative Consultants