emprendimeintos
Get flash to fully experience Pearltrees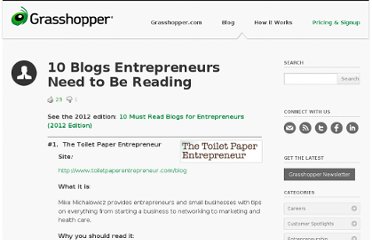 Category September 11, 2009
If you're a professional who likes to be intellectually stimulated and you enjoy keeping up with the latest news and breaking trends, the internet provides you with an endless choice of carefully curated sites to visit. Today, we bring you six of them that we believe are leaps and bounds above the rest. These sites will not only educate you on topics ranging from business and technology to art and design, they'll motivate you to find your own, original ideas and see them through. They're culturally relevant, they're idea driven and most of all, they're deeply inspirational. TED is short for three incredibly important subjects in our modern world; technology, entertainment and design.
This YouTube video seeks to help aspiring executives prepare themselves to be strong CEO candidates in the future.
Leadership tycoon Warren Bennis once said, "We seem to collect information because we have the ability to do so, but we are so busy collecting it that we haven't devised a means of using it. The true measure of any society is not what it knows but what it does with what it knows." There is a wealth of information at our disposal today on the latest discoveries in brain science. While we enjoy reading about these findings and expanding our intellect, how many of us actually apply these concepts? We can either drown in this information or turn it into a lifesaver by extracting its practical knowledge. This article offers several important tips based on discoveries in brain research that can help us improve our personal and professional lives, as well as help others in our sphere of influence.