Uncle Paul's complete waste of time
Just Whatever
By Daily Mail Reporter Updated: 03:15 GMT, 22 January 2011 Most people would rather have a swimming pool in their back garden than an actual pool table. But this is the enormous billiards table, believed to be the largest in world, that an American man built in his yard. Former cage fighter Steve Wienecke used five truck loads of gravel and spent 250 hours to build the one-and-a-half feet high felt-covered pool table.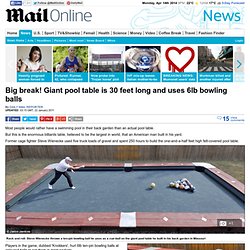 Big break! Giant pool table is 30 feet long and uses 6lb bowling balls
: : : : N W 5 : : : :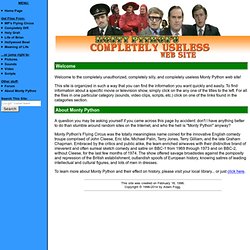 Monty Python's Completely Useless Web Site
A question you may be asking yourself if you came across this page by accident: don't I have anything better to do than stumble around random sites on the Internet, and who the hell is "Monty Python" anyway? Monty Python's Flying Circus was the totally meaningless name coined for the innovative English comedy troupe comprised of John Cleese, Eric Idle, Michael Palin, Terry Jones, Terry Gilliam, and the late Graham Chapman. Embraced by the critics and public alike, the team enriched airwaves with their distinctive brand of irreverent and often surreal sketch comedy and satire on BBC-1 from 1969 through 1973 and on BBC-2, without Cleese, for the last few months of 1974. The show offered savage broadsides against the pomposity and repression of the British establishment, outlandish spoofs of European history, knowing satires of leading intellectual and cultural figures, and lots of men in dresses.
.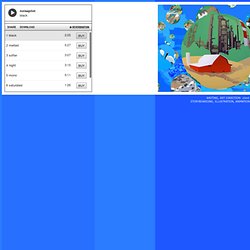 MELTED (Wyly Chris Parsons: lyrics and vocals & Alex Sacui: guitar) WRITING, ART DIRECTION: client STORYBOARDING, ILLUSTRATION, ANIMATION: Alex Sacui Ripe 'n Ready LOGO, ART DIRECTION: client GRAPHIC DESIGN, ILLUSTRATION: Alex Sacui inspiration: client project