Inspiring
Badass of the Week: Anthony Omari - StumbleUpon. Anthony Omari Late on the night of January 23, 2012, a 24 year-old Kenyan uber-hero named Anthony Omari awoke to find three gigantic dudes with machetes standing over his bed.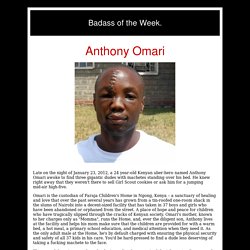 He knew right away that they weren't there to sell Girl Scout cookies or ask him for a jumping mid-air high-five. Omari is the custodian of Faraja Children's Home in Ngong, Kenya – a sanctuary of healing and love that over the past several years has grown from a tin-roofed one-room shack in the slums of Nairobi into a decent-sized facility that has taken in 37 boys and girls who have been abandoned or orphaned from the street. A place of hope and peace for children who have tragically slipped through the cracks of Kenyan society. Omari's mother, known to her charges only as "Momma", runs the Home, and, ever the diligent son, Anthony lives at the facility and helps his mom make sure that the children are provided for with a warm bed, a hot meal, a primary school education, and medical attention when they need it.
10 Life-Enhancing Things You Can Do in Ten Minutes or Less - StumbleUpon. By It usually takes us much longer to change our moods than we'd like it to take.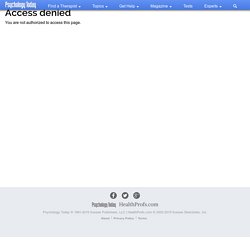 Here are ten things you can do in ten minutes or less that will have a positive emotional effect on you and those you love. The most awesome story i ever heard Funny Pictures Add Funny - StumbleUpon. StumbleUpon. - StumbleUpon. Shake It Off And Take A Step Up. One day a farmer's donkey fell down into a well.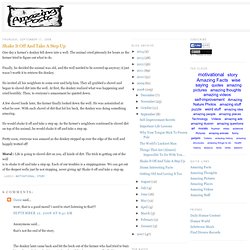 The animal cried piteously for hours as the farmer tried to figure out what to do. Finally, he decided the animal was old, and the well needed to be covered up anyway; it just wasn't worth it to retrieve the donkey. He invited all his neighbors to come over and help him. They all grabbed a shovel and began to shovel dirt into the well. Learn to be Still.. - wave avenue - StumbleUpon. Posted by rd on Monday, January 23, 2012 · I love browsing thru quotes that I could ponder on at the start of the week and I'm glad to be sharing these with you.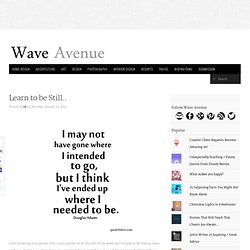 Here's a question: Have you ever tried doing everything at once? It's tiring isn't it? Everything happens to quickly now and we feel the need to keep up with the pace. Quotes for Motivation and Inspiration - StumbleUpon. EAT.
---